Rita Moreno: Life Without Makeup

By Spencer Michels


Rita Moreno danced and sang one of the funniest, most poignant songs ever to come out of Broadway, by way of Hollywood: "America" from West Side Story.

I like to be in America
Okay by me in America
Everything free in America.

It was type casting. Moreno was born in Puerto Rico, and moved to the barrios of the Bronx as a child. In the movie West Side Story she played a young Puerto Rican girl living amidst the feuding gangs of New York. When the movie came out, in 1961, Moreno was in her twenties. She won an Academy Award for her performance.

Today, Moreno is about to turn 80, and is starring in a reprise of her own life called Life Without Makeup at the Berkeley Repertory Theater, in Berkeley, California -- where she lives. And that life is fascinating.
...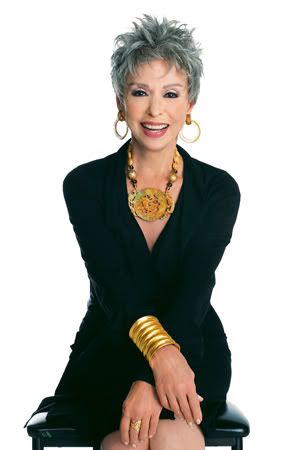 Moreno got a break early, when she was "discovered" by Louis B. Mayer, of Metro Goldwyn Mayer, after performing on the Bar Mitzvah and wedding circuit in New York. As a contract movie actress, she was assigned a long series of ethnic roles, where she played Latinas, American Indians, East Indians, Siamese (in The King and I) and any other minority the studios needed. I chatted with her about those roles, in her home high in the Berkeley hills, while preparing a story on Moreno for the PBS NewsHour.

"When I went into movies I did nothing but speak with an accent. It used to just drive me crazy. It hurt my feelings because I've always spoken a pretty good English. I have a very nice vocabulary and I don't have an accent. I did for awhile obviously. But I spent almost all of my movie life speaking with one kind of accent or another. They were of course all the same accent as I don't know how an American Indian girl speaks. I played lots of those. And then I played a lot of little señorita Lolita conchita kind of spitfire roles. Everything but an American girl."


In recent years, she has been assigned some non-ethnic roles, especially at Berkeley Rep, where she played Maria Callas in Master Class and the lead in Tennessee Williams' The Glass Menagerie. And she's now playing a Jewish mother on the MTV sit-com, Happily Divorced. But the scars of fighting the system, from childhood through most of her career have taken a toll.

"I hated it! I hated to have to speak with, you know what the real dilemma is and it's a very poignant one for someone like myself at the time, um, when you're out of a job you were miserable and you were frightened that you might never work again cause that's just the nature of our business. Then when I did get a job, I'd be thrilled for about two days and then I'd read the script and then I'd see that I was just yet another Indian girl or a conchita little Lita girl or an east Indian girl. And then I would get very depressed... It was a horrible kind of struggle.

Eventually, Moreno overcame those struggles and made peace with herself. Writer and artistic director, Tony Taccone, agrees that she is a spitfire: "She will take no prisoners, she will not be held back; she is going to feel that full sunlight on every part of her body every day."

In Life Without Makeup, Moreno re-creates some of her famous and rather strenuous roles, including "Mambo" from West Side Story. That's quite a feat for someone about to enter her ninth decade. But besides relying on song and dance, this mostly one-woman show delves into her psyche, her relationships with her five-times-married mother (a "narcissist") and with Marlon Brando ("I think he was probably the sexist man I've ever known in my life").

Moreno was a big star at points in her life; less big at other times. She was on the cover of Life Magazine, and was the talk of the tabloids for her connections to Elvis Presley and Howard Hughes. Doing a tell-all, re-creation of one's life is bound to invite self-reflection and introspection. Moreno, helped along by Taccone, makes it fun and funny, a slice of American life, that reflects the ups and downs of Moreno's career and of American tolerance of Latinas and others not born on these shores.

Life Without Makeup opens September 7 and runs through October 30, 2011 at the Roda Theatre in Berkeley. For tickets and information visit berkeleyrep.org.

http://www.kqed.org/arts/performance/article.jsp?essid=66814