Celebrating West Side Story : North Carolina Schools of the Arts 50th Anniversary Production by John Mauceri.

The pdf introduction can be seen here and talks about the place of West Side Story in the Broadway of 1957 as well as the effect the production had on Leonard Bernstein (Mauceri worked with Bernstein for eighteen years).

Besides some great photographs of their production, they brought in Carol Lawrence, Michael Callan, Grover Dale and Jamie Bernstein for a symposium. The most interesting tidbit is that Carol Lawrence said ... she always played the last scene knowing that Maria was pregnant.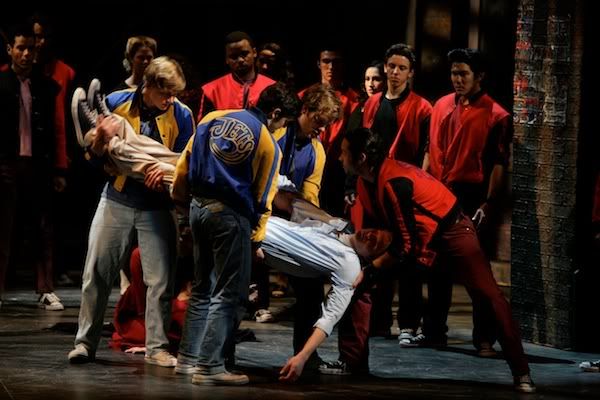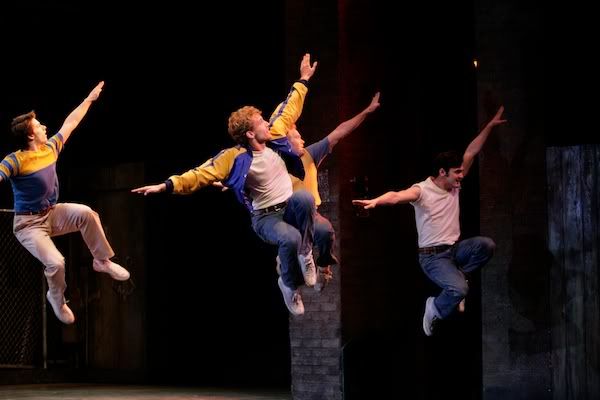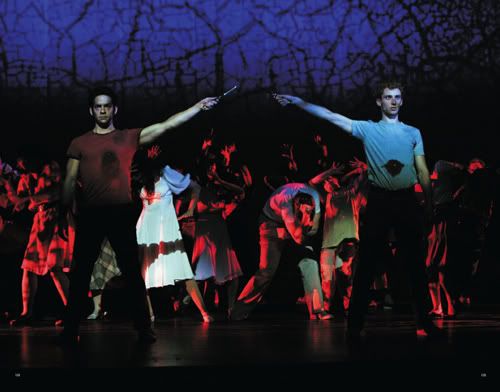 That the world of gang violence is very much a thing of our day is a sad truth. Racial and tribal behavior dominate the news-worldwide. There is no better warning that West Side Story. We need to play it again. It elevates us. It teaches us. It entertains us. And we are better for having experienced it

John Mauceri, October 3, 2007

You can see small clips of their production here .

50th Anniversary West Side Story Coming to NCSA and Ravina

by BWW News Desk

The North Carolina School of the Arts (NCSA), one of the premier arts conservatories in the United States, will present a new production of West Side Story to celebrate the 50th Anniversary of the work. NCSA's production of West Side Story will receive its world premiere in a fully staged, Broadway-caliber performance at the Roger L. Stevens Center in Winston-Salem, North Carolina, on May 3, 2007. A special Gala Benefit performance will be presented on May 5. The North Carolina production will continue through May 13, and then extend the run for one performance at Chicago's Ravinia Festival on June 8.

West Side Story will be directed by NCSA Drama Dean Gerald Freedman, who was assistant director of the original 1957 Broadway production, as conceived by Jerome Robbins, and co-director of the 1980 Broadway revival. As part of the team that created the original Broadway production, Freedman worked closely with West Side Story producer Harold Prince, author Arthur Laurents, composer Leonard Bernstein, lyricist Stephen Sondheim, and choreographer and director Jerome Robbins. In 2006, Laurents was the commencement speaker at and received an honorary doctorate from NCSA.

The musical director of this 2007 production will be internationally-renowned conductor John Mauceri. Maestro Mauceri, the new Chancellor of the North Carolina School of the Arts, worked closely with Leonard Bernstein for 18 years -- from 1972 until Bernstein's death in 1990. At Bernstein's request, Mauceri edited, supervised, and conducted numerous Bernstein works (many of them premieres) in the major capitals of the world, including New York, Los Angeles, Washington, London, Milan and Tel Aviv.
In addition, the School has enlisted Guest Artist Kevin Backstrom, one of the few dancers certified to stage Jerome Robbins' choreography.

The West Side Story cast, orchestra, and crew will consist of approximately one hundred students chosen from all five of NCSA's professional training schools: Dance, Design and Production, Drama, Filmmaking, and Music. The all-school cast will be led by NCSA Senior Drama students Paul Baswell and Jordan Brown as Tony and Katharine Elkington and Anna Wood as Maria. Audiences will experience the stars of tomorrow performing a classic musical production, which engages the nostalgia of the past while remaining relevant to the present. Physically and artistically demanding, the students began intense training one year in advance. North Carolina School of the Arts all-school musicals, produced only once a decade, have included Brigadoon, Oklahama!, Kiss Me Kate, and Canterbury Tales.

"To me, our production of West Side Story is a touchstone for what is happening to the arts in America," said NCSA Chancellor John Mauceri. "At the School of the Arts, we are examining our curriculum and our teaching methods to enable cross-disciplinary learning. This will strengthen the development of our students as whole artists and will give them advantages few schools offer."

"In a flat world, with everything outsourced, it is becoming increasingly apparent that America's competitive edge lies in the creativity inherent in our culture," Mauceri continued. "Organizations throughout our country are seeking multi-dimensional, creative individuals. Could the MFA become the new MBA?"

During the West Side Story opening week, on May 5, a symposium in Winston-Salem will feature members of the Bernstein family along with notables from the original 1957 Broadway production. The symposium will be funded by the Thomas S. Kenan Institute for the Arts. As part of a unique partnership, the Kenan Institute provides strategic and financial support for creative projects associated with the North Carolina School of the Arts.

ABOUT WEST SIDE STORY By Gerald Freedman, Dean, NCSA School of Drama

In 1957, I was part of a team of some of the most creative and inspired artists on Broadway who came together to mastermind a totally new type of musical. Hal Prince produced the musical. Arthur Laurents wrote the book. Leonard Bernstein composed and orchestrated a brilliant score. Stephen Sondheim wrote the lyrics. And, Jerome Robbins conceived the story and dynamic choreography that would knit all of these pieces together into the musical known as West Side Story.

Artistically, this musical was a significant departure from prior works. West Side Story set a new standard for musicals, requiring performers to be incredibly versatile. They had to act and sing and dance, and do it all well. The choreography, in particular, was demanding and strenuous. I was responsible for coaching the acting performances from a cast drawn primarily from dancers. Furthermore, this was an ensemble piece, with richly drawn characters of equal weight, not a vehicle to feature a single star. The ethnicity of the characters, their direct confrontation of racism in America, and the depiction of gang warfare established a raw tension that made audiences…well, uncomfortable. In fact, playwright Arthur Laurents created a whole language for these characters that was edgy and street-wise, befitting the tough nature of street gangs. This musical had it all: an evocative theme, exciting choreography, lively and sometimes even elegant music, and a wonderful, timeless story.

Timeless -- yes. I think that West Side Story still resonates with the artistic power and energy that it first introduced to audiences fifty years ago. And its sociological statements have as much relevance today as they did in the 1950s. As a director and a teacher, I find that the elements found in West Side Story present the kinds of complex artistic challenges that we want and indeed expect our students here at the School of the Arts to embrace. Our students need cross-training in all artistic disciplines, in order to be prepared for the challenges they will face in the professional arts world.

So, to celebrate the 50th anniversary of this great American masterpiece of theatre, the North Carolina School of the Arts will present West Side Story in all its glory on the Stevens Center stage, in May 2007. The production will be professionally mounted by students and the faculty (who are themselves working artists), using Jerome Robbins' choreography. But that's not all! We have planned a day-long educational symposium - open to the public - to discuss the creation of the original West Side Story and its sociological implications then and now. Educational programs engaging local schools and exchanges with our growing Hispanic community are also being planned. This is a momentous artistic and educational experience for the North Carolina School of the Arts.

ABOUT THE DIRECTOR

Gerald Freedman, Dean of the School of Drama at North Carolina School of the Arts since 1991 and Director of West Side Story, is an award-winning director and educator highly regarded internationally for productions of classic dramas, musicals, operas and new plays. Mr. Freedman served as a leading director of Joseph Papp's New York Shakespeare Festival and as its artistic director for four years. Mr. Freedman made theater history with his off-Broadway premiere of the landmark rock musical Hair, which opened Mr. Papp's Public Theater. He won an Obie Award from the Village Voice for Best Director of The Taming of the Shrew at the New York Shakespeare Festival's Shakespeare in the Park. He was co-artistic director of the John Houseman Acting Company and artistic director of the American Shakespeare Theatre. For thirteen years, he was artistic director of the Great Lakes Theater Festival in Cleveland, Ohio, where his nationally acclaimed productions won numerous awards.

For the Broadway musical stage, Mr. Freedman directed The Robber Bridegroom with Barry Bostwick, The Grand Tour with Joel Grey, The Gay Life with Barbara Cook, as well as the 1980 New York revival of West Side Story, co-directed with Jerome Robbins. Mr. Freedman has also directed numerous opera productions across the country. Mr. Freedman also taught at Yale University and The Juilliard School.

ABOUT THE MUSICAL DIRECTOR

John Mauceri, new Chancellor of the North Carolina School of the Arts and musical director of West Side Story, worked with Leonard Bernstein for 18 years. As a result, Mr. Mauceri edited, supervised, and conducted numerous Bernstein works -- many of them premieres -- throughout the world, at the invitation of the composer. Recently, Mr. Mauceri was named music consultant to The Leonard Bernstein Office and serves on the Advisory Board of The Leonard Bernstein Center for Learning at Gettysburg College. Last fall, he participated in concerts and symposia at Harvard University – Mr. Bernstein's alma mater – titled "Leonard Bernstein, Boston to Broadway."

The distinguished and extraordinarily varied career of John Mauceri has brought him not only to the world's greatest opera companies and symphony orchestras, but also to the musical stages of Broadway and Hollywood, as well as the most prestigious halls of academia. Mr. Mauceri served as music director of the Teatro Regio in Turin, Italy, and of the Scottish Opera. He is the first American ever to have held the post of music director of an opera house in either Great Britain or Italy. He was music director of the Washington Opera at The Kennedy Center and was the first music director of the American Symphony Orchestra in Carnegie Hall after its founding director, Leopold Stokowski, with whom he studied. For 15 years he served on the faculty of Yale University, his alma mater, and returned in 2001 to teach and conduct the official concert celebrating the university's 300th anniversary.

Mr. Mauceri recently conducted his 16th and final season with the Hollywood Bowl Orchestra, which bestowed upon him the lifetime title of Founding Director. He has conducted over three hundred concerts at the 18,000-seat amphitheatre for a total audience of some four million people. This past season, he completed his sixth season as music director of the Pittsburgh Opera. Mr. Mauceri is an accomplished recording artist and is the recipient of Grammy, Tony, Olivier, Drama Desk, Edison, Emmy, Diapason d'Or, Cannes Classique, Billboard, and four Deutsche Schallplatten Awards.

ABOUT THE NORTH CAROLINA SCHOOL OF THE ARTS

The North Carolina School of the Arts, located in Winston-Salem ("The City of the Arts"), was the first state-supported, residential school of its kind in the nation. Established in 1963, NCSA opened in Winston-Salem in 1965 and became part of the University of North Carolina system in 1972. More than 1,100 students from middle school through graduate school train for careers in the arts in five professional schools: Dance, Design and Production (including a Visual Arts Program), Drama, Filmmaking, and Music. The North Carolina School of the Arts is the state's only public arts conservatory, dedicated entirely to the professional training of talented students in the performing, visual and moving image arts. The Chancellor, Deans, and faculty work with students in a residential setting to create an educational community that is intimate, demanding, and performance-centered. Learning is enriched by access to an academic program responsive to a conservatory curriculum. Founded to be both an educational institution and a resource enhancing the cultural life of the State of North Carolina and the Southeast, NCSA offers numerous public performances, on- and off-campus, as well as community education in the arts.

TICKET INFORMATION

WEST SIDE STORY
May 3-4, & 9-12, at 7:30pm May 6, 12, 13, at 2pm Gala Dinner, Performance and After-Party: May 5 North Carolina School of the Arts Roger L. Stevens Center, Winston-Salem, NC

June 8, at 8 pm Ravinia Festival Chicago

Directed by Gerald Freedman Musical Direction by John Mauceri Based on a conception of Jerome Robbins Entire Original Production Directed and Choreographed by Jerome Robbins Book by Arthur Laurents, Music by Leonard Bernstein, Lyrics by Stephen Sondheim www.ncarts.edu

Tickets for the NCSA performances and Gala can be purchased by calling the NCSA Box Office at 336.721.1945. Tickets for the Ravinia Festival can be purchased by calling 847.266.5100.

West Side Story is presented through special arrangement with Music Theatre International (MTI). All authorized performance materials are also supplied by MTI, 421 West 54th Street, New York, NY 10019 Tel.: 212.541.4684 Fax: 212.397.4684 www.MTIShows.com

Partial support is provided by the National Endowment for the Arts, the Thomas S. Kenan Institute for the Arts, the John W. and Anna H. Hanes Foundation, and the Mary Duke Biddle Foundation.

https://www.broadwayworld.com/article/50th-Anniversary-West-Side-Story-Coming-to-NCSA-and-Ravina-20070306