http://www.atlantaintownpaper.com/2011/01/theatre-review-west-side-story-at-the-fox/
Actor Paul Nolan, who played the part of Tony in a recent lauded production at the Stratford Shakespeare Festival, commented on the need to make Tony believable as a gang member. As he says, "It was very important to me to portray Tony so that he was believable as the alpha - to go so far as to think of Tony as the leader of the gangs, the older brother figure to Riff. I wanted him to be tough; to have enough grit inside him that an audience would believe he "could" snap, leading him to kill Bernardo". Paul Nolan, interview with author Elizabeth Wells, August 21, 2009.
West Side Story : Cultural Perspectives on an American Musical
, pp. 185-186.
...
Wednesday, 24 June 2009
West Side Story: A Gritty and Pretty Great Sight
West Side Story, based on a conception by Jerome Robbins, Book by Arthur Laurents Music by Leonard Bernstein, Lyrics by Stephen Sondheim
Directed by Gary Griffin, Choreographed by Sergio Trujillo
Featuring Chilina Kennedy, Paul Nolan, Stephen Russell
The story: On New York City's west side, Tony and Maria meet at a dance, and it is love at first sight. But Tony is a former Jet, and Maria's brother is leader of the Sharks, and the teen gangs' bitter rivalry is a wedge between the two lovers. They nevertheless dream of being together, but when the Jets square off against the Sharks for final control of their turf, their battle turns fatal, and has a heartbreaking consequence.
West Side Story may be one of the greatest musicals of all time. It was made into a film in 1961 with Natalie Wood and Richard Beymer, and it is regularly revived on Broadway.
Now, forget all that, because the Stratford production of West Side Story is like nothing you've ever seen, and is almost the antithesis to the Hollywood movie.
First of all, the Festival's huge thrust stage has been extended to its maximum limit, putting the audience thrillingly close to the action: the cityscape set, designed by Douglas Paraschuk, overhangs part of the audience, and one design element swoops in from overhead with "illuminating" results.
Next, the original Jerome Robbins choreography – copyrighted as part of the show – was specially adapted to the thrust stage, and the choreographers now throw in a few modern martial-art moves that Mr. Robbins may have wished he'd invented. The dancers also climb, hang, perch and flip off of parts of the set in near acrobatic fashion (try not to let your jaws hit the floor – it distracts the actors).
The costumes, designed by Jess Goldstein, are terrific. It is a shame that the show's house program has only rehearsal photos, because those Jets and Sharks jackets are great (maybe they'll sell reproductions in the Theatre Store?), and the girls dresses are sizzling, especially in the "Dance at the Gym", "America" and "Cool" numbers.
Then there are the individual actors. Jennifer Rias as Anita brings her own brand of heat to the show, both fiery and affectionate. She is especially sassy in the dance numbers and the "Tonight" quintet. Brandon Espinoza and his Jets may try to maintain their "Cool" before the rumble but it's no good – their dancing is just too hot.
The "adults" of West Side Story are supposed to be out of touch with the teens, but Stephen Russell as Doc strikes the best note – ironically in a non-singing role – as the one adult who at least tries to help; when he rescues Anita from the increasingly violent Jets, Mr. Russell's baritone, pained roar sends shivers down one's spine.
As the maturing but still naïve Tony, Paul Nolan exudes all the optimism, courage and romantic nature of the character, and out-does any Romeo with great leaps onto Maria's balcony. And while he has a wonderfully expressive singing voice, and is well-paired musically with her, he himself is bested by his leading lady.
Chilina Kennedy is stunning as Maria. Sparkling, animated and petite, she may look like a demure girl in love, but Ms. Kennedy's Maria is anything but shy and retiring. She is Latina to the core: eyes snapping, she smokes a cigarette, slaps Anita full in the face, and turns the hum-able but odd "I Feel Pretty" number into one of bold dissembling – sharing her secret with us but hiding it from her friends. Ms. Kennedy just sells every moment, every song, every nuance, and nearly steals the show.
Director Gary Griffin certainly upped show's grittiness: there is no doubt what would have happened to Anita if Doc had not appeared, there is no doubt that the lovers share a night of premarital sex, and there is no doubt about the brutal natures of the law-keepers in this world. But in the end Mr. Griffin punctuates the show tenderly: it is Anybodys, the tom-boy Jet, gently placing her hard-won gang jacket over the shoulders of the grief-stricken Maria, who demonstrates true compassion and understanding.
When it was first unleashed on audiences West Side Story changed forever how musicals were performed. Go see this production and feel that transformation for yourself – splurge on the best seats or not, just go - and bring tissues. West Side Story continues in repertory at the Festival Theatre until October 31
http://reviewsbyrobyn.blogspot.com/2009_06_01_archive.html
West Side Story
by Arthur Laurents
Directed by Gary Griffin
At the Festival Theatre
June 5-October 31, 2009
Gary Griffin's brilliant version transcends the "dated" elements of this musical tragedy and soars. The street argot ("sperm to worm," etc) is almost comically out of fashion, Stephen Sondheim's lyric for "I Feel Pretty" is embarrassingly out of sync with the character's background and diction, and Doc, the drugstore owner, is obviously a sentimental moralist with a significant message for delinquent youth. The Jets (in their blues and greens for the guys, and bronze and yellows for the gals) have too much of a calculated look, but Serge Trujillo's choreography compensates for this by having them execute wide wingspans and high kicks, while the Sharks, led by Andrew Cao's red-hot macho Bernardo, are fierce in their aggressions. The dance prologue does seem too carefully choreographed to be a convincing rumble—the open thrust of the Festival stage exposes all the near misses in stomps and punches—but the pugnacious crouches and reckless advances breed enough excitement to put this gang warfare in high gear. West Side Story is not, of course, just about New York gangs running amok. Using Maria and Tony in place of Juliet and Romeo, and substituting Puerto Ricans and Caucasians for the Capulets and Montagues, it is a re-telling of Shakespeare's Romeo and Juliet fable but with several twists. Fundamentally, it is about how love is destroyed in a world of bigotry and violence. But it is also the first conceptual movement musical of Broadway to attempt a transformation of conventional music theatre. Leonard Bernstein, its music composer, believed there would be a new trend in American musicals. Arthur Laurents called this musical "lyric theatre," but whatever one chooses to call it, West Side Story is a ground-breaker. It shows that almost any topic—gangs, murder, bigotry, attempted rape, the generation gap—can be the subject of a popular musical.
The current Stratford production is deservedly a hot ticket, despite the fact that I think the thrust stage is probably not to the best advantage of this musical, and that Douglas Paraschuk's latticed balconies and staircases have no poetry, though they do cut down the horizon, leading to a sense of oppressive closeness. Kevin Fraser's lighting design is superb: it bathes the stage in warm colour washes, using its palette for simple or expressionistic effects, making tints and accents vividly theatrical. And the cast has not just singers and dancers but actors who make the most of what is one of the shortest books of any American musical. Of course, (as the late Harold Clurman insisted) a play is not fundamentally a succession of dialogues or monologues; it is a series of actions arising from specific moments. Knowing this in his bones, Laurents is adept at providing brief lead-ins to a song or number, and often two or three lines launch a searing sequence. Sometimes—as in the attempted rape of Anita—music replaces dialogue, or song—as in "America"—serves as satiric underscoring. Gary Griffin's production moves assuredly through the libretto, firmly consolidating the musical's vibrancy and power. This musical, more than most others, demands dancers who can do rock and roll, Latin, jazz, and ballet. Though the dancers are not all young enough to look convincingly teenaged, they have more important qualities: the male Sharks convey a sense of having brutalized by racism and a tough life in America, while the Jets look like spoiled brats. And they all move well, especially the ladies who shine in the competitive dances in the gym where movement is a metaphor for social, racial, or sexual power. And the dances in general—even "Cool" and "Officer Krupke" (a vaudevillian number, if there ever was one, that mocks soft liberalism)—feel essential to the fable.
Led by the remarkably athletic Tony of Paul Nolan (who mounts Maria's high balcony in a single leap and scrawls graffiti on it to express his romantic ardour) and the sublime Maria of Chilina Kennedy (who seems born to her Puerto Rican accent), the ensemble is boldly proficient, achieving an acting level as high as that for its singing and dancing. Nolan and Ms. Kennedy are quite the hottest Tony and Maria of living memory, and their director ensures that love and sex are preserved as vivid emblems before the audience via intimate clinches, Maria's bed, and the carnal dance competitions. Apart from the fiery Bernardo of Andrew Cao, there are a fine Riff from Brandon Espinoza, a vividly tomboyish Anybodys by Josie Marasco (who expresses the girl's need to be accepted by the gang), and a superb Anita by Jennifer Rias. Bruce Dow's Officer Krupke is both threatening and funny, while Dan Chameroy makes a very tough Schrank, one who takes no guff and who is not at all shy about sounding racist. Stephen Russell makes a warm Doc, kind, sympathetic to the young lovers but bitter about the stupidity of gangs. Griffin embroiders his production with the presence of a young boy representing the future generation influenced by what he sees around him. Played by Kolton Stewart (who knocked everyone's socks off last season in The Music Man as the drum-playing kid) he enters with a basketball at the top of the show, only to scoot once the first gang members appear. After the fatalities of the first rumble, he wanders in again to discover two dead youth. Next he sings a chorus from the balcony during the dream ballet that deepens the poignancy of the phrases "a new way of living" and "a way for forgiving." His role is that of a silent, young chorus, for he watches as the final searing, tragic climactic sequence plays out. No words are required from him. The stage action says it all.
http://www.stageandpage.com/west%20side%20story.htm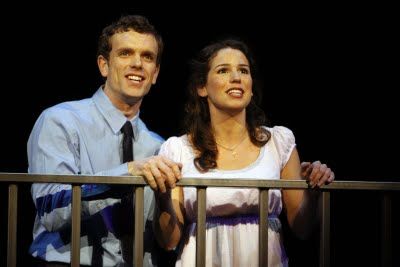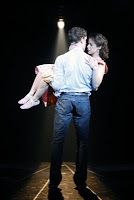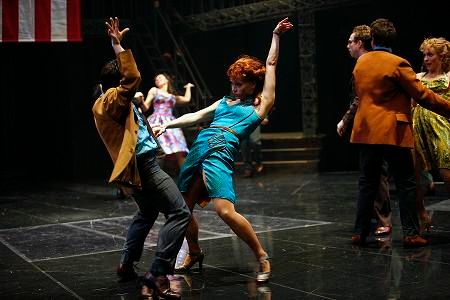 Arthur Laurents has said, "This is a story of love that cannot survive in a world of bigotry and violence." The central love story is that of Tony and Maria; but Mr. Laurents says the entire production is motivated by love, beginning with the first scene between Tony and Riff. If Tony "loves him like a brother" and Riff is willing to die for him, their relationship must be carefully and organically established for the tragic story to work.
Current Mood:

thoughtful