Meet the men of West Side Story (on tour)

by Jim Halterman

It's no big surprise when thinking of the most iconic American musicals of the 20th Century that West Side Story is easily at the top of the list. The Romeo And Juliet-esque love story of Tony and Maria, the battle between gangs the Jets and the Sharks and, of course, the script by Arthur Laurents, music by Leonard Bernstein, lyrics by Stephen Sondheim and the amazing choreography by Jerome Robbins has made it one of the most memorable stage musicals ever and the film adaptation is still seen as one of the best movie musicals ever produced.

With a successful revival on Broadway closing, West Side Story has also hit the road and is now touring the United States. ...During it's current stop in Los Angeles and just before heading to San Diego, EDGE: talked with the three hunky leading men - Kyle Harris (Tony), Joseph J. Simeone (Riff) and German Santiago (Bernardo) - in the show about diving into such an iconic work and what's gay in the famous production.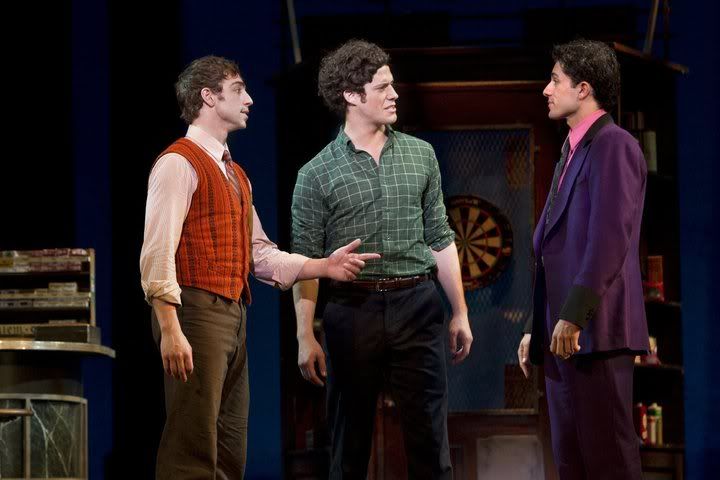 Joseph J. Simeone, Kyle Harris and German Santiago in the national tour of West Side Story

Kyle Harris Getting cast
EDGE: How did the role come about for you?

Kyle Harris: They originally saw me from a YouTube video called Website Story...they ended up calling me in from that [and] I ended up singing in front of Arthur Laurents! This was for the Broadway company of this play and they told me they wanted to save me for the national tour. I knew the tour wasn't happening for another year and there was no way they were going to remember who I am but then literally a year later I got a phone call saying "Do you still want to play Tony on the national tour!'

Joseph J. Simeone: For me, my road was kind of long. I had a six-month audition process. When I went in for the first audition, they gave me the sides for Riff and at the time I thought 'My God! That's a lead character!' I've only danced pretty much in my life - I was a classical dancer and a few modern companies - and I got myself an acting coach, a great vocal coach and I just worked really hard and got the job! I couldn't believe it!

German Santiago: It came at the right time and right place. At the time, when they were originally having auditions I was involved with another project and I wasn't able to go to the Broadway audition so I just happened to be free for the auditions. My agent called me on a Friday evening for the tour. Even though my original audition was in LA, I had to go to New York.


German Santiago Old vs. new?
EDGE:: Everyone knows the movie and the musical of West Side Story, but when you prepare, do you look at the old stuff or do you steer clear of it?

Joseph J. Simeone: I only worked by going through the material that I was given. I didn't go back to the film at all and I didn't go back to the Broadway version to see what they were doing. It was purely working with David Saint (director), Arthur Laurents (Broadway Production Director) and Joey McKneely (Choreographer) on getting what they wanted to bring out of this production. Anything that's been done in the past was kind of put aside and we allowed ourselves to change and open up and find new directions in the same material.

Kyle Harris: I completely avoided the old stuff and I've actually never seen the movie all the way through. I kind of went off and wanted to make Tony as relatable as possible. He's just a modern-day kid who happens to fall in love with the wrong girl at the time. I wanted to bring energy to the part without falling into the stereotype of the typical young leading man.

German Santiago: I'd seen the movie several times and I did refresh my memory before the auditions. I watched the movie and I did do my research in a sense not to recreate what I saw but to really make sure what I was doing was completely different.

EDGE:: What do you see in WSS that gay audiences can connect with?

Joseph J. Simeone: Certainly the main theme of the difference of diversity with love. First of all, here is a forbidden love. It's the whole premise! It's a battle against bigotry and racism in the play. It connects to the gay experience because we're battling bigotry to find love. It's the same exact story. We're being told by people who have nothing to do with our experience how we should be behaving.

Kyle Harris: There's this one moment at the end of Act Two where Maria and Anita are singing A Boy Like That/I Have A Love and Arthur Laurents originally wrote 'I Have a Love" for his partner at the time and the lyrics are so deep and so meaningful. "I have a love and it's all that I need, right or wrong" and it just shows right there that it's doesn't matter what or who you love. As long as that can survive in the world, we will be okay. I think that's such a pivotal moment in the show and it just melts the audience's heart. Whenever we would do that number in the show, Arthur would just be in tears watching it since his partner passed away a few years ago. He would look away because it was so emotional for him.

German Santiago: I think anybody can connect with the feeling of forbidden love. If you've ever been in love you can connect with this story, First of all, because of the beauty that comes with love and also, unfortunately, in the gay community if you've ever had prejudice towards you at any time in your life you can relate with this story because it's all about love trying to survive in a world of bigotry, prejudice and violence.


Joseph J. Simeone Physical demands
EDGE:: What about the physical demands of the show when you're on tour? How much of a challenge is it to maintain your workouts on the road?

Joseph J. Simeone: It is a challenge! It's hard to find good ballet classes and it's hard to keep our bodies in shape. We have a traveling physical therapist who comes with us everywhere we go, which is great. I know a lot of us take our own personal time and get massages but mostly it's trying to keep up going to class, doing the extra work and find out what's available in the city that we can take advantage.

German Santiago: I think it is especially challenging because the gym is not anywhere nearby or the gym at the hotel sucks! It's kind of weird since we're still in the beginning of the tour. The one thing I try to be consistent with is to take yoga no matter where I go and that's a constant form of exercise. I take Bikram yoga and it's exactly the same class no matter where you go.

EDGE:: Joseph, you've done Broadway Bares. How much fun is that?

Joseph J. Simeone: Broadway Bares is so much fun! It's so fabulous! We raised over a million dollars last year! I've done it two years in a row now and I've met some amazing people. It's a great thing to be a part of and you feel like you're really giving back to the community and you're really supporting that team spirit.

EDGE:: How is it different for you as a performer to actually take off your clothes for Broadway Bares?

Joseph J. Simeone: I don't know if it's necessarily a challenge. It's just all about being in the spirit of having fun and I think Broadway Bares is really about being sexual and having sexual desires and impulses happen naturally. Everyone should be open to them and it's also about the responsibility of doing it safely so we can put an end to what's happening with HIV in the gay and the straight community. Doing a play on sexuality is fun and it's also the message for us to be safe and responsible!

EDGE:: I'm guessing you must be a fan of Sondheim since you're doing this show and you've done Sondheim on Sondheim.

Kyle Harris: Starting off in New York I was always getting in rock shows like Rock of Ages, Spring Awakening and Hair and I was the 'rock guy' but then I got cast in Sondheim on Sondheim and West Side Story so lately it's been the Sondheim guy which is great because it doesn't get any better than that.


Jim Halterman lives in Los Angeles and also covers the television scene for www.FutonCritic.com and, of course, www.jimhalterman.com. He is also a regular Tweeter and has a group site on Facebook.

http://www.edgeboston.com/index.php?ch=entertainment&sc=&sc3=&id=114368