West Side Story... is forever.

by Nathaniel R

It occurred to us last week while looking at photos from Steven Spielberg's 2020 remake of West Side Story that a huge swath of the original cast members from the 1961 Best Picture winner are still with us today. It's not just the legendary trailblazer Rita Moreno though she's the liveliest of the bunch despite being the oldest at a spritely 88.

So after the jump all the surviving cast members!
…

We honor their contributions to an indelible piece of film history even though there are a great many of them that didn't stay in movies thereafter. Anyway, thiis is us doing our small part to suggest and hope that they get a bit of attention when the new iteration of the greatest musical ever written arrives. Invite them to the December premiere at least, Spielberg, won'tcha?

Here they are...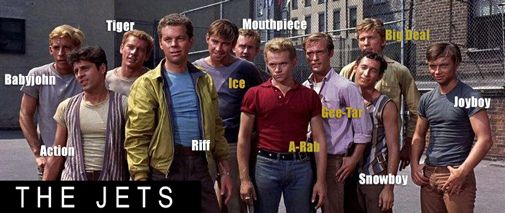 Character names in white = the actor is still with us today

Robert Banas as "Joyboy" (86 years old)
He danced in several motion pictures, often uncredited, before West Side Story. His last film was the comedy Odd Jobs (1986) starring Paul Reiser.

Russ Tamblyn as "Riff" (85 years old)
He was only 14 when his first film arrived so Tamblyn was the biggest star cast in West Side Story at the time other than the headliner Natalie Wood (they had both been nominated once for supporting Oscars in the mid 50s before this legendary musical came calling). Tamblyn still works in both features and TV series with frequency, recently appearing in Django Unchained, the Twin Peaks reunion series, and the Haunting of Hill House streaming series.

Harvey Evans as "Mouthpiece" (79 years old)
He worked every so often in film and television (he even dances in the Amy Adams hit Enchanted)

Bert Michaels as "Snowboy" (76 years old)
After the film version of West Side Story he became a regular on the Broadway musical stage until the mid 1970s. He only appeared in a couple of more movies though.And can be seen dancing next to Harvey Evans in Enchanted.

David Bean as "Tiger" (unknown years old)

Also still with us.

and a couple of cool pieces of trivia...

Tony Mordente as "Action" (84 years old)
After regular roles on Broadway in the 1960s he moved into television directing where he had a long successful career. Curiously "Action" was his only credited film role, despite how strong he was in the film. He seems to have retired in the early Aughts. He was also in the original 1957 Broadway production of West Side Story as "A-Rab" and married that production's "Anita," the legendary Chita Rivera. The marriage didn't last the 1960s but it resulted in Chita Rivera's only child.

Eliot Feld as "Babyjohn" (77 years old)
After West Side Story he became a major star choreographer in the ballet world, founding two ballet schools.

OKAY ON TO THE SHARKS...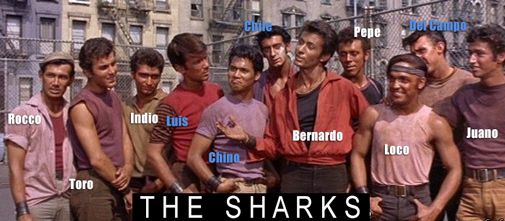 The names in white were played by actors who are still alive today.

George Chakiris as "Bernardo" (85 years old)
Chakiris started showbiz young at the age of just 12. You can spot him in the choruses of a few classic musicals (most memorably right behind Rosemary Clooney during her big solo in White Christmas) before West Side Story made him famous... and an Oscar winner, too! He kept busy on the big screen all throughout the 1960s and moved to TV in the 1970s where he worked regularly until the early 90s. He hasn't appeared in a movie since 1990, though.

Jamie Rogers as "Loco" (unknown years old)
He was a regular dancer on the Sonny & Cher show after West Side Story and like many of the cast members eventually worked in choreography. He now works as a dance teacher.

Eddie Verso as "Juano" (unknown years old)
He was a very celebrated dancer after West Side Story, considered a major interpreter of Jerome Robbins work. Then he became the director of the Dance Center of New Jersey.

Jay Norman as "Pepe" (unknown years old)
He only made a couple more movies and not much is known about him.

Nick Covacevich as "Toro" (unknown years old)
He is in a couple of other major musicals as a dancer (Let's Make Love, My Fair Lady) and worked as a choreographer in Vegas.

and a piece of interesting trivia....

Gus Trikonis as "Indio" (82 years old)
He's the offscreen brother of the actress who played Graziela (though she was with the Jets on the other side in the movie). He had a successful career after West Side Story acting in several features before he moved to directing. And, get this, he was married to Goldie Hawn during her Oscar winning movie-star-becoming years!

OKAY, MOVING PAST THE GANGS WE HAVE...

Rita Moreno as "Anita" (88 years old)
Rita's film career began way back in 1950 and her list of classics --hell, her whole career -- is astounding (Singin' in the Rain, King and I, West Side Story, Carnal Knowledge, Electric Company, One Day at a Time, The Ritz, etctera) when you stop to consider the institutional racism that prevented her from snagging the kind of regular star roles she was clearly capable of nailing with her unmistakable magnetism. She's been doing Emmy worthy work on One Day at a Time for a few years now and she's still acting in big screen films, too, on occassion. She'll even appear in the new version of West Side Story as the shop owner "Valentina," a gender-flipped variation on the character of "Doc" from the original we hear.

Yvonne Wilder as "Consuelo" (82 years old)
She had a successful acting career after West Side Story with a handful of movie roles and numerous TV guest spots until the early 90s (she was last seen on the sitcom Full House).

Richard Beymer as "Tony" (82 years old)
Though his leading performance in the musical has been much maligned in the year's since, he has kept busy as an actor through the years, recently reprising his memorable performance as Ben Horne in the Twin Peaks reunion series. He also makes documentary shorts now!

Gina Trikonis as "Graziella" (81 years old)
Riff's main squeeze, and one time sister-in-law to Goldie Hawn, only had a few roles after West Side Story but stayed in showbiz, moving into the costume and wardrobe departments of TV series (like Freaks and Geeks, Full House, Step by Step, and more) where she worked steadily until retirement in 2001.

Carole D'Andrea as "Velma" (unknown years old)
This was her only motion picture but she's now a successful acting / singing coach and she's even on twitter!

Susan Oakes as "Anybodys" (75 years old)
She was memorable in West Side Story but it proved to be her only film role. She made a few tv appearances before vanishing from showbusiness in the mid-60s. We can't find any info on her though so don't actually know that she's still with us. But we hope so.

http://thefilmexperience.net/blog/2020/4/6/west-side-story-is-forever.html