Arthur Laurents talks about 'West Side' revival
David D'Arcy, Special to The Chronicle

Arthur Laurents, author and director of the new production of "West Side Story," is a vigorous 92. He and the show's original lyricist, Stephen Sondheim, a mere 80, are the last men standing from a collaborative dream team that also included composer Leonard Bernstein and choreographer Jerome Robbins.

The musical, now 53 years old, begins a monthlong visit to San Francisco this week.
...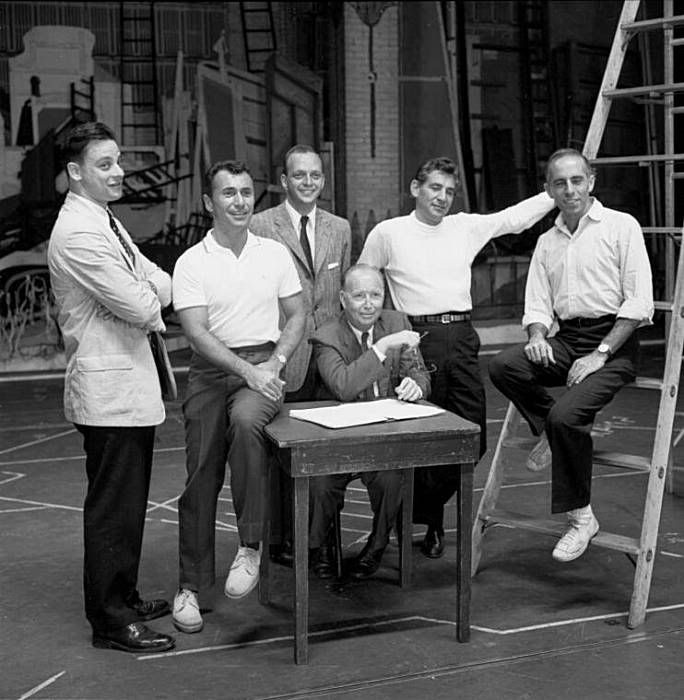 The gang's all here: The "West Side Story" Broadway team in 1957 consisted of (from left) lyricist Stephen Sondheim, author Arthur Laurents, producers Hal Prince and Robert Griffith (seated), composer Leonard Bernstein and choreographer Jerome Robbins.


Laurents is a notoriously plainspoken man. More than plainspoken, some say.

"I've gotten into a lot of trouble with my quotes. I'm a new person," the author of "Gypsy" and "The Bird Cage" and the epic memoir "Original Story By" says, laughing.

Yet he speaks his mind on the staying power of "West Side Story."

"I think it's the best musical score ever written for the musical theater, and the story is the best love story in the world," he says over the telephone earlier this year before leaving on a trip to England.

Genial and gracious
Cordial and friendly, Laurents is no less reticent about the musical's influence. He believes the show changed not so much the form of musical theater but the content.

"All the techniques had been used before," he says. "We simply used them better.

"The theme is bigotry - how love can't exist in a world of bigotry and violence. The first act ends with two murders. The second act ends with one death. There's an attempted rape. You never had anything like that in a musical before. It meant that you could do anything in a musical. That's the big change that it brought about.

"We were doing a contemporary version of 'Romeo and Juliet.' We didn't think about big success. I actually thought that, if we were lucky, the show would run three months."

Laurents stresses that the new production is a revival of the original, not an update.

"I don't believe in doing a revival just to do a revival, to replicate the original," he says. "Unless you have a fresh approach, why do it?"

Most controversial in Laurents' new staging of New York gang wars is the use of Spanish dialogue. Critics have been mixed on the experiment.

Laurents explains: "Tom Hatcher, who was my partner for 52 years, spoke Spanish, and he saw 'West Side' in Bogotá, Colombia, in Spanish. When he came back, he told me, 'When you see the show in Spanish, and the hometown language is Spanish, the Sharks are the heroes and the Jets are the villains.' Since I think both of them are the villains, I thought that this might be a way to equalize them, since the Jets have so much more stage time. Tom said, 'Why not have the Sharks and their girls speak Spanish where they normally would in this country?' "

"That gave a whole new impetus to the piece," Laurents says, "besides the fact that I always thought that it was basically a love story. So I wanted to emphasize that, and that meant acting. Until this production, the acting had never been given equal status with the singing."

Laurents is on record calling the acting in the screen version of "West Side Story" "the worst in any musical film."

People telling a story
"In 'West Side,' there aren't that many characters, but if you teach the dancers how to act, you have characters," he says. "They're not just doing a number. They are people telling a story. That's the big difference."

Asked why so few musicals stress acting and characters, the writer says, "The book is always ignored, and half the time rightly."

Theater critics haven't been his only problem. He says the new production's Spanish dialogue has irked foes of immigration.


Hate letters
"It didn't make any difference in New York, but in Washington, I got hate letters," he says. "Racists have called radio shows to protest. In San Francisco, an immensely liberal town, you won't have that problem, but they are going to face it around the country."

Laurents spends most of his time in Quogue, N.Y., where he is writing a new memoir, "The Rest of the Story" - "the first sentence is, 'If you don't know the teller, you don't know the whole story.' " He still travels, often to England. Laurents worked on the Detroit stop of "West Side Story," but he won't be coming to San Francisco.

"I need a good reason to travel these days," he says. "They don't make it easy."

Yet he keeps an eye on the cultural scene, with plenty of opinions. His favorite film last year was "The Hurt Locker" ("After that, how could anybody send one soldier to Afghanistan or anywhere else?"). Another favorite is "The Kids Are All Right," directed and co-written by Lisa Cholodenko: "She made the audience accept two lesbian mothers and their two children by the same father as a typical American family."

He liked Tom Ford's "A Single Man" less: "Fashionista, great for the clothes - I didn't think there was a drop of emotion in that film." Among recent musicals, Laurents admires "Spring Awakening" ("the musical staging by Bill T. Jones was the most original that I'd seen in decades"). On President Obama, for whom he voted, he asks, "How do you spell 'disappointment'?"

An infrequent visitor to San Francisco, Laurents recalls taking a bus up Nob Hill to the Fairmont Hotel during World War II and launching the road company for "La Cage aux Folles" here some 40 years later.

"That seemed the perfect place for it," he says.

Candid memoir
"San Francisco, I heard, was a gay mecca, but I never wanted to live in a ghetto," says Laurents, who wrote candidly and acerbically about his own gay life in the theater world in "Original Story By" (2000).

"There's such a thing as being too gay," he says. "The only reason that I'm for same-sex marriage is that, as somebody told me, there are 1,400 legal rights that married couples have that unmarried couples don't have."

Laurents brought the conversation back to his relationship with Hatcher.

"We stayed together for 52 years. How many couples have a life like that - gay, straight or what have you? That's the most important thing in my whole life - not 'West Side Story' or any movie or play, or anything." {sbox}


West Side Story: Wed.-Nov. 28. $30-$99. Orpheum Theatre, 1192 Market St., S.F. (888) 746-1799. www.shnsf.com.

David D'Arcy is a freelance writer. E-mail him at pinkletters@sfchronicle.com.

http://sfgate.com/cgi-bin/article.cgi?f=/c/a/2010/10/24/PKOD1FR6BS.DTL

This article appeared on page Q - 18 of the San Francisco Chronicle

http://www.sfgate.com/cgi-bin/article.cgi?f=/c/a/2010/10/22/PKOD1FR6BS.DTL&type=performance

Facts about 'West Side Story'
Leba Hertz, Arts and entertainment editor

Sunday, October 24, 2010


Just think: "West Side Story," adapted from "Romeo and Juliet," could have been "East Side Story." One of the ideas bounced around early on by choreographer Jerome Robbins was having the plot center on an Italian American Roman Catholic family and a Jewish family in which the girl had survived the Holocaust. The Lower East Side action was to take place during Easter and Passover. Obviously, Robbins, Arthur Laurents and composer Leonard Bernstein thought the better of the idea. So even though the Catholic gang's name, the Jets, remained the same, the Jewish Emeralds became the Puerto Rican Sharks. Here are some other tidbits you may not have known about "West Side Story":

The original 1957 production

-- The sister of Larry Kert (Tony), Anita Kert Ellis, dubbed various actresses' singing voices, including Rita Hayworth's in "Put the Blame on Mame" in "Gilda."

-- World-renowned opera diva Reri Grist played Consuelo in the original production.

-- The multitalented Chita Rivera, a Kennedy Center honoree, wasn't nominated for playing Anita in "West Side Story," though she would go on to win two Tonys among her many nominations. She's still going strong, and will appear in a Bay Area cabaret show Nov. 5 at the Fairmont's Venetian Room.

The 1961 movie

-- The singing voices of Natalie Wood (Maria) and Richard Beymer (Tony) were dubbed by Marnie Nixon and Jimmy Bryant.

-- Beymer and Russ Tamblyn (Riff) had major roles in David Lynch's moody television series "Twin Peaks." Tamblyn is also the father of Amber Tamblyn of "Joan of Arcadia" fame.

-- The most decorated movie musical, "West Side Story" won 10 Academy Awards (out of 11 nominations), including best picture.

-- Rita Moreno (Anita) won the Oscar for best supporting actress, but what's most impressive is that she's one of a very select crowd to also win an Emmy (two), a Tony, a Golden Globe and a Grammy. And, like Rivera, she's still bringing it on. She'll perform an autobiographical show at Berkeley Rep next year.


http://sfgate.com/cgi-bin/article.cgi?f=/c/a/2010/10/24/PKPU1FTDKH.DTL

This article appeared on page Q - 21 of the San Francisco Chronicle

http://www.sfgate.com/cgi-bin/article.cgi?f=/c/a/2010/10/22/PKPU1FTDKH.DTL&type=performance

A girl named Maria

By: Greg Archer
Special to The Examiner

Never be the same: Ali Ewoldt plays Maria in the Broadway revival of the classic "West Side Story," opening this week at the Orpheum Theatre. Dancing in the new production, above, is said to be edgier than in the original, award-winning musical. (courtesy photo)
Broadway revivals can be a tricky thing. How do you rework a Tony-winning classic, especially one as historic and groundbreaking as "West Side Story"?

That was the big question facing Arthur Laurents several years ago. Laurents, whose powerful imagination originally helped launch one of Broadway's most breathtaking tales, opted to direct the revival of "West Side Story" in 2009, but he had to find the right choreographer who could rejuvenate Jerome Robbins' already stellar choreography.

Enter Joey McKneely, who had reproduced and directed several productions of the show internationally, and who wanted to adhere to Laurents' desire to break free from the titular show's "museum piece" feel and make the choreography look edgier and harder.

Theatergoers will discover just how much edgier when the show opens at the Orpheum Theatre on Wednesday.
But that's not the only shift in this winning tale.

"The love story has been given new passion and there's a new dangerous quality to the production overall," says Ali Ewoldt, who plays star-crossed lover Maria.

"You can sense from the beginning of the production when [the character] Riff is staring down the audience. There's beautiful dancing and amazing music in the show, but the truth of it is, this is really about two gangs in New York, and it's a really hard, scary, dangerous existence. It's thrilling to watch that come to life."

Joining Ewoldt onstage in what could become one of the more invigorating theater outings this year, are Kyle Harris (Tony), Michelle Aravena (Anita) and Joseph J. Simeone (Riff).

David Saint directs, culling from Laurents' feverish vision in the revival.

In the meantime, between Leonard Bernstein's inspiring music and Stephen Sondheim's deeply emotional lyrics — "America," "I Feel Pretty," "Somewhere" and others — it's hard to not to be moved by the experience.

But creating "art" has its challenges, something Ewoldt quickly realized.

"Maria takes such a journey," she says. "She begins as such a young girl who really doesn't know anything and then, in the course of two days, she becomes a woman, she falls in love, she learns what it is to fight for that love, to lose that love and also comes to grip with the reality of life.

"I think to be able to be really true to that story and tell it from beginning to end has been really challenging but a wonderful challenge."

http://www.sfexaminer.com/lifestyle/A-girl-named-Maria-105617058.html