LAWRENCE B. JOHNSON
Special to The Detroit News
A brand new touring production of "West Side Story" launched its national run Wednesday night at the Fisher Theatre, and it may safely be christened a triumph right out of the gate.
Modeled after the Leonard Bernstein-Stephen Sondheim musical's recent Broadway revival, this mesmerizing show feels new-born fresh in the care of a youthful cast that brings the whole theatrical package - singing, dancing and acting in a seamless blend of skills and story-telling.
...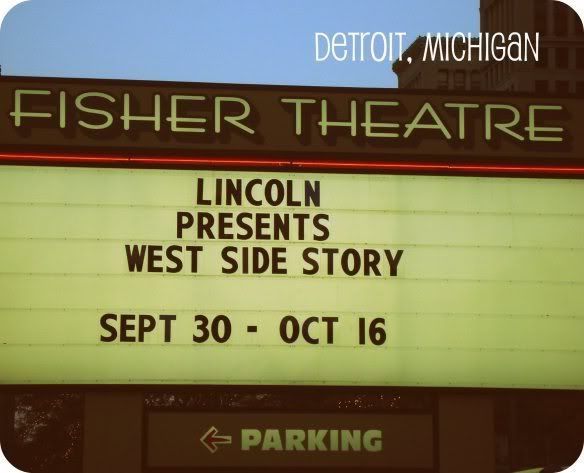 As Tony and Maria, the American boy and Puerto Rican girl whose ill-fated love cuts across the grain of warring gangs on New York City's old West Side, Kyle Harris and Ali Ewoldt touch the heart with their wide-eyed ardor. The sheer excitement and breathless discovery of their balcony scene is irresistible. Indeed, the lovers' first-sight attraction, and the passion that bursts from it, is the stuff that dreams of a prejudice-free world are made of.
Perhaps because issues of skin color, religion and language continue to isolate us from each other, much as they did half a century ago when "West Side Story" first appeared, this joyous and tragic musical has retained a keen edge of relevance.
To underscore the deep cultural divide between the story's two feuding gangs, the American Jets and the Puerto Rican Sharks, Sondheim authorized translation of some parts of the show into Spanish for its Broadway revival. The touring production utilizes that bilingual treatment, which is the musical's new standard version.
While the Spanish element is substantial, it never clouds the show's narrative flow. One doesn't have to understand Spanish to grasp meaning conveyed clearly through circumstance or inflection. The effect can also be quite charming, as when Maria, secretly planning to marry Tony, sings "I Feel Pretty" in English and Spanish amid her teasing Puerto Rican girlfriends.
The complex Puerto Rican side of this roiling equation is embodied in German Santiago's virile Bernardo, Maria's intensely protective brother, and Michelle Aravena's sultry Anita, who finds herself caught in the middle as Bernardo's girlfriend and Maria's best pal.
On the opposite side, Joseph J. Simeone, as Tony's buddy Riff, combines exquisite dancing with sharply defined character. Drew Foster, as Action, also stands out among the vividly drawn Jets. The gang's outrageous riff on how they got to be the way they are, "Dear Officer Krupke," brought down the house.
"West Side Story" is a great dance show, and this company is replete with superb dancers. Under David Saint's direction, the tide of events sweeps everything before it in a headlong rush to catastrophe, and that tide takes on a human quality in the show's many powerful dance sequences, from an opening confrontation between the Sharks and Jets that ramps up from taut to clash with palpable inevitability.
The fluency of this production owes much to designer James Youmans' detailed but highly mobile set pieces. And the show takes unfailing energy and grace from the pit orchestra conducted by John O'Neill. It's an exceptional night at the theater, not to be missed.
Lawrence B. Johnson is a cultural writer and critic. lawrencebj@gmail.com
http://www.detnews.com/article/20101007/ENT01/10070414/1033/ent/'West-Side-Story'-scores-a-hit-at-the-Fisher
'West Side Story' has its moments, but needs to turn on the juice
BY JOHN MONAGHAN
FREE PRESS SPECIAL WRITER
Cool? If anything, the guys in the Jets need to turn up the heat in the touring production of "West Side Story" that launched last week at Detroit's Fisher Theatre.
The newness of the show was evident Tuesday night (the last in a handful of preview performances), starting with the choreography in the mood-setting opening numbers. It's here that the animosity is established between the U.S.-born delinquents in the Jets and the Puerto Rican immigrant delinquents in the Sharks as they fight over a piece of New York City turf.
It's into this charged environment that Maria (Ali Ewoldt) and Tony (Kyle Harris) experience love at first sight. It happens at a dance designed to bring the gangs together. But when Maria's brother Bernardo (German Santiago) sees his sister dancing with a boy who isn't Puerto Rican, it leads to the show's big -- and tragic -- rumble.
This "West Side Story" follows the same conceit as the version currently on Broadway. To mark the show's 50th birthday, original writer Arthur Laurents decided to incorporate Spanish dialogue and lyrics into the scenes involving the Sharks.
The use of two languages may prove distracting to audience members who don't already know the show by heart, even though they likely know "Romeo and Juliet," the Shakespeare classic on which it is based. In my view, the use of Spanish adds to the authenticity of some scenes, especially the moment in the show's second half when Maria finds out that Tony stabbed and killed Bernardo. The resulting "A Boy Like That" and "I Have a Love," sung with friend Anita (Michelle Aravena), is especially poignant as lines jump between English and Spanish.
Ewoldt and Harris are solid, if not exceptional, in the leads, bringing passion enough to "Maria" and "One Hand, One Heart," two still-haunting gems from the legendary Leonard Bernstein-Stephen Sondheim songbook. I've been humming them all day.
The show's real deficiencies involve the supporting cast, especially the individual members of the Jets. I longed for a more charismatic Riff (Joseph J. Simeone), an Action (Drew Foster) with a hair-trigger temper and a more vulnerable Baby John (Grant Gustin).
For the performers, developing distinct characters obviously took a back seat to mastering Jerome Robbins' notoriously complex dance and fight moves, which they nearly have down. The dance in the gym number plays especially well. It's pure choreographed chaos as the girls and guys find ingenious ways to stick with their own.
That kind of dance unity didn't come across early in the show, as movement wasn't always in sync with the large, occasionally sloppy orchestra.
There are moments to savor here, like James Youmans' clever set design during the freeway underpass rumble. And the play's final moment works better than I remembered, again thanks to the addition of Spanish.
Local theater fans shouldn't be reluctant to see this "West Side Story" because it employs two languages. For me, the use of Spanish only adds to its texture. However, the still-green cast has some work to do as it gets this show ready for its next tour stop.
Contact Free Press special writer JOHN MONAGHAN:
madjohn@earthlink.net
http://www.freep.com/apps/pbcs.dll/article?AID=/20101007/ENT05/10070323/1362/Ent/West-Side-Story-has-its-moments-but-needs-to-turn-on-the-juice&template=fullarticle
Birmingham native stars in 'West Side Story' opening at Fisher Theatre
By MIKE SANDULA
For Journal Register Newspapers
He already describes it as the opportunity of a lifetime. That he gets a home opener makes it that much better.
When "West Side Story" launches its national tour Sept. 30 at Detroit's Fisher Theatre, Birmingham native Nathan Keen will get the chance to visit home before hitting the road again.
"I've always loved 'West Side Story.' It's always been one of my favorite shows," Keen, who will be playing the role of gang member Big Deal, said. He's unsure why the tour is launching in his hometown, but he said he "won't complain."
Based off the original 1957 Broadway production that focuses on two rival gangs — the Jets and the Sharks, each representing a different ethnicity — this national tour is directed by two-time Tony Award-winning librettist Arthur Laurents with restaged choreography from Tony Award nominee Joey McKneely.
Written by Laurents and Tony and Grammy award winners Leonard Bernstein and Stephen Sondheim, "West Side Story" won the 2010 Grammy Award for Best Musical Show Album.
"This is not your typical 'West Side Story,' " Keen said. "It's not the 'West Side Story' people are going to remember, but it has the potential to open audience members' eyes to so much."
Keen said what sets the characters in "West Side Story" apart from those in other productions is how "real" they are.
"They're very much grounded in reality (but) they're darker, they're grittier, they're meaner," per Laurents' directions, Keen said.
Keen, 22, said the chance to play Big Deal is, well, a big deal.
"A lot of the show's (professional actors) are the happy musical comedy — big flashy costumes, grins, and big singing and dancing," he said. "What makes this one different is just how great and real we're making this production. And for me, it's one of the most physically and emotionally taxing roles I've ever had to deal with."
Big Deal is a member of the Jets who's looking to gain notoriety with gang leaders Tony and Riff. Keen said he's bringing an element of darkness to his role, with a comedic twist.
"He relishes the darkness, he relishes the violence," Keen said. "He is not a happy-go-lucky person. None of (the Jets) are. He just happens to find a lot of things funny in a very twisted kind of way."
Growing up with parents who are both musicians, Keen has been surrounded by music, theater and dance his whole life.
He was born in Ann Arbor, but moved to Beverly Hills in the early '90s. He moved again in 1998 to Birmingham, where he's lived ever since. But eight-hour daily rehearsals in New York have kept him busy on the road so when he found out they were holding auditions for "West Side Story," Keen was on board.
Though he's never performed at Fisher Theatre, he said he's seen Broadway shows there before and is excited the location was picked.
"I think it's very well-suited to our show; I think we'll do well there," Keen said.
He made his Broadway debut in "Beauty and the Beast" when he was 7 years old, and went on to pursue a career in theater, earning his bachelor's degree in theater with a concentration in dance from Otterbein College. He also performed in national tours of "Les Miserables" and "Ragtime."
IF YOU GO
"West Side Story" will be performed Sept. 30-Oct. 16 at Fisher Theatre, 3011 W. Grand Blvd. in Detroit. Tickets are $39-$89 (includes parking and facility fees) and can be purchased at all Ticketmaster locations, by phone at 800-982-2787, or online at www.ticketmaster.com or www.broadwayindetroit.com.
URL:
http://www.macombdaily.com/articles/2010/09/26/entertainment/doc4c9cf47b48a45176113006.prt
'West Side Story' scores a hit at the Fisher