Review: An Aching Ode to Jerome Robbins's Lost New York
For this essential New York choreographer's centenary, a Public Library exhibition full of the joy and anxiety of postwar Manhattan.

By Jason Farago

Sometime in the early 1940s, before he became the choreographer who shaped American movement, Jerome Robbins made a little home movie on a New York rooftop. He's goofing around, trying out a few spins and pliés.

His mother comes on to dance too; she and her son balance on one leg on the rooftop's ledge, then he gives her a ginger twirl in a sweet, familial pas de deux. Then his father enters the picture, squatting and spinning while Jerome kicks his legs like in a Russian folk dance.

In Europe and Asia the war is raging, and the unthinkable is taking place in Jewish villages like the one his parents fled. But New York is a different world. Robbins, up on the roof, goes into an energetic solo, ending with two fast pirouettes, and then looks right at the camera with a grin that says, "If you can make it here …"

That sky-high dance is the charming preface to "Voice of My City: Jerome Robbins and New York," on view now at the New York Public Library for the Performing Arts at Lincoln Center. This centenary exhibition — Robbins was born Jerome Wilson Rabinowitz, in October 1918 — draws heavily on resources he bequeathed to the library, and swells with preparatory materials for ballets like "Fancy Free" and musicals like "West Side Story," as well as reams of anxious diary entries and notes to self.

…

The exhibition, though, is far more than a 100th birthday obligation. Its curator, Julia Foulkes, has zeroed in on Robbins's devotion to his hometown, to show how an open, confident New York offered fertile soil for a new kind of dance, with local roots and international influence.

How solid this show is, full of the joy and anxiety of postwar Manhattan, rich with diner-side sketches and watercolors from dark Greenwich Village nights of the soul. And how nostalgic too. This aching ode to New York — "my city," Robbins called it in one poem, which "chokes on its breath, and sparkles with its false lights" — feels almost like a eulogy for a vanished city, which enfolded artists and dancers and gave them both freedom and inspiration. I loved it, even though it left me heartsick.

Robbins was born on the Upper East Side, where his parents owned a kosher deli, and moved as a child to New Jersey when his father decided to enter the garment trade. The boy attended a German-language kindergarten, but by 1927, the 9-year-old Jerry made his mother a collage as a gift for Christmas, a mark of the family's assimilation.

In his teens and after he made creditable sketches and watercolors of New York, mostly in a style aligned with Ashcan School realism. You'll find here several jagged youthful self-portraits, sketches of faceless figures by a subway entrance, and a gouache from around 1940 that depicts a Manhattan street corner as a shadowy stage, ringed by billboards and spotlighted with electric lamps.

Robbins turned to dance in his 20s — he was the resident choreographer at Camp Tamiment in the Poconos — and met George Balanchine while performing in Broadway musical revues like "Keep Off the Grass" (1939). He then joined the fledgling Ballet Theater (now American Ballet Theater), where he spurned the western Americana of choreographers like Agnes de Mille and Eugene Loring. What he wanted was a dance rooted in city life.

"Ballet — à la Living Newspaper on the History of N.Y.," he wrote the day after Christmas in 1940, sketching out a new project. "Fast — entertaining. American in scope and view." (The draft board exempted him for wartime service. His rejection notice, here, cites his "inadequate personality," presumably a code for homosexuality; Robbins had romances with men and women throughout his life.)

That urban aim would come to fruition in "Fancy Free" (1944), in which three sailors on shore leave — including Robbins as the third, swaggering soloist — engage in a dance-off to woo New York's street-smart single ladies. Robbins made sketches of jumping and prancing seamen, drawing perhaps from the sexed-up paintings of Paul Cadmus, and plotted out scenes with Leonard Bernstein, author of the ballet's syncopated score. It was a wartime hit, and the inspiration for "On the Town" (1944), a Broadway musical also choreographed by Robbins, with a rare multiracial cast — essential, he said, if the work were to look like the city.

He was at the top of the field at 25, and oscillated between the ballet stage, where he created ardent works like "Age of Anxiety" (1950) and "The Cage" (1951), and Broadway, choreographing "Peter Pan" (1954) and, of course, "West Side Story" (1957). By all accounts he was a perfectionist, by many a bully; he made the Jets and the Sharks take lunch breaks separately, and a caricature here, made by a "West Side Story" actor, pictures Robbins as a bullwhip-wielding taskmaster.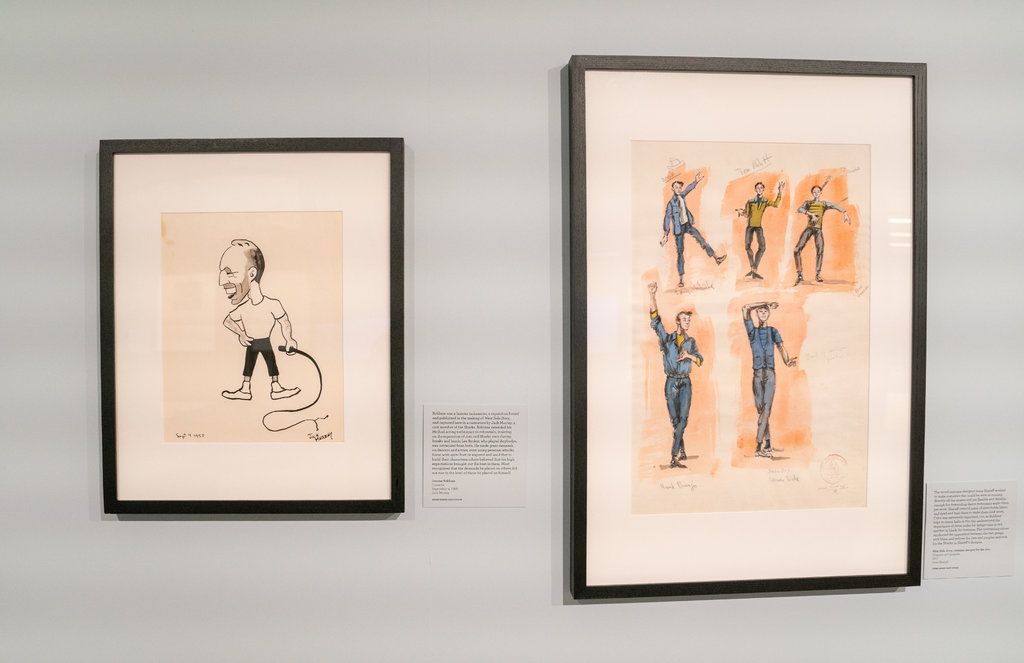 Left, a 1958 caricature of a bullwhip-wielding Robbins, drawn by an actor in "West Side Story"; 1957 costume sketches for the Jets.

Some never forgave him for testifying before the House Un-American Activities Committee; this show holds to the theory that Robbins, a youthful Communist, feared that he would be outed as gay if he didn't comply. Zero Mostel, blacklisted in part thanks to Robbins's testimony, held a grudge for years, though he made his peace with him to star in "Fiddler on the Roof" (1964), which Robbins directed and choreographed.

If he was tough with collaborators, he was tougher on himself. By the 1970s he was gripped by anxiety, self-doubt, lovesickness and bad dreams, all of which he sublimated into diaries, paintings and collage that put the joy of "Fancy Free" and "West Side Story" into relief. Robbins filled these leporellos (or accordion-bound notebooks) with watercolors of a gripped fist or a wistful young man; ticket stubs from the Met and La MaMa; notes describing Richard Nixon's resignation and his own depression, which led him to check into Harvard's psychiatric hospital. A page from the first days of 1977 sums up a lot: "work + worry resume."

Through it all he drew on New York, his inspiration and his helpmeet. His love for the city's bustle comes through especially in the complex interlacing of walkers and watchers in "Glass Pieces" (1983), his most important late work, whose trilling minimalist score fills the final gallery of this show. Robbins in the 1980s also threw himself into the fight against AIDS, taking care of friends, organizing the major 1987 benefit "Dancing for Life," and writing to The Times to criticize its coverage of the epidemic.

By the 1980s, though, Robbins was already complaining in his notes that the New York that made his career possible would not be around much longer. He was right, and not just because the rent is too damn high — the lease for Robbins's $165-a-month floor-through in the West Village, displayed in one case here, is only one benefit to envy.

The on-the-street seductions of "Fancy Free"? Unthinkable now. Cruising in public today would likely mark you as a predator or a freak. The turf wars and cross-cultural redemption of "West Side Story"? Hard to imagine in a city where public space is ever more privatized, and gentrification has marched headlong with more aggressive policing. The thrilling civic admixture of "Glass Pieces," the hustle and bustle of the avenues? In the '80s a friend wrote to Robbins that she was crossing 57th Street and felt "I was in your ballet." Today it's all too easy to cocoon yourself from a shared street life, swaddled in your own playlist or podcast.


Justin Peck is the choreographer for the remake

A 21st-century successor to Robbins, someone who loved New York as much as he did up to his death in 1998, would take these new conditions as a situation to choreograph, and not pretend nothing has changed. Perhaps that's why I felt so irritated by a Robbins-influenced video in this show's last gallery, a promotion of Justin Peck's "The Times Are Racing" that sees the sneaker-shod dancers of the New York City Ballet in the years-delayed, $2.3 billion Hudson Yards subway station, beneath a tourist-trap staircase to nowhere and apartments no artist could ever afford.

The corporate vacancy of this subway boogie-woogie looks especially absurd after dancing through Robbins's New York — which, to me, feels as far from today's pacified, digitally isolated city as Troy or Babylon. But Mr. Peck is hardly the only 30-something nostalgic for a time when the city could still be a muse.

https://www.nytimes.com/2019/01/29/arts/dance/jerome-robbins-review-new-york-public-library.html?action=click&module=Features&pgtype=Homepage