Richard Ouzounian
THEATRE CRITIC
For weeks now, the buzz surrounding the previews of West Side Story at the Stratford Festival has echoed one of the show's memorable tunes: "Something's coming, something good."
It finally opened on Friday night, but the word on the street was wrong. It isn't good. It's absolutely great.
In fact, let's go in for a little critical bridge-burning here and declare that not only is this West Side Story the best production of a musical in Stratford's long and distinguished list of triumphs, but it may well be one of the best productions of a musical I've seen anywhere in the world in 55 years of theatregoing.
What makes one show so special? A variety of things.
...
First is the show itself. From Arthur Laurents' brilliant transformation of Romeo and Juliet into a story about rival New York street gangs, to Leonard Bernstein's still-dynamic score to the tough/tender lyrics of a very young Stephen Sondheim, this is writing of the highest quality. And it's been put on the Stratford stage by an absolute dream team of a creative staff.
Those of us who are lucky enough to travel to the Chicago Shakespeare Theatre have been singing the praises of director Gary Griffin for years. Now the citizens of Ontario can see what makes his work so special: clarity of vision, depth of emotion and style of execution.
One of Toronto's favourite sons, Sergio Trujillo, provides choreography that honours the full intent of Jerome Robbins' original iconic staging but fills the thrust stage of the Festival Theatre with all kinds of angular interest.
Musical director Rick Fox keeps the driving edge the score needs but isn't afraid to let his orchestra soar to romantic heights when the occasion warrants.
Doug Paraschuk's set has all the darkness and impending doom of Gotham City in the Batman movies but is capable of changing into a place where happiness can enjoy a few fleeting moments. And Kevin Fraser, the lord of lighting, once again knows how to turn illumination into art, while Jess Goldstein's costumes are colourful enough to please the eye without hijacking the rest of the senses.
But what rockets all this technical skill into the stratosphere is the cast, which contains not a single performance I would change and a bunch I plan to remember forever.
The evening is well and truly won the instant that Chilina Kennedy swirls onto the stage, with the radiant smile of someone who believes life has a lot of good in store, but the doe-like eyes of a girl who also knows that hurt and pain are possible parts of the equation.
Kennedy's singing is crystalline splendour; her dancing is gossamer elegance, and her acting of a complexity and power that will frequently leave you gasping.
Paul Nolan is the perfect partner for her. He's a Tony of ringing voice, great gymnastic aptitude (watch him leap onto that improbably high balcony) and rock-solid integrity. He's not just a handsome tenor singing pretty songs; he's a guy from the mean streets who's grasping at love as his one way out.
Jennifer Rias, besides being the sexiest Anita in memory, also knows how to get the most drama out of her scenes, as do the show's sacrificial victims: Andrew Cao's quick-to-riot Bernardo and Brandon Espinoza's amazingly textured Riff, who lets us see just enough of the feelings for Tony he dare not admit.
Even the small "adult" roles are handled with distinction, with Stephen Russell a fine non-clichéd Doc, Dan Chameroy an unyieldingly tough Schrank, Bruce Dow a sad clown of a Krupke and Mike Nadajewski as a terminally terrified Glad Hand.
You don't try to understand perfection. You just bow low in gratitude and rush to see it. I doubt you could find a better show in the province of Ontario this year.
West Side Story
Book by Arthur Laurents. Music by Leonard Bernstein. Lyrics by Stephen Sondheim. Directed by Gary Griffin. Until Oct. 31 at the Festival Theatre, Stratford.
1-800-567-1600
http://www.thestar.com/entertainment/article/647048
A stunning West Side Story ****
J. Kelly Nestruck
West Side Story
Based on a concept and originally choreographed by Jerome Robbins
Book by Arthur Laurents
Music by Leonard Bernstein
Lyrics by Stephen Sondheim
Directed by Gary Griffin
West Side Story is, as they say, having a moment. A bilingual revival directed by co-creator Arthur Laurents has been doing boffo box office on Broadway for months, while Gary Griffin's more traditional staging opened with a bang in Stratford last week.
It's not a competition, of course, but, well, in a street rumble, the gang whose turf is north of the border would win. No matter what weapon is chosen – singing, dancing, acting – Stratford's production of this 1957 retelling of Romeo and Juliet is unbeatable.
Griffin's production has an electric charge that keeps the hairs on your skin tingling from start to finish, thanks to two incredible leads cast as the star-crossed lovers Tony and Maria and Rick Fox's assertive musical direction.
But the one element that lifts it into the superlative stratosphere is Sergio Trujillo's renovation of Jerome Robbins's choreography for the Stratford's Festival theatre's thrust stage.
Thrust is the imperative word here: Robbins's finger-snapping choreography, so often parodied, explodes into the audience with an unmockable energy. It's turbo-charged and thrilling and makes the violent dance of the Jets, the American gang, and the Sharks, the Puerto Ricans, seem genuinely threatening.
No one comes off better here than Paul Nolan, who performs a miracle on the flat character of Tony. Magnetism and teenage vitality pour out of his pores.
When he arrives at Maria's fire-escape balcony after they first meet at the school dance, Nolan's Tony leaps into the air, grabs the railing on Douglas Paraschuk's jungle gym of a set and yanks himself up onto the balcony with one flex of his biceps. This feat of athleticism led to spontaneous applause from the audience, but was also a potent physical expression of the character's soaring feelings.
This is a Tony who fully believes his love for Maria has made him invincible to the mix of switchblades, racism and economic insecurity that will eventually lead to his tragic demise.
As his Puerto Rican partner, Maria, Chilina Kennedy is a goofier Maria than we might expect, but she positively glows and her voice knocks you over. Her arc is impressively charted and her final scene – shockingly staged by Griffin, even if you know what's coming – absolutely destroying.
Led by a fierce Riff (Brandon Espinoza) and Action (Matt Alfano), the Jets are a top-notch set of "juvenile delinquents," who, especially in the number Cool , seem always on the verge of exploding.
Andrew Cao is a sharp Bernardo, leading the Sharks, while Jennifer Rias's Anita is primarily comic, a decision that rightly throws the focus on the leads. (On Broadway, the production feels more like Anita's play than Maria's.)
The New York production has some fabulous ideas – the Puerto Ricans sing and speak in Spanish – but director Laurents tries too hard to turn the musical into something gritty and realistic that it is not and cannot be.
There's no gimmick with this West Side Story – just a robust staging that focuses on the emotional journeys of the main characters and sensitive readings of Laurents's sparse text. It's fabulous.
West Side Story plays at Stratford until Oct. 31.
http://www.theglobeandmail.com/news/arts/a-stunning-west-side-story/article1172550/
Stratford stages a stunning 'West Side Story'
By Ted Hadley
STRATFORD, Ont. — The groundbreaking musical "West Side Story" turned 52 recently. Not bad for a show that received mixed reviews when it opened on Broadway in 1957. Its tale of star-crossed young lovers still resonates, its songs still enthrall, its dances remain wild and swift, its rhythms still pulsate.
Briefly, the story is a spin-off from Shakespeare's "Romeo and Juliet." Urban mean streets form the backdrop for turf battles between incumbents, the Jets, and the new kids on the block, the Puerto Rican Sharks. Shakespeare's warring families, the Montagues and the Capulets come immediately to mind, particularly when erstwhile Jet leader Tony falls for sweet Maria, sister of the Shark's main man. There is talk of hate and rumble; ultimately, very bad things happen.
The Stratford Festival has an absolutely stunning "West Side Story" on its mainstage this season, an apt spot for Tony to woo Maria; Romeo and Juliet have met many times on the Elizabethan balcony. "There's a place for us," they sing. Not a chance.
...
The production is fresh and brash. Director Gary Griffin has assembled a dazzling cast: Paul Nolan, as Tony, and Chilina Kennedy, as Maria, are irresistible. Exciting others include Jennifer Rios, Brandon Espinoza and Andrew Cao.
Sergio Trujillo has been allowed to tweak the original choreography by Jerome Robbins; it's nonstop and exhilarating. Stephen Sondheim's lyrics and Leonard Bernstein's music are still potent. Arthur Laurents' sparse "book" remains a guide for storytelling efficiency.
"West Side Story" is electrifying, tough, tender and timeless.
http://www.buffalonews.com/entertainment/gusto/article9569.ece
Stratford Festival musicals top the Bard in a topsy-turvy year
This year, the Chicago director Gary Griffin's production of "West Side Story" is the top-selling production at the Stratford Shakespeare Festival.
STRATFORD, Canada—Antoni Cimolino and Des McAnuff, the duopoly in charge of the beloved Stratford Shakespeare Festival, began their annual letter to patrons with a fervent declaration: "Shakespeare is at the center of our dramatic universe." True, this charming and hospitable Ontario town has hosted North America's most prominent, classically based theater for more than half a century. But like all savvy administrators, Cimolino and McAnuff are also doing some get-ahead-of-the-story damage control.
In fact, Shakespeare is noticeably less at the center of the Stratford universe in 2009. This year, it's mostly about the musicals.
In 2008, Stratford produced five Shakespearean productions; this year it is producing three. Last year, none of the musicals was in the main Festival Theatre, the showcase venue. This year, the Chicago director Gary Griffin's intensely moving production of "West Side Story" is the marquee, top-selling production there. And whereas last year's musicals felt like no more than solid regional productions, this year's boffo pair of tuners, "West Side Story" and "A Funny Thing Happened on the Way to the Forum," are richly innovative affairs, respectively packed with great emotional power and side-splitting shtick.
With the help of his choreographer Wayne Cilento ("Wicked"), McAnuff mines more sight gags during "Comedy Tonight" than you'd have thought possible in a single opening number. And in terms of delivering heart, truth and sexual intensity, Griffin's beautiful, gut-wrenching "West Side" is far, far superior to Arthur Laurents' current Broadway revival.
And the Shakespeare? "A Midsummer Night's Dream" opens later in the summer. And "Macbeth" and "Julius Caesar" have their arresting moments, especially those involving the Canadian star Colm Feore's compelling Thane of Cawdor. But this pair of shows is strangely similar in conceit (both involve a lot of combat fatigues and gunshots). And although "Macbeth" is the better of the two by far, neither is able to forge a cohesive worldview, or to carry its conceptual ideals to a fully satisfying conclusion.
There are good financial reasons for a shift in focus—that clearly has been pursued with great caution, this being Stratford, where every programmatic decision is parsed by dedicated American and Canadian theatergoers who've been coming every summer for years.
Last year, the mercifully well-endowed festival ran an operational deficit of $2.6 million, and saw a 4 percent decline in attendance. Its leaders blamed the sour economy, especially in the Midwestern markets that traditionally provide the bulk of its pivotal U.S. audience (the festival says some 35,000 audience members arrive every year from the Chicago area, which also is a major source of the festival's philanthropic dollars).
In early 2009, 11 employees were laid off. And in early April, the heavily unionized festival said it was going to put several of its scheduled performances "on hold" due to weak box-office demand, especially from the U.S. side of a border that, effective June 1, requires a passport to cross.
But aptly enough, there was a deus ex machina.
Just a couple of weeks after that announcement, the Canadian government announced its unprecedented and hastily conceived Marquee Tourism Events Program, an economic stimulus package that delivered a whopping $3 million to Stratford's coffers. (The smaller Shaw Festival in Niagara-on-the-Lake got more than $2 million in stimulus funds.) Notably, this wasn't traditional funding from the cultural-support wing of the Canadian government but from the Canadian minister with a responsibility for the cultivation of Canadian businesses.
The funds came with the caveat that they be used to attract new visitors, and the festival quickly reinstated most of its canceled shows and beefed up advertising in Canadian and U.S. newspapers. A festival spokesman said last weekend that the effect of all those government-funded marketing endeavors had been large and immediate, stemming the decline in attendance and bringing cheer to a hitherto nervous town utterly dependent on visitors to a multivenue festival that runs from June through October.
The visitors are surely enjoying "West Side Story." The metallic and deeply imaginative set from Douglas Paraschuk—Doc's drugstore is a streamline sight to behold—allows Griffin to forge some gorgeous transitions, including a show-stopping moment when gently illuminated dressmaker's dummies slide into place from the rear of the theater. Griffin and his choreographer Sergio Trujillo ("Jersey Boys") use the thrust stage to magnificent effect, allowing the Jets and Sharks to propel themselves toward the audience, leaping in thrilling fashion to and from Paraschuk's balconies and using the vomitoria as speed ramps.
But the real revelation here is in the intimate scenes, which ooze originality and passion. Chilina Kennedy's Maria is no nervous ingenue (as is the case on Broadway). Griffin doesn't forget the character is still a child—Maria disappears beguilingly under the bed clothes during the "A Boy Like That" number. But Kennedy's Maria is also a gutsy young woman, who sets her face and fights tooth and nail for the boy she wants. And she sings the role flawlessly, as does her Tony, Paul Nolan. Most important, Nolan and Kennedy spend the show locked in the kind of sensual connection that rivets an audience. In "Maria," Nolan delivers the famous high note lying flat on the floor, his sound and passion carrying up to the rafters. It is an unforgettable moment.
http://leisureblogs.chicagotribune.com/the_theater_loop/2009/06/stratford-festival-musicals-top-the-bard-in-a-topsyturvy-year-.html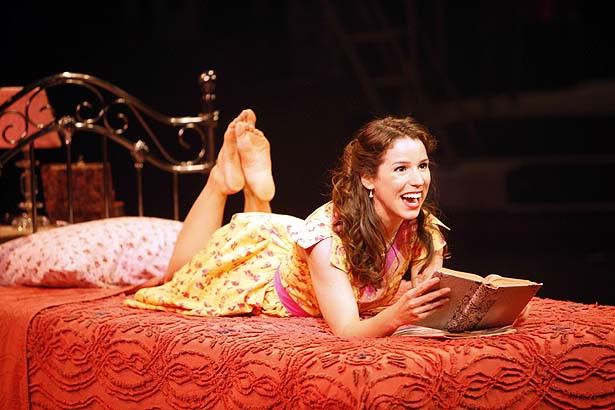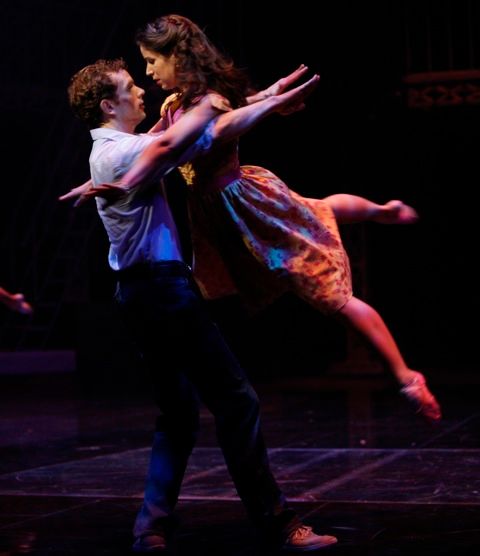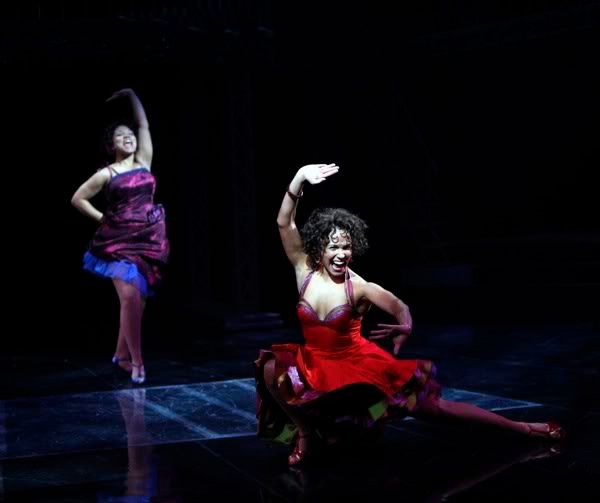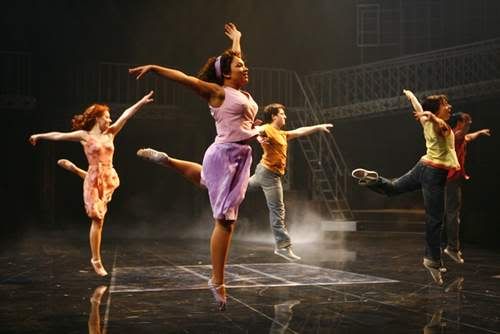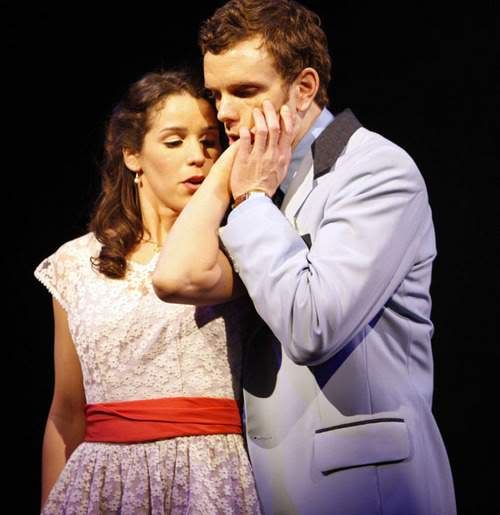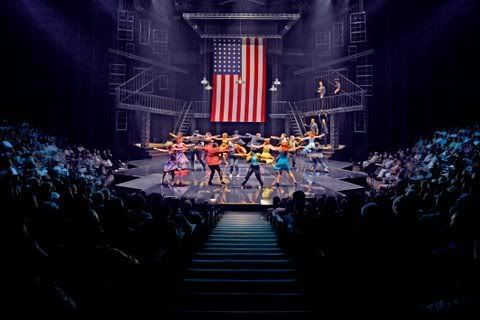 This Story achieves greatness