Energetic revival of 'West Side Story' sets new standard for Ordway Center
REVIEW: This electric revival harks back to Jerome Robbins' original staging 60 years ago.

By Rohan Preston Star Tribune

Is there anything that Twin Cities theater phenom Tyler Michaels cannot do? Here, at last, is one: In "West Side Story," which had its thrilling opening Thursday at Ordway Center, Michaels doesn't even attempt a New York accent for this "Romeo and Juliet" story about battling Big Apple street gangs.

Otherwise, Michaels holds his own, singing and dancing as the romantic lead Tony opposite Evy Ortiz's entrancing Maria. These two headliners add to the electricity rippling off the stage from a solid revival of the classic musical, which celebrates its 60th birthday this year.
...

In recent years, the Ordway has weaned itself from touring shows and tried to build a reputation as a producer of pizazzy musicals, either by itself or in partnership with other regional companies. Its record is mixed: "The Sound of Music" was a winner in 2015 but last year's productions of "Paint Your Wagon" and "White Christmas" were competent at best.

Gorgeous, lyrical and timely, "West Side Story" establishes a new benchmark for the Ordway.

The show, by composer Leonard Bernstein, lyricist Stephen Sondheim and book writer Arthur Laurents, pits the Jets, a white gang led by Tony's best friend Riff (Tyler John Logan, a better dancer than singer) against the Sharks, a group of Puerto Rican immigrants led by Bernardo (muscular, earthy Alexander Gil Cruz).

Amid the tensions at a community dance, Tony and Bernardo's sister, Maria, fall for each other. Still, neither their love, nor the police, can stop the bloodletting to come.

This production re-creates the original staging that was conceived, directed and choreographed by theater genius Jerome Robbins. Both director Bob Richard and choreographer Diane Laurenson have connections to Robbins, and their revival, studded with big, arresting dance numbers, finds the throbbing, lusty heart of his inspiration.

Richard and Laurenson have cast performers of varied shapes and sizes for this show, mixing crackerjack Midwestern hoofers with polished New Yorkers, some of whom were in a national tour of "West Side Story." This inclusive approach is charming and makes the show no less effective.

Ortiz, who played Maria on tour, has excellent command of her character, with phrasing that tends toward the operatic. Michaels' chops are more firmly anchored in musical theater. They make their vocal differences work while establishing Tony and Maria as two impetuous kids in love.

The standout performers also include Desiree Davar, who is powerfully emotive as Bernardo's girlfriend Anita, the role that won Rita Moreno an Oscar for the 1961 film version.

Still, there are a thousand ways this "West Side Story" revival could have gone wrong, and not just because the show is so iconic. Credit is due to the cast, which executed the big dance numbers admirably and carried on despite occasional issues with sound during Thursday's opening, and to music director Raymond Berg, who crisply led a 19-piece orchestra through Bernstein's lush and moody score.

West Side Story

Who: Music by Leonard Bernstein, lyrics by Stephen Sondheim, book by Arthur Laurents. Directed by Bob Richard and choreographed by Diane Laurenson.

When: 7:30 p.m. Tue.-Fri.; 2 & 7:30 p.m. Sat.-Sun. Ends April 16.

Where: Ordway Center, 5th and Washington Sts., St. Paul.

Tickets: $32-$114.50. 651-224-4222.

http://www.startribune.com/energetic-revival-of-west-side-story-sets-a-new-standard-for-ordway-center/418656803/

Theater review: Ordway stages an urgent 'West Side Story'

By Chris Hewitt | chewitt@pioneerpress.com

Yes, "West Side Story" is an update of "Romeo and Juliet," but what it feels like it's about right now is how urgently we need to find a way to settle our differences.

In the Ordway's frequently thrilling production of the musical drama, it is not the finale that is the most moving part of a show that seems to proceed from one show-stopper to the next (scratch that: there's no "seems to" about it). Instead, it's the end of "Somewhere," early in the second act. I always think of "Somewhere" as a song for Maria and Tony, but there's a stunning moment when the company of 30 or so singer/actor/dancers, about half of whom are playing immigrants from Puerto Rico, faces front and sends up a kind of prayer that "there's a place for us, somewhere."

But is there? Still? "West Side Story" balances the tragedy with humor — particularly in "Gee, Officer Krupke" and "America" — and with Leonard Bernstein and Stephen Sondheim's gorgeous songs. But, true to its source material, this is a bleak story, with three murders, a sexual assault and an ending that leaves the question of that "place for us" wide open.

The story, of course, is about the fighting between two gangs who, thoughtfully, outfit themselves in contrasting colors so we can keep them straight. The Sharks, recent arrivals in New York from Puerto Rico, are in reds, purples and oranges whereas the Jets, who are "Americans" (whatever that means) are in blues, greens and yellows. Their turf war comes to a head when Tony (Tyler Michaels), a Jet, falls for Maria (Evy Ortiz), whose brother is a Shark.

The Ordway's "West Side Story" occasionally sags in the dialogue scenes and some of James Youmans' sets feel too literal for a show in which murderers settle their differences through the magic of dance. But the production more than makes up for it with the big numbers: not just "Somewhere," but also the electrifying "Dance at the Gym," with its twisting and mamboing, and "Jet Song," with Riff (long-limbed Tyler John Logan) and his minions flying across the stage in Diane Laurenson's choreography, which retains much of Jerome Robbins' iconic, original movement.

Tony and Maria don't do much dancing but that's because they need to save their breath for their solos. Michaels, whose big, supple voice can overwhelm some characters, is perfectly suited to Bernstein's soaring melodies in "Something's Coming" and "Maria." He's well-matched with Evy Ortiz, whose voice has both power and purity.

When Maria and Tony meet at the gym dance, literally everything else on stage falls away. Director Bob Richard has created a moment that is simultaneously beautiful and, since most of us know how this story ends, devastating.

Bathed in warm light, that meeting sets the tone for this "West Side Story" by reminding us of the hopefulness of two people who, constantly hectored about their differences, can see only what they have in common. Some of the show's brief references to the nations that the ancestors of the Jets originally came from (Sweden, Italy, Poland) remind them, and us, that America was built by wave after wave of immigrants who were greeted with hostility but ended up making it a better place.

Has "West Side Story" always been about that? I'm not sure. But that's what it seems to be about now, and I can't think of a timelier message for audiences to hear.

IF YOU GO
•What: "West Side Story"
•When: Through April 16
•Where: Ordway Center for the Performing Arts, 345 Washington St., St. Paul
•Tickets: $129.50-$37, 651-224-4222 or ordway.org
•Capsule: See it "Tonight."

http://www.twincities.com/2017/04/06/theater-review-ordway-stages-an-urgent-west-side-story/

West Side Story At The Ordway Is Stunning And Heartbreaking

Mary Aalgaard, Performing Arts News and Reviews

Quote of the Day: Why do you kids live like there's a war on? Doc, the store owner in the stunning and heartbreaking musical West Side Story by Leonard Bernstein and Stephen Sondheim, on stage now through April 16, 2017 at the Ordway Performing Arts Center in St. Paul, MN. Directed by Bob Richard, Choreography by Diane Laurenson, and music direction by Raymond Berg. And, wow, is it a powerful performance.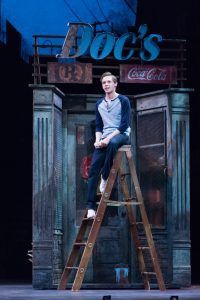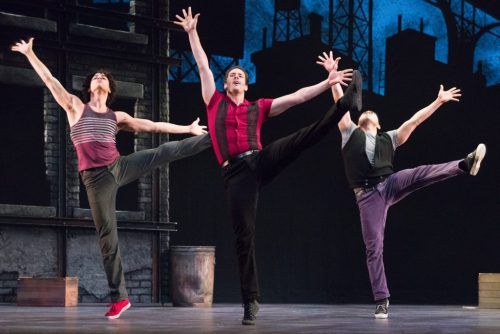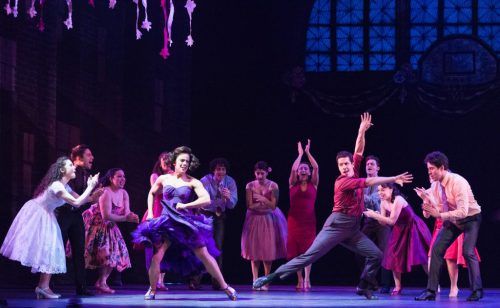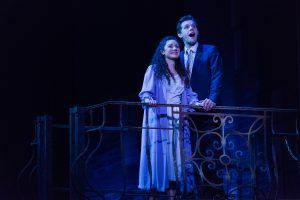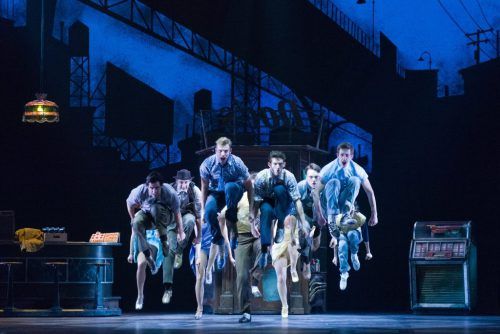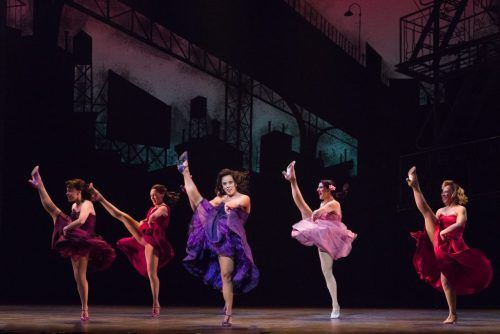 If only we could solve all our disputes with a dance off….if only that had worked for the Sharks and the Jets, Tony and Maria in West Side Story. If only, we'd set our differences aside and rewrite the ending to all these tragedies and end all the senseless violence and death. My mom says, "The two saddest words in the English language are, if only."

West Side Story is Bernstein and Sondheim's re-imagining of Shakespeare's classic Romeo and Juliet. Instead of the two wealthy feuding families the Montagues and the Capulets, we have the feuding gangs of New York City, the Sharks and the Jets. Their parents aren't even in the picture. Maria has recently come to America from Puerto Rico to live with her brother and to have a better life. Tony is a member of the Jets, but wants out. He's working for Doc and dreaming of a better world which he sings about in Something's Coming, and later in Somewhere, there's a place for us.

Despite Tony's idealism and efforts, and Maria's pleas for peace, the feuding gangs clash in a deadly rumble. Well, you know the story, and if you don't, I'm not going to say anymore. The young ladies in front of us said at the end of the show, "I didn't see that coming." (Not everyone is exposed to as much theater as I am.)

So, why do we keep watching and telling these tragic stories? Because they reflect life. Because we connect to the emotions. Because we still have hope that in seeing, hearing, and talking about these tragedies that we'll learn something. We'll find a new way of living…a new way of forgiving…somehow…someday…somewhere. You might know some of the more popular songs from West Side Story: Tonight, Maria, America, I Feel Pretty. The one that silenced the crowd and took my breath away was Somewhere. The stage changes from the streets of NYC to white and heaven-like. Tony and Maria sing of a place where they can be together, where there is peace, and people find a better way. They are joined by the dancers from both gangs, who move beautifully together in a ballet of hope and promise, only to be interrupted by the reality of the tragedy that has just happened.

We also go for the music, gorgeous costumes, powerful dancing, the characters we love, and the voices of the singers that reach in and grab all your emotions. The crowd was absolutely still during Tyler Michaels' (Tony) Maria. I've seen Tyler at the Guthrie charming us in roles with some singing. I saw him flying like a graceful bird in Peter Pan at the Children's Theater and Theater Latte Da's Peter and the Starcatcher. When he played Bobby Vee at the History Theater, we got more of his voice, but he was fitting it into the character. I felt I hadn't gotten the full Tyler Michaels. We get the full Tyler Michaels as Tony at the Ordway. His voice is powerful, sweet, filled with longing and hope, and reached out to the far spaces of the theater, into the rafters, and up to Heaven. Simply excellent.

Evy Ortiz (Maria) melted our hearts in her arias of love and innocence. Desiree Davar (Anita) absolutely blew me away with her powerful voice, her strong character, and her bold and sexy personality. I loved her, and felt bad for her, and totally understood her motivation for every action. She warns us, too, before the rumble that the men get all worked up after a fight. She was looking forward to the passion and being with Bernardo after the brawl. Things didn't work out the way she'd hoped.

The dancing is powerful and stunning. Tyler John Logan is absolutely brilliant as Riff, leader of the Jets, and Alexander Gil Cruz is his strong counterpart as the leader of the Sharks. All the dancers are beyond fabulous with moves both strong in ballet, traditional musical theater, and choreographed fights. The score, too, is a mix of opera and musical theater, something Bernstein said that he worked hard to achieve.

You can see West Side Story at the Ordway Performing Arts Center in St. Paul, MN through April 16, 2017, a run that is not nearly long enough for this amazing production. You do not want to miss it.

http://playoffthepage.areavoices.com/2017/04/08/west-side-story-at-the-ordway-is-stunning-and-heartbreaking/