I've been thinking a lot about the possibility of a remake lately. ... Spielberg has said he'd like to do one although not until 2019. So it may or may not happen but I have some thoughts on the subject Steven, are you listening?.

1. Make the cast ethnically appropriate. No Russians, Greeks, Asians, etc. And while you're at it, let the Sharks speak Spanish. All you have to do is add nice clear subtitles.

2. Make the cast age appropriate. While Rita Moreno was a wonderful Anita, she was also 30 years old. They are supposed to be people in their late teens which is why they behave so stupidly. And while you're at it, don't choose people from the latest teen flick or television show, some nice talented unknowns from the theater community who can do their own dancing and singing would be wonderful.

3. It's a period piece, leave it as a period piece. I've seen people talk about updating it and making the story about Muslims, etc. If that's the case why would they be singing about Puerto Rico. If you alter the songs, then it isn't West Side Story. Leonard Bernstein is dead and Stephen Sondheim is busy doing his own thing, and no tinkering with the material - Lin Miranda I'm looking at you.

4. Anything post-rumble has to look post-rumble. If you watch the rumble scene you can see that they are beating the daylights out of each other and yet the only one who has a boo boo on his face is Chino. If you watch Cool none of the Jets have a scratch on them. The theater productions can manage to make the cast look like they've been beaten up. Look at Grant Gustin from the 2010 National Tour :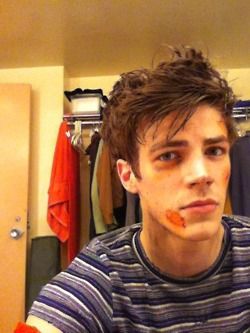 And on that subject, there's Tony. He's been shot and dies and when they pick him up off the playground there's no blood on the pavement, no blood on Tony or Maria. Did Chino shoot him with a water pistol. I'm not asking for buckets of blood but I think a little red would make everything seem more tragic.