Onstage at Baldwin Wallace University, 'West Side Story' finds new relevance with a message of tolerance

By Andrea Simakis, The Plain Dealer

BEREA, Ohio – Before the Baldwin Wallace University production of "West Side Story" opened Nov. 9, the biggest worry for the cast and crew was how to fill the vacancy of an actor sidelined with a concussion during a rehearsal of the rumble scene.

On the day of Donald Trump's surprising win in the presidential election, director Victoria Bussert had other concerns. The most pressing: how to make sure her black, Muslim and even some of her gay and female students felt safe enough to walk around campus that day and, later, make their way to the Kleist Center for Art and Drama for a 7:30 p.m. curtain.

This was more than just a case of disappointed liberal hopes or groundless speculation about what might happen. Something real had already happened.
...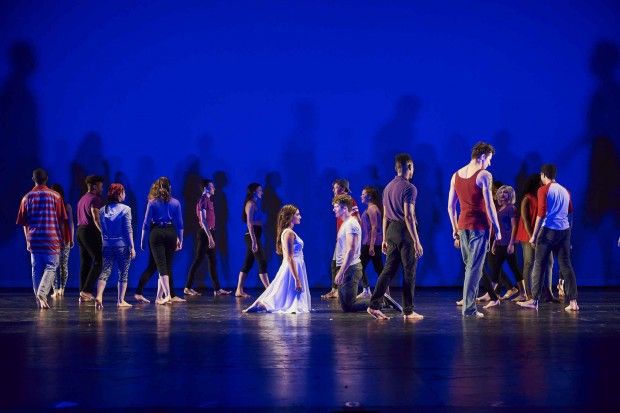 That morning, Warren Egypt Franklin, a lanky sophomore music theater major with short, neat dreadlocks sprouting from his head, left his dorm and headed for his 8 a.m. class, a training seminar to help develop his sight-singing skills, an invaluable ability when auditioning for roles in new musicals on and off-Broadway.

As he crossed the street, a red pickup covered with Confederate flag decals came barreling down the road. At first, he ignored it – he was in the crosswalk and had the right of way – but it kept on coming.

It squealed to a stop inches from him, blocking his path. Two older white men were inside. One blew the horn, and they both laughed. The truck peeled away, a giant Confederate flag sticker across its tailgate.

"It scared me," he says. "I've never felt that way before."

Franklin grew up in the Cleveland suburb of Bedford, "a very diverse town," he says, where his first introduction to racism wasn't from his peers – never from his peers, he emphasizes – but in American history readings about slavery.

His second taste of it was on that street in Berea.

Franklin never made it to class. Rattled, he retreated to his dorm. "I felt defeated," he says. "I didn't know what to do. I felt angry. I wanted to cry."

If something like that could happen on Day One, what would the next four years be like for him as an African-American man, he wondered?

"My dreams are crushed," he thought. "I need to go to Canada or Australia or something – I can't be here."

(Franklin's encounter with the men in the pickup is not an isolated incident. The Southern Poverty Law Center has gathered more than 400 reports of what it terms "hateful harassment and intimidation" in the first six days since the conclusion of the presidential election.)

He ventured outside a few hours later to join his classmates in Bussert's office. The director, who also heads up the music theater program, had posted an invitation on Facebook at 10:37 a.m.

"To any and all BW students – the day after 9/11 I brought my dog, Zoey, and hung out in my office in case anyone needed anything. I'll be there by 11:15 today – different dog (Ondie) – but same purpose. Come in if you want to talk, get a hug, or just pet a dog. I'm picking up doughnuts."

Some 30 kids crammed into the small space; when they ran out of chairs, they squatted on the floor. Franklin shared his story.

Junior Dan Hoy, a buff version of a young Matt Dillon from Chagrin Falls, suggested they start a group chat with the 68 students in the music theater program. That way, Franklin – or anyone who felt afraid to walk to class or anywhere else in town – could send a message to the group and buddy up with another student as a sort of cultural escort.

That night, Franklin was to headline as Bernardo, leader of the Puerto Rican gang the Sharks in "West Side Story." And Hoy? He'd been cast as Riff, the alpha dog of the Jets, the white gang warring for turf – and trading punches and ethnic slurs – with the Sharks. (Who says life isn't poetic?)

Still, pretending to hate your classmates onstage -- particularly in light of the day's events -- would be a real challenge. Ironically, the task suddenly seemed harder than executing Jerome Robbins' original choreography, so intensely physical it required some cast members to be "in knee pads from beginning to end," says choreographer Gregory Daniels.

Squeezed into Bussert's office together, they talked about how to help each other push back against despair. The group chat was a good start. Addressing their feelings of powerlessness was another.

It was true that they couldn't control the outcome of the election, even though, according to the Center for Information and Research on Civic Learning and Engagement, 63 percent of voters 18-29 cast a ballot for Hillary Clinton or a third-party candidate vs. 37 percent for Trump.

What they could do, they decided, was confront the divisiveness of the campaign and its toxic fallout right where they lived. They realized there was no better way to do that than to go on with the show.

In its artistry and messaging, "West Side Story," billed as "the classic 'Romeo and Juliet' retold in modern times" when it opened on Broadway in 1957, was groundbreaking by any measure. Consider the audacity of pairing ballet and switchblades, and a Polish-American Romeo with a Puerto Rican Juliet.

In the story, conceived by Robbins and written by Arthur Laurents, William Shakespeare's star-crossed lovers born to feuding families are transported from 16th-century Verona to the gritty streets of mid-20th-century New York City. As it was being developed, earlier versions of the show featured a Catholic boy falling for a Jewish girl; another set them inside battling Irish and Italian gangs.

Originally directed by Robbins, with music by Leonard Bernstein and lyrics by Stephen Sondheim, it was revived on Broadway four times, most recently in 2009.

"When it was first produced, it had a lot to say," says Colton Ryan. The 21-year-old senior tenor plays the doomed Tony, the Romeo of the piece, in some performances of the BW production. (Bussert double-casts major roles to give more students a crack at featured parts and because she has the depth of talent to do it. Even in run-throughs, Ryan sings "Maria" -- Tony's number after meeting his dark-eyed soul mate -- with a rawness and desperation you'd be lucky to ever hear again.)

"This is a piece of statement theater," he continues. "But for the past 50 years, it hasn't been."

As America became browner and more liberal, "West Side Story," inevitably, aged into a period piece most often seen in high school auditoriums.

Nearly 60 years later, for Ryan and his co-stars, thanks to one of the most acrimonious elections in memory, the musical doesn't seem so dated anymore. Suddenly, it has something to say to us again.

Like Shakespeare's famous play, Robbins conceived his production with "the futility of intolerance" as its central theme. In the final pages of "Romeo and Juliet," Capulet and Montague, the heads of the sparring clans, realize their hatred has cost them the lives of their children. "West Side Story" teaches the same lesson.

That theme so resonated with Franklin that he asked if they could invite audiences to stay for a talkback after every evening performance of the show.

"We would be fools to have this crazy-powerful, relevant work and not do anything with it," he told Bussert. She agreed.

Early in the rehearsal process, Bussert and her actors saw the sentiments of crowds chanting "Build that wall!" at massive Trump rallies echoed in the taunts the nativist Jets throw at the newly arrived Sharks.

They also couldn't escape the parallels to the high-profile killings of blacks by police in the news and captured on smartphones — that have sparked outrage and protests across the country and animated the Black Lives Matter movement — in the bigoted Lt. Schrank and his human nightstick, Officer Krupke.

"I got the badge, you got the skin," Schrank tells Bernardo. "It's tough all over."

In the BW production, the centerpiece of Jeff Herrmann's stark, black-and-white scenic design is a backdrop painted with high-rise tenements and fire escapes that surround the massive, severed head of the Statue of Liberty.

"That's exactly what's happening in all of our conversations these days about who's in and who's out," says Bussert. "We are literally decapitating this symbol of 'Give me your tired, your poor . . .' "

The first time the cast gathered, she read the words to Emma Lazarus' sonnet "The New Colossus," written in 1883 to raise money for the pedestal upon which Lady Liberty now stands.

"Let's just remember what that symbol means," Bussert told them.

The first three times she directed "West Side Story," Bussert cast the gangs traditionally, which meant that "if you were a person of color, you would be a Shark, and if you were white, you'd be a Jet. That just made sense to me."

When she began casting this, her fourth production, she wanted to say something different artistically.

"To me, it's a bigger issue of not what we look like, but how we label one another," says Bussert.

The gangs are a multicultural mash-up – some of the Jets are black and Asian, some Sharks are white. Visually, it argues that people are more alike than not and drives home the absurdity of their enmity for each other.

Nadina Hassan is an 18-year-old freshman with a voice as pure as Maria, the guileless newcomer she plays.

She is also a walking melting pot of identities and religions. Though Hassan was born in Michigan, she has relatives scattered across the globe. Her mother's family is from Colombia, her father's from Egypt. Some of her Arab kin even wear the hijab. She and her siblings have grown up practicing both Catholicism and Islam, raised to respect the faith of both parents.

"What's fascinating is how much they actually intertwine," she says. "They're so similar – I never would have guessed."

She cried all morning the day Trump was elected. Her rich cultural heritage, of which she'd been so proud, now made her feel like a target.

"I'm the perfect mix of a Latina and an Arabic woman," she says. "I've got three strikes against me for Trump."

But seeing the world through Maria's eyes has given her hope. "I've been amazingly grateful to play a character that is so loving and so accepting," she says. "It's such an important message, because she sees past all of this hatred."

Hassan recites lines from the show when an angry Bernardo confronts his sister Maria for dancing with Tony at the gym.

"Bernardo says to her, 'Couldn't you tell he was one of them?'

"And Maria says, 'No, I saw only him.' "

At the talkback the first Thursday of the run, actors and members of the 38-piece orchestra spoke about the healing power of art, live theater in particular, and the need for civil dialogue.

"We need to watch over each other and talk to each other," Franklin said. "Even if you are of different parties, ask questions. Inform each other."

Sophomore David Holbert, who plays a black Baby John, a less-than-ferocious Jet who is easily moved to tears, thanked Franklin for initiating the talkbacks. "It's really hard to go up here and see my classmates, people I see daily, and pretend to hate them," he added.

In "West Side Story," Doc, the owner of a neighborhood store where the Jets congregate, is sickened by the gang violence.

"You kids make this world lousy," Doc tells one of the Jets.

"That's the way we found it," the boy responds.

That excuse isn't good enough anymore, said Holbert. It's time to break "the cycle of hate" – and it's up to him and the members of his generation to do it.

A man in the audience stood and addressed the performers.

"So this is my fifth time seeing a production of 'West Side Story,' " he began. "But never have I . . ." he trailed off, overcome with emotion.

Moments later, he began again. "I have autism. . . . What if someone puts a bullet in me because of who I am?"

His voice wavering, the theater as quiet as Juliet's tomb, he continued.

The whole tragic story of Tony and Maria "could have been avoided with a simple kind word or someone reaching out to somebody. What you all do is, you raise awareness – and you give hope to those who truly feel empty. You restore the light."

In what has become known as the "Somewhere ballet," Tony and Maria spend one desperate night together before the final, heartbreaking act. They enter a dreamlike space where, for a moment, enemies co-exist, their hostilities suspended.

The song "Somewhere" captures the longing the characters feel for such a Nirvana.

There's a place for us
Somewhere a place for us
Peace and quiet and open air
Wait for us
Somewhere

In the real world, that "Somewhere" is the theater, the man who loves "West Side Story" said.

"It's where we can all come together and assure one another that there is a place for every single person in this world, no matter who you are."

"West Side Story" runs through Nov. 20 and is a co-production of the Conservatory of Music's music theater program and the Baldwin Wallace Department of Theatre and Dance. It is directed by Victoria Bussert with choreography by Greg Daniels and music direction by David Pepin and Brendan Caldwell. Visit www.bw.edu/events/ or call the box office at 440-826-2240 for details. Tickets: $10- $25.

http://www.cleveland.com/onstage/index.ssf/2016/11/onstage_at_baldwin_wallace_uni.html