Mark Swed, Music Critic
Of "West Side Story's" many Broadway musical innovations, the least noticed may be the role of the conductor. In the first of the Los Angeles Philharmonic's two performances of Leonard Bernstein's complete score at the Hollywood Bowl Thursday night, Gustavo Dudamel was noticed.
He led an enthrallingly energized performance that nevertheless recognized the profoundly dark and spiritual underside of a 1957 show in which there is a lot going on. Thematically, this update of "Romeo and Juliet" to a then-gang-ridden Upper West Side of Manhattan has never not been timely. The composer penciled over the top of his copy of Shakespeare's play: "An out and out plea for racial tolerance."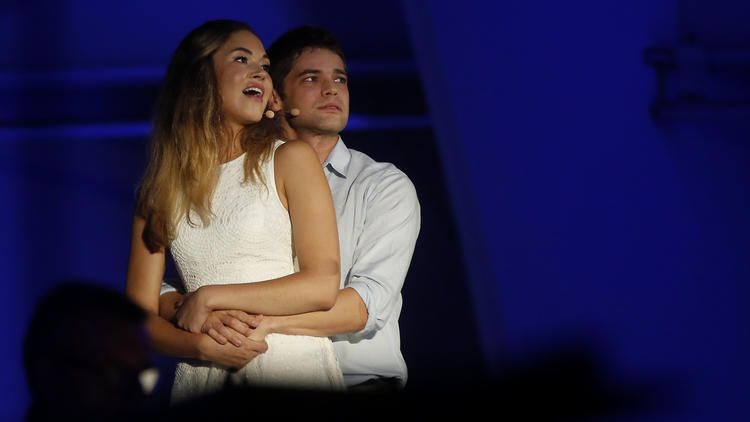 ...
Swinging both ways, the score remains equally suited to our times. It retains its hold as a classic of the musical stage. Yet in Europe, the show has been elevated to the status of opera. A new production will be one of the operatic offerings at this summer's prestigious Salzburg Festival, starring Cecilia Bartoli as Maria.
Bernstein maintained that "West Side Story" is not an opera. How could it be when there is almost no music for the last 20 minutes of the show? Yet for his 1984 recording — the one and only time he ever conducted his complete score — Bernstein used opera singers and brought out more than a little magnificence of the operatic grandeur in his music. He was also downright Wagnerian when he conducted his Symphonic Dances from "West Side Story" with the L.A. Phil at the Bowl in 1982.
What makes Dudamel's approach uniquely compelling is that he sees both sides of the musical and the social issues. He also happens to be the conductor of the Salzburg production, which is said to be very dark (stay tuned for a report when it opens in late August). But for the Bowl's semi-staged performance, which featured all the music but only a small amount of dialogue, Dudamel selected, with one exceptional exception, a Broadway cast of young singers.
His Maria, in fact, was the untried opposite of one of the world's most renowned opera stars like Bartoli. Rather, this was 21-year-old Solea Pfeiffer's first gig out of college and her first time ever setting foot in the Bowl. She was discovered on YouTube.
She is now an overnight sensation, but I don't think she would have been without the obvious guidance of Dudamel. "West Side Story" runs in his blood. A public figure in his native Venezuela, he has devoted his life to helping kids, through music education, rise out of poverty and steer clear of the gangs who have made his country one of the most dangerous in the world.
The international motto that turned the Simón Bolívar Youth Orchestra into an international sensation last decade was the Mambo from "West Side Story." Videos of Dudamel conducting the Venezuelan kids, as they danced while they played, went viral on the Internet. Along with Beethoven, Mahler and Tchaikovsky, Bernstein has been a Dudamel specialty in his years in L.A.
All of which has made a Dudamel "West Side Story" inevitable. And Dudamel's great accomplishment is to make all of "West Side Story" sound inevitable: the racial hatred, the violence that somehow erupts as if by spontaneous generation when weapons are handy, and the inextinguishable power of love and sorrow to suggest, if not actually produce, hope.
Dudamel begins the prologue like a bullet going off — no settling into a drama, but the trauma of explosion. The L.A. Phil is no pit band but an ensemble with a rocket in its pocket equally able to keep real cool, if I may lift a couple of lines from Stephen Sondheim's lyrics.
For all his comfort with popular music, Dudamel here did not put up with Broadway belting or crooning. This was especially important when it came to Pfeiffer's confident yet naive Maria, who matures far too quickly in her world of violence. The young soprano proved both girlishly touching yet impressively steely. Taking Bernstein's own slow tempo for "I Feel Pretty," to point out one example, Dudamel steered Pfeiffer into the enigmatic nuances of identity rather than merely, as happens almost always on the musical stage, giddy humor.
That kind of musical and dramatic insight happened throughout. That Dudamel can bring a special flavor to the Latin dances that pepper Bernstein's score goes without saying, although they created a theatrical liveliness that I've never heard before. Karen Olivo and George Akram brought rare, raw authenticity to Anita and Bernardo. The gang proved an agreeable bunch; Matthew James Thomas was a particularly likable Riff. Jeremy Jordan's Tony put his heart on his sleeve far more than I would have liked, but the crowd disagreed, and he did sing well.
The one import from opera was Julia Bullock, who sang "Somewhere" and stopped the show in every way. She stopped David Saint's busy staging by standing stark still. Dudamel gave her a slow and genuinely Wagnerian backup. In that stillness, her full mezzo-soprano entirely suffused the atmosphere. She added a spiritual dimension that demonstrated that a social tragedy requires spiritual inquiry.
Dudamel's "West Side Story" (and it is his "West Side Story" — the most theatrical aspect of the whole evening was when the camera for the video screens was directed at him) is the story of our times. It is a great performance and, more to the point, a necessary one.
http://www.latimes.com/entertainment/arts/la-et-cm-dudamel-west-side-story-review-20160712-snap-story.html
L.A. Theater Review: 'West Side Story' at the Hollywood Bowl
Staff Writer
Arya Roshanian
It's easy for the musical theater staple "West Side Story" to take on a been-there, done-that quality, but the Los Angeles Philharmonic's concert rendition, now playing at the Hollywood Bowl, proved you don't need pyrotechnics to make the show enjoyable.
Presented with minimal staging and costumes, and expressively conducted by L.A. Phil artistic director Gustavo Dudamel, the focus was primarily on the music. Sometimes the densely percussive score can sound clunky, but Dudamel extracted the right colors from the orchestra to strike an exhilarating balance.
In a cast that mixed both seasoned professionals and debut artists, Jeremy Jordan makes for an ideal Tony, with a dulcet timbre that adds sweetness to the role. Karen Olivo, reprising her Tony Award-winning performance as Anita, also makes a strong impression, adding depth and complexity to her character.
On the heels of her college graduation, Solea Pfeiffer makes an impressive debut as Maria. Given her youth, some of her vocal imperfections are forgivable, especially considering her vivid dramatic interpretation. She and Jordan are charming in their scenes together, though their vocal blending sounds a bit strident at times.
The strongest singing of the evening belongs to Julia Bullock, who filled the summer air with magic with a showstopping rendition of the song "Somewhere." (Bullock, a classical vocalist, will once again collaborate with the L.A. Phil in December.)
It seems a good time to revisit "West Side Story," considering all the race-based violence that has dominated the news within the last year. After the show, an unspoken solidarity lingers among audience members, especially following the musical's tragic finale, which echoes real-world, contemporary events.
L.A. Phil will present "West Side Story" at the Hollywood Bowl on more time on July 19.
http://variety.com/2016/legit/reviews/west-side-story-review-hollywood-bowl-los-angeles-la-1201815289/
Gustavo Dudamel's Hollywood Bowl 'West Side Story' is a story for right now