Theater Review: PSF tells a brilliant 'West Side Story'

by Paul Willistein

If you think you know "West Side Story," either from having seen a previous stage production or the 1961 movie version, think again.

Until you've seen the Pennsylvania Shakespeare Festival's production of "West Side Story" directed by PSF Associate Artistic Director Dennis Razze, you don't know "West Side Story."
...

PSF's "West Side Story" leaps, jumps and sings with excitement on the Main Stage, Labuda Center for the Performing Arts, where the classic 1957 musical continues through July 3 on the DeSales University campus in Center Valley, opening PSF's 25th anniversary season dedicated to its founder Father Gerard J. Schubert.

(The excitement continues for PSF 2017 with the opening night June 17 curtain talk announcement by PSF Producing Artistic Director Patrick Mulcahy that "Evita' opens PSF's 26th season.)

PSF production of "West Side," reviewed June 17, is Broadway-caliber on every level. It gleams like a switchblade, is as unforgettable as a favorite song and resonates with ripped-from-headlines reality thanks to its brilliant 36 actors and gifted technical artists:

Costume Designer Michael McDonald, who eschews the leather look for preppy ties and shorts for the Jets (the Caucasian gang), chooses purple hues (Prince homage?) for the Sharks (the Puerto Rican gang), and dresses the women in lovely dresses;

Scenic Designer Steve TenEyck, working with Lighting Designer Eric T. Haugen and Projection Supervisor Arianna Knapp, utilizes the set's depictions of fire escapes (at once, a dream of escape to the country and the reality of a socio-economic prison) as emotional metaphor for song, dialogue and action: blue uplights signal tension, red-drenched lighting signifies blood and passion, stage smoke presages conflict, and black and white streetscape backdrops enlarge the dramatic canvas;

Music Director-Conductor Nathan Diehl, also on piano, helms the 15-piece orchestra (including three violins, four reeds, two trumpets) with blasts of sound to rival rock bands; and

Original Choreography (the entire original production directed and choreographed by Jerome Robbins) Restaged by Stephen Casey, working with Fight Director Michael Rossmy, moves the massive dance ensemble with the precision of a military drill sergeant (there are 10 Jets, 10 Sharks, six Jet Girls and six Shark Girls, who sometimes seem to be on stage all at once) and the balletic grace of Balanchine bouyancy, and in unison yet. Cory Boulieris is Production Stage Manager. Carolyn Reich is Assistant Stage Manager.

From the opening overture that will have you singing in your seat, PSF "West Side" director Dennis Razze captures the tough and tender of mid-1950s west side New York City when juvenile delinquency rattled authorities, psychologists, and parents, rock 'n' roll rolled over Beethoven and Perry Como on the Hit Parade and "Daddy-O," "Dig," "Chicks" and other teen slang (incorporated into the Book by Arthur Laurents, Music by Leonard Bernstein and Lyrics by Steven Sondheim) befuddled everyone else.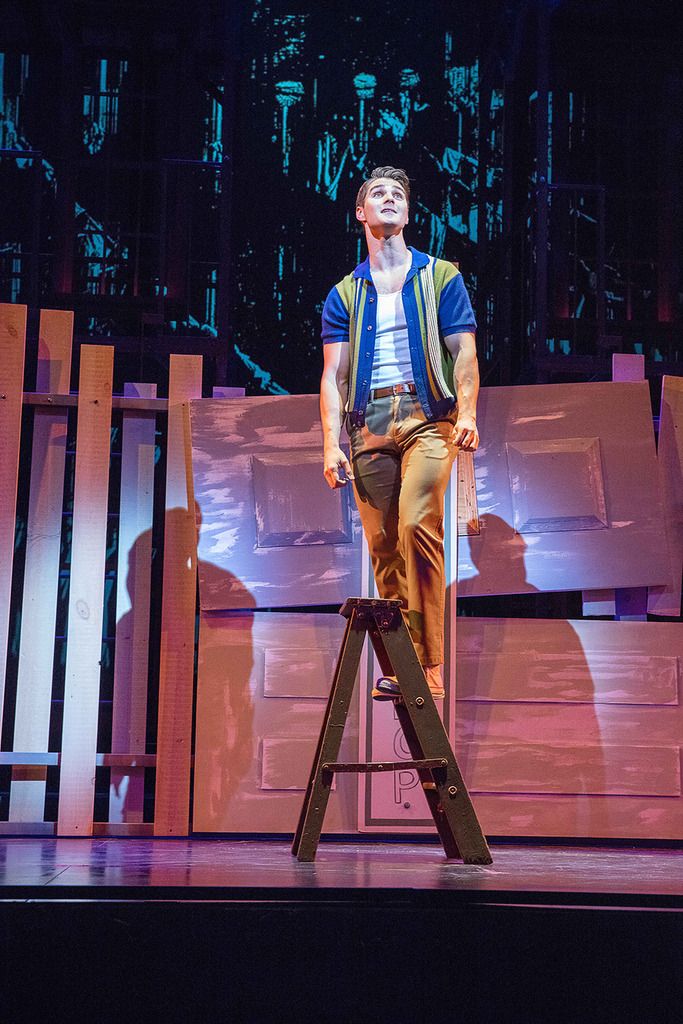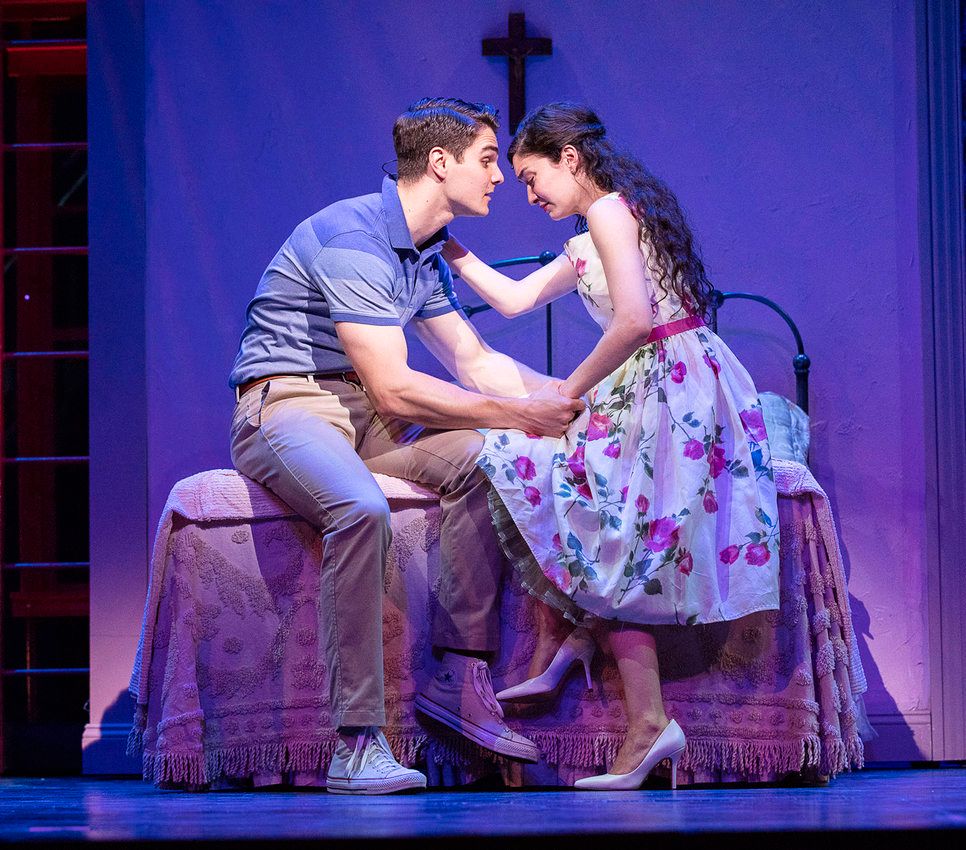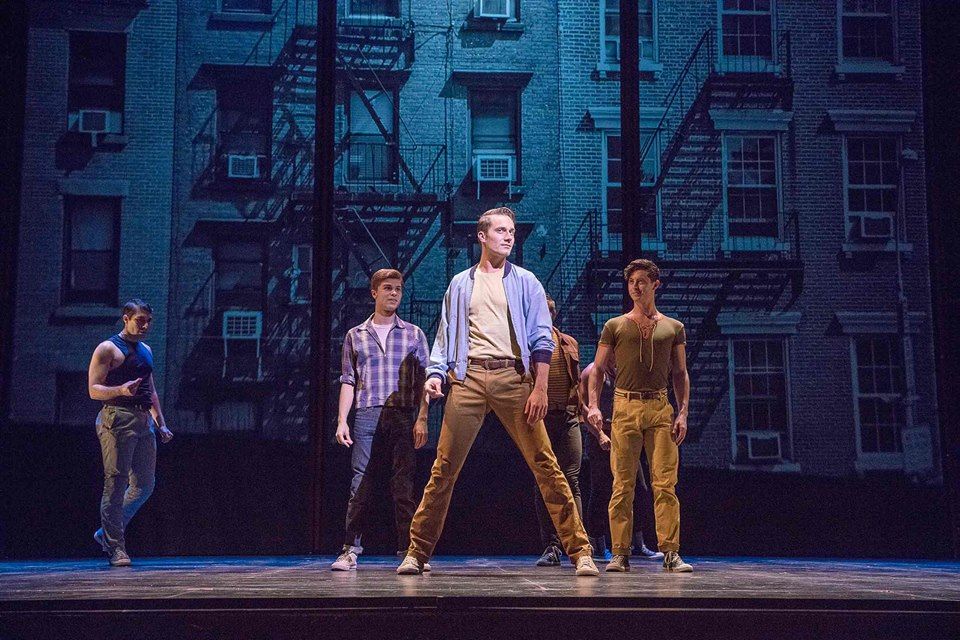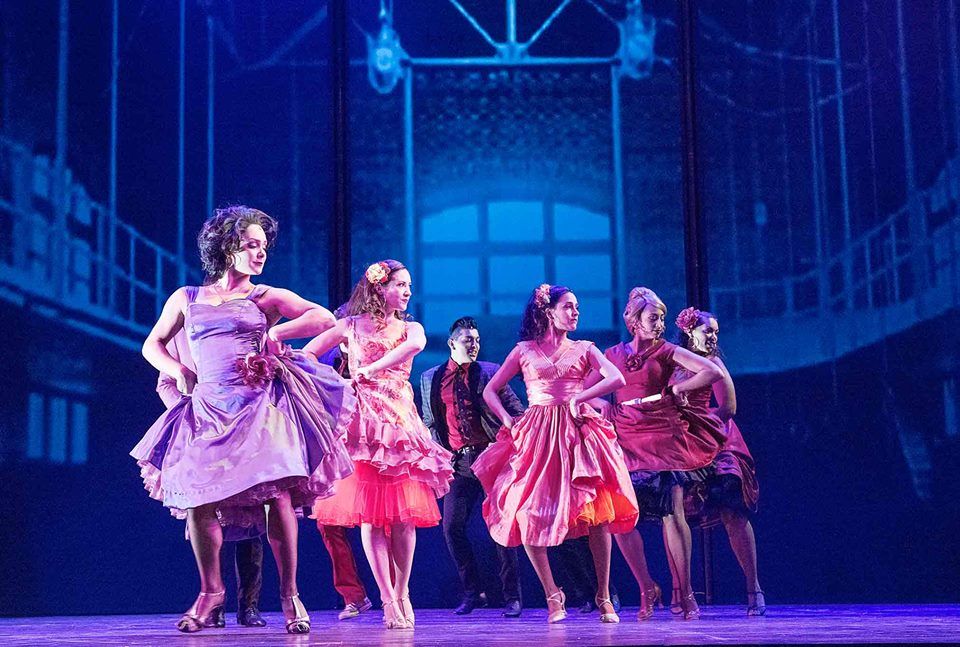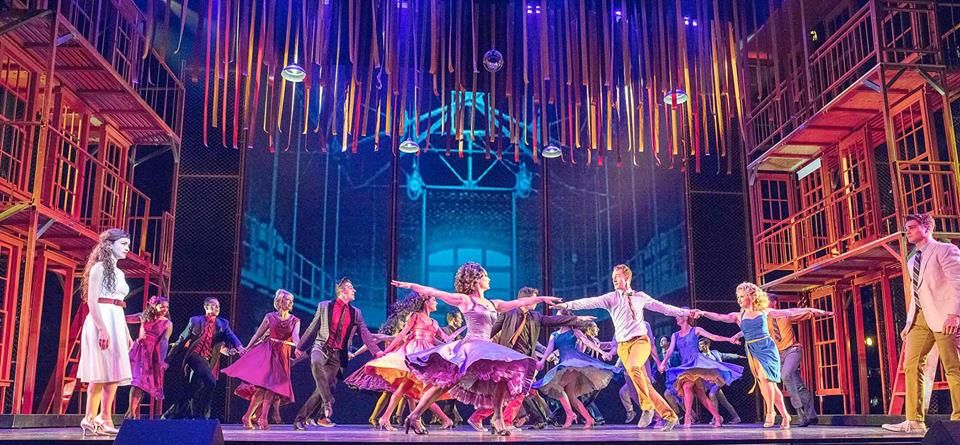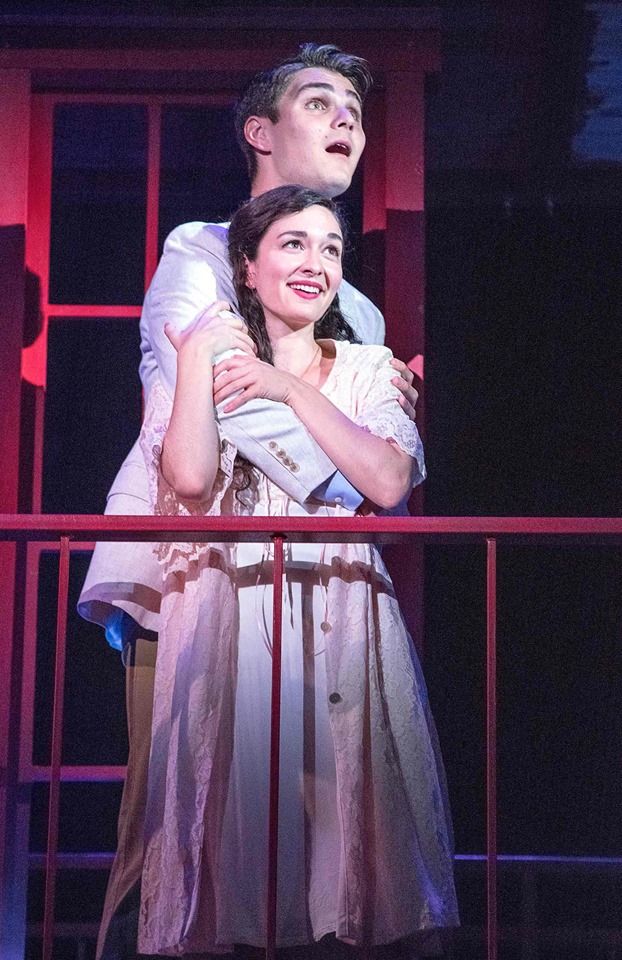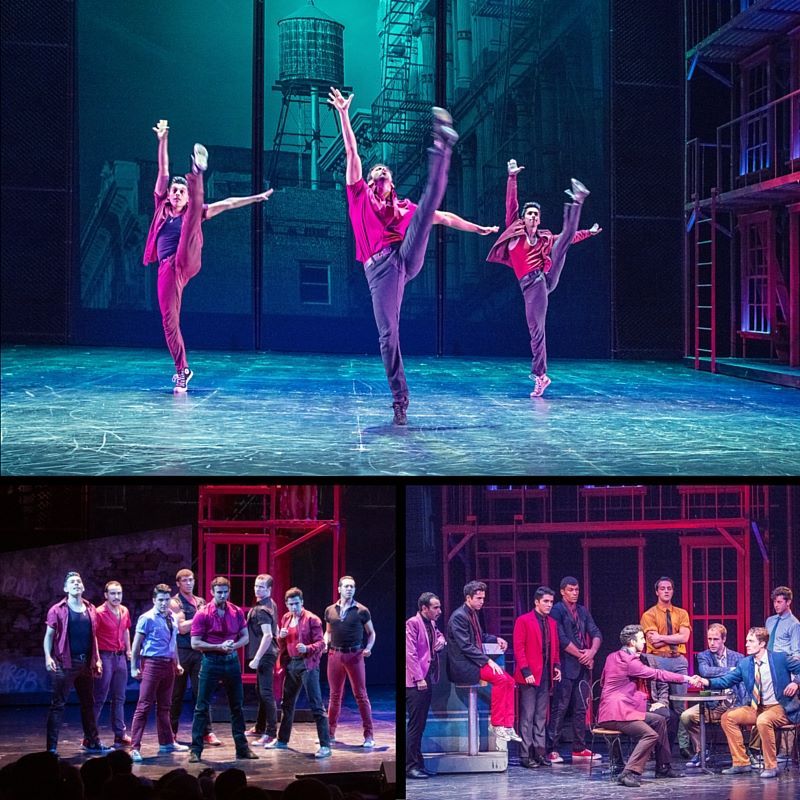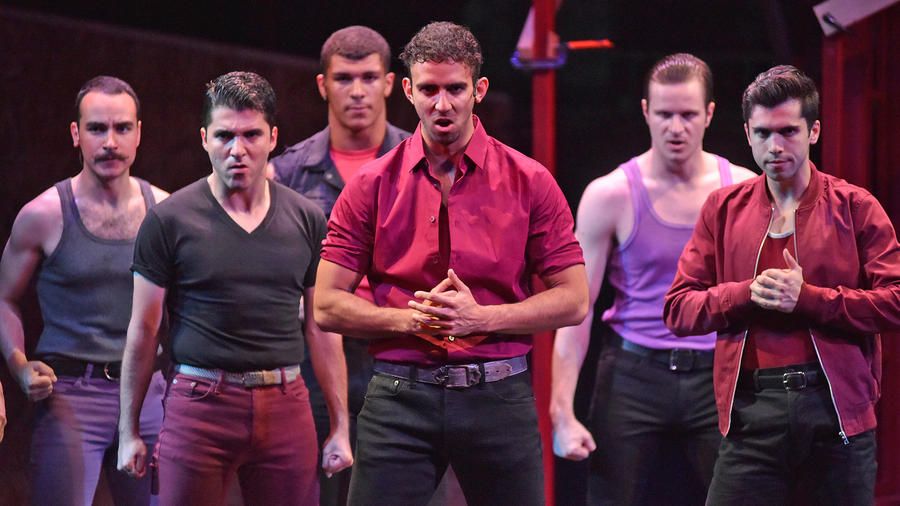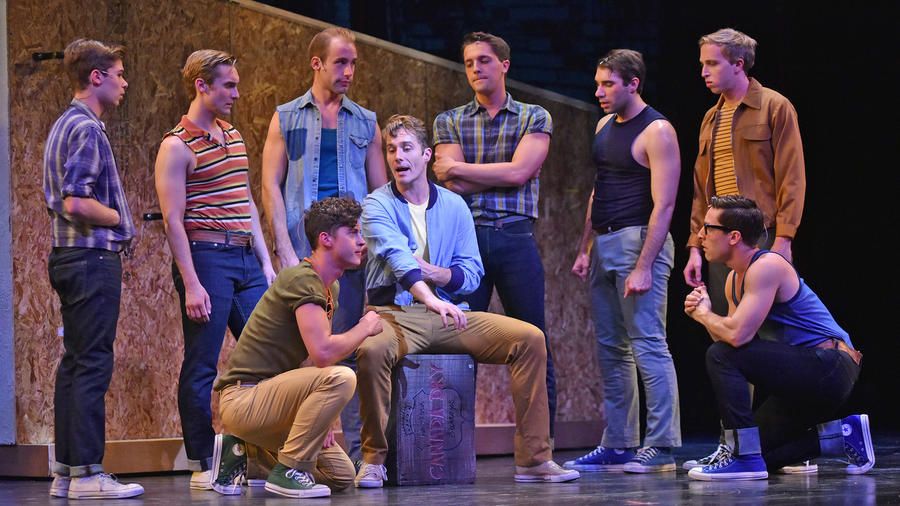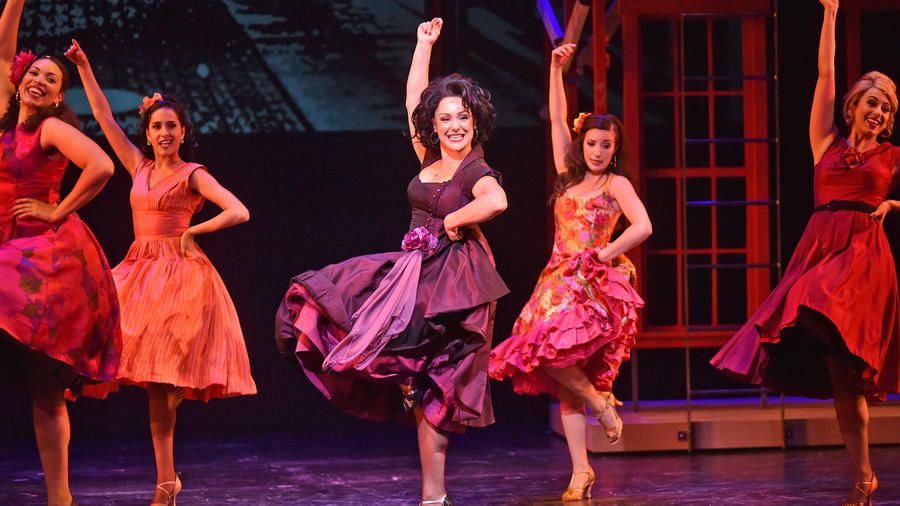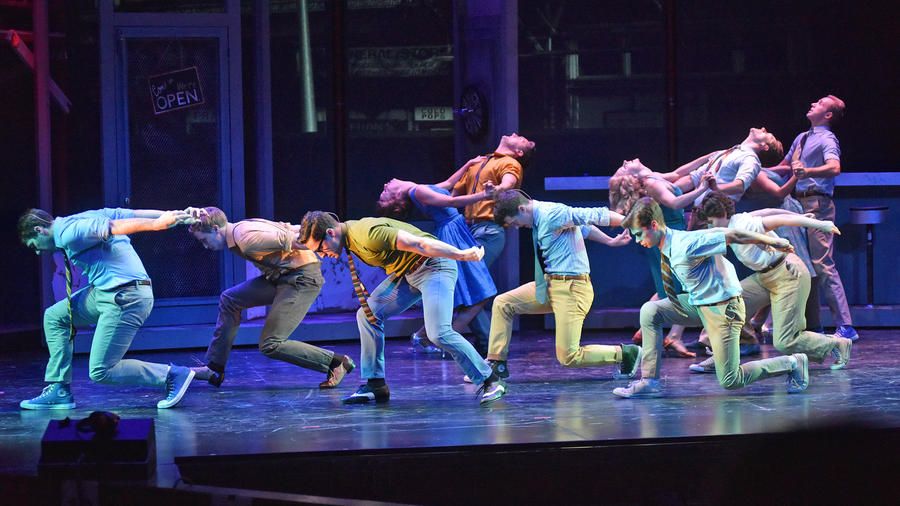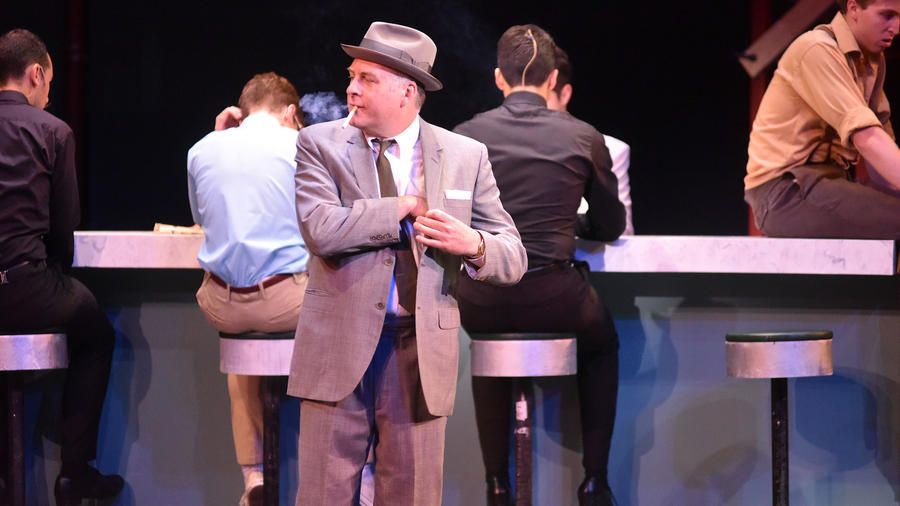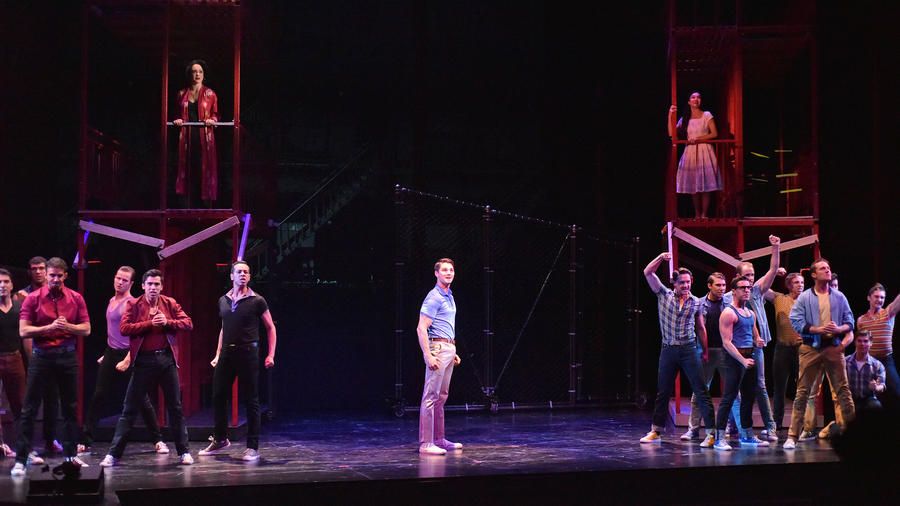 "West Side" explodes on the stage from the controlled frenzy of the production number, "Jet Song," sung with biting intensity by Nathan Madden (Riff) and The Jets, seguing into the jittery anticipation of "Something's Coming," sung with pure exuberance by Austin Colby (Tony), morphing into the extended dance sequences of Mambo, Cha-Cha and more, and culminating in "Maria," sung by Colby to MaryJoanna Grisso (Maria).

Grisso and Colby rhapsodize the Balcony Scene (an homage to William Shakespeare's "Romeo and Juliet," which inspired "West Side") with a transcendent "Tonight," followed by a skirt-swirling "America" by Karli Dinardo (Anita), Kelsey Denae (Rosalia) and the Shark Girls, which is offset by the modern dance of "Cool" by Madden and The Jets, and balanced by the exquisite "One Hand, One Heart" by Grisso and Colby.

Charles South (Bernardo) is dynamic. Joe Vincent (Doc) is sympathetic. William Zielinski (Lieutenant Shrank) is a voice of reason. Other standouts: Julian Alvarez (Pepe) and Gaby Gamache (Consuela), the latter especially in "I Feel Pretty," as she harmonizes beautifully with Grisso and Denae.

The Ballet Sequence with Grisso and Colby, leading to "Somewhere," sung by Chelsea Mariah Soto, and concluding in the "Procession and Nightmare," is a sizzling example of stagecraft of the highest order by top-notch actors as directed by Razze and executed by his amazing production team.

"Gee, Officer Krupke" by The Jets provides some needed levity, leading to the musical's inevitable tragic conclusion that "somewhere ... a place for us" may not be found in this world.

However, you can find "West Side Story" in the here and now at The Pennsylvania Shakespeare Festival. If you're going to see a classic musical this summer theater season, "West Side Story" is the one to see.

Tickets: pashakespeare.org, 610-282-WILL (9455), ext. 1

http://bethlehem.thelehighvalleypress.com/2016/06/20/theater-review-psf-tells-brilliant-%E2%80%98west-side-story%E2%80%99

West Side Story: Immigration, nativism, gun violence redux

By Julia M. Klein, For The Inquirer

With controversy over immigration, nativist tensions and gun violence dominating the news, the Pennsylvania Shakespeare Festival's elegant production of West Side Story has a ripped-from-the-headlines feel.

Instead of a border wall, set designer Steven TenEyck's chain-link fence represents the ethnic divides and misunderstandings that will lead to tragedy. There's more foreshadowing in the blood-red color of the tenements in which Tony and Maria, the show's contemporary Romeo and Juliet, pledge their undying love.

With a book by Arthur Laurents, music by Leonard Bernstein, lushly romantic lyrics by a young Stephen Sondheim and, above all, the jazz-infused choreography of Jerome Robbins, West Side Story (which debuted on Broadway in 1957) is rightly considered a masterpiece of the American musical theater.

Its passionate plea for tolerance is wedded to an inquiry into the complexities of American identity and ethnic assimilation - concerns at once timeless and newly relevant. But it remains, too, a document of its era, showcasing the language ("cool," "daddy-o"), mores, gender assumptions, and character types of its day. "Gee, Officer Krupke," one of this production's many stellar set pieces, satirizes the 1950s concept of juvenile delinquency and the jargon of the helping professions.

Choreographer Stephen Casey has ably restaged Robbins' iconic dances, with their sharp edges and balletic turns. The dance stars are Nathan Madden's graceful Riff, leader of the Jets, the "American" gang, and Karli Dinardo's fiery Anita, whose boyfriend Bernardo (a menacing Charles South) is both the leader of the Puerto Rican Sharks and Maria's overprotective brother. Anita's denigration of her native Puerto Rico and celebration of her new life in "America" is a combustible tour-de-force of dance, song and acting that acquires ironic resonance in the second act.

The edgy antagonisms of the two gangs are, of course, juxtaposed against the unworldly, fairy-tale love of Tony and Maria, both clad by costume designer Michael McDonald in virginal white. Austin Colby and MaryJoanna Grisso played opposite each other in a successful Signature Theatre production of West Side Story, in Arlington, Va., and it was a coup to reunite them. Colby is a fragile-seeming Tony, so handsome he is almost pretty, and his spectacular tenor shines in "Something's Coming" and "Tonight." Grisso's greatest gift is in conveying Maria's emotional arc, from wonder to unbridled, bride-like joy to desolation.

Under the tough-minded direction of Dennis Razze, the festival's associate artistic director, minor characters - especially the individual Jets - are sharply defined, and the show's still shocking ethnic slurs carry a fresh sting. The climactic taunting of Anita, underscored by a sardonic orchestral reprise of "America," has the emotional force of a rape scene.

The 15-piece orchestra sounds great, and this production looks as good as it sounds - from Arianna Knapp's grittily realistic black-and-white projections of New York streetscapes to Eric T. Haugen's moody dramatic lighting. But its main virtue, in the end, is how it makes us feel: sad, moved, hopeful - and mindful of the danger of allowing ethnic animosities to trump American ideals.

THEATER REVIEW

West Side Story

Presented through July 3 by the Pennsylvania Shakespeare Festival at DeSales University, Center Valley.

Tickets: $25-$60.

Information: 610-282-9455 or www.pashakespeare.org
http://articles.philly.com/2016-06-20/news/73903784_1_tony-and-maria-west-side-story-officer-krupke