Hedy Weiss
"West Side Story" — inspired by Shakespeare's "Romeo and Juliet," but set on Manhattan's Upper West Side during a period of fierce gang warfare between the white working-class kids of immigrants and more recently arrived Puerto Rican immigrants — opened on Broadway in 1957.
I still recall that some years ago, in a conversation with Harold Prince, the fabled Broadway director remarked that by today's standards the musical would look "like a Sunday school picnic." But were he to experience the emotionally charged ferocity generated by director Jim Corti's revelatory revival now at Aurora's Paramount Theatre, there is no doubt he would change his assessment.
...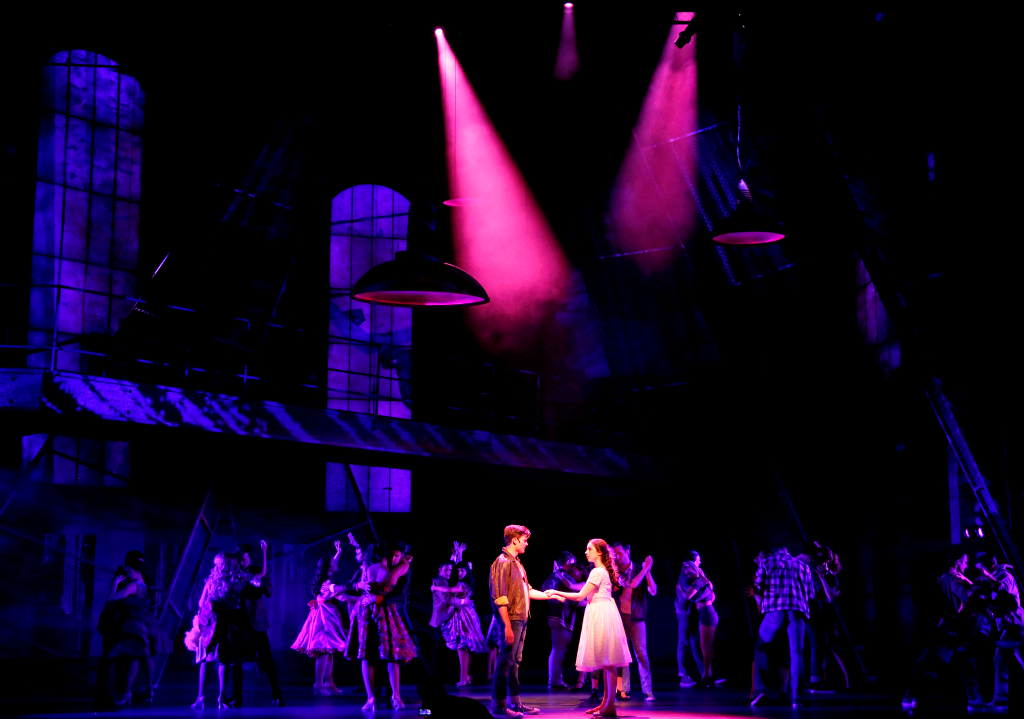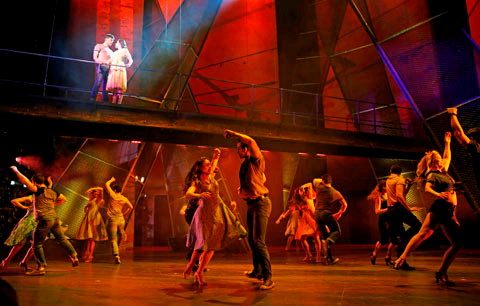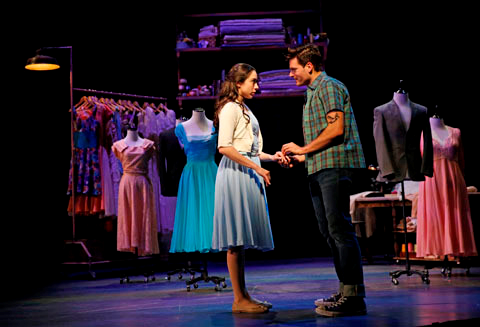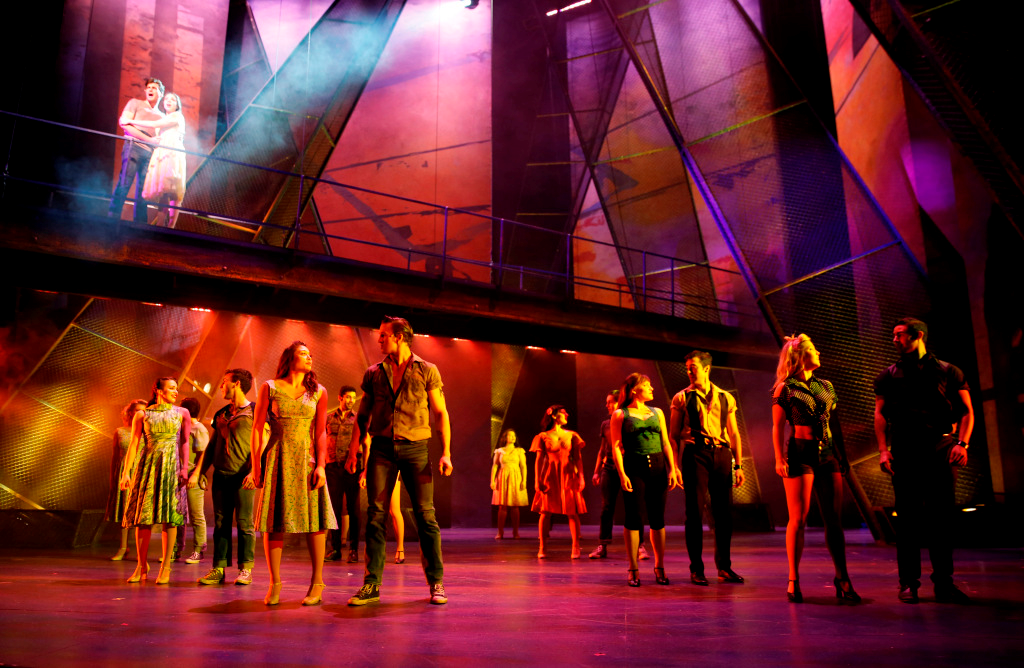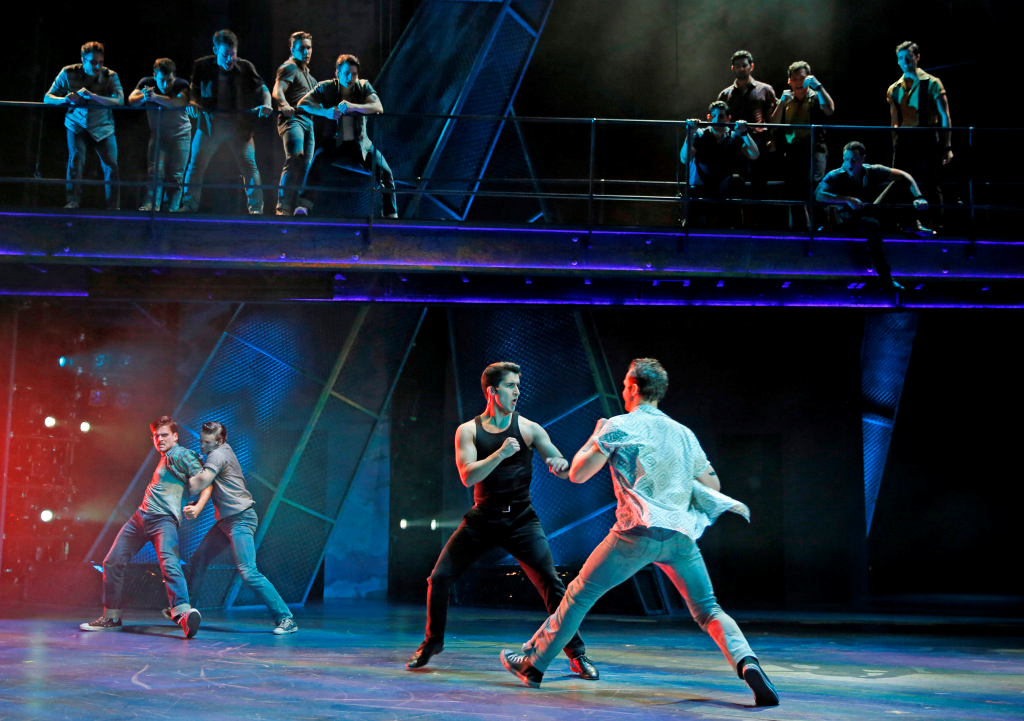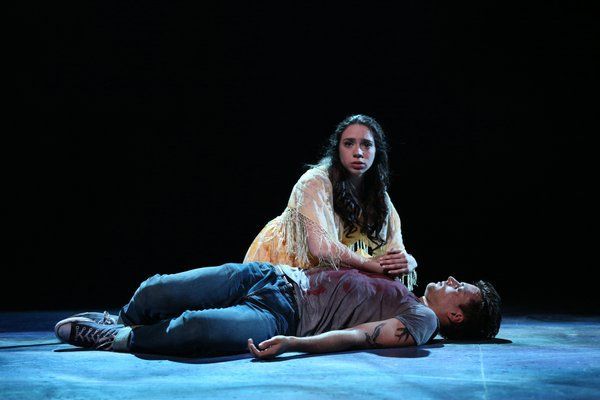 Corti, ever brainy and audacious, and his invaluable choreographer, William Carlos Angulo (who has served as assistant choreographer for several major Paramount and Drury Lane shows, but here makes an astonishing debut as the creative force behind the dancing), have remained fully faithful to the original. Yet at the same time they have made innovative choices in this near operatic musical (backed by a galvanic 19-piece orchestra led by music director Tom Vendafreddo) that feel completely of-the-moment. Every element of the show's story — from gang violence and guns, to attitudes towards immigrants, to generational and cultural differences, to the lack of jobs and the strong-armed tactics of the police — easily synchronizes with today's headlines.
How could this be possible?
To begin with, there is the genius of the show itself, with its score by Leonard Bernstein (a scorching blend of Latin, jazz and Broadway sounds); the ever-bristling lyrics, both slangy and poetic, by Stephen Sondheim; the quintessential "far from an ideal melting pot" book by Arthur Laurents, and the overall choreographic concept of Jerome Robbins, an intrinsic part of this musical but with significant differences. And, at this moment when outrage flares often and easily about ethnic imbalance in the theater, it is worth noting that these four Jewish artists brilliantly captured cultures not specifically "theirs."
To his credit, Corti has tapped many supremely talented Latino performers (primarily highly trained dancers, who also happen to be fine actors and singers) to play the roles of the Sharks and their girlfriends, creating an instant authenticity. He also has used his particular magic to conjure an intense sense of intimacy in many crucial scenes — a major feat given the grand scale of the Paramount.
In fact, the intensity of the characters' interaction brings a palpable hush to the audience. Whether in "Tonight," "One Hand, One Heart," or "Somewhere," the love scenes between Maria (the ideally girlish Zoe Nadal, a formidable talent, who, in the true spirit of Juliet, projects a winning innocence paired with a fervent and determined drive for independence) and Tony (Will Skrip, with his fine tenor, tapping all the anguish of the Polish immigrant's son who has tried to sever his ties with the Jets) are exquisitely rendered.
The relationship between Maria and her brother's girlfriend, Anita (Mary Antonini, a force of nature who dances with firecracker energy, sings with great power, and pairs searingly with Nadal in "A Boy Like That"), is full of love and rage. And the chemistry between Anita and her great love, Bernardo (the fleet Alexander Aguilar), is winningly captured in their verbal duels.
Angulo's choreography brings an electricity and heart to every scene, with a gorgeous use of hand gestures that can shift from realistic aggression to an almost prayer-like plea for peace. And the dance in the gym? A sizzling hot mambo, and a tense musical-chairs-like mixer, is heightened by costume designer Theresa Ham's clever fashion "war," as the Jets' girls wear pedal pushers, while the Sharks' girls arrive in ruffled dresses.
Corti's fluid, swiftly moving staging is further strengthened by his large, ideally chosen cast of supporting actors (all with crystalline diction), including Jeff Smith as the Jets' leader Riff; Aubrey Adams as the gender-confused Anybodys; Joe Dempsey as the jaded police investigator Schrank; Tom McElroy as Doc, the drugstore owner repulsed by the violence, and the full complement of gang members and their girls, who dance up a storm.
Set designer Kevin Depinet, who has made the Paramount his showcase, has created a starkly abstract-Cubist vision of New York, with upended chain link fences and fire escape windows dramatically lit by Jesse Klug.
In this season of countless productions designed to celebrate the 400th anniversary of Shakespeare's death, it might just turn out to be that "West Side Story" is the most impressive tribute of them all.
http://chicago.suntimes.com/entertainment/paramounts-west-side-story-a-full-out-emotional-rumble/
West Side Story
Review by John Olson
Though one of the best known and best loved musicals of the past half-century, West Side Story has taken its share of ribbing. Remember the SNL skit in which a street gang wielding actual weapons meets a gang of West Side Story dancers led by John Leguizamo responding to the thugs' threats with kicks and pirouettes? West Side's mixing a story of street gang violence with musical theatre romanticism will always leave it at least a little vulnerable to such taunts, but for this production, director Jim Corti has taken an uncompromisingly gritty approach. When we first see the Jets and the Sharks street gangs at the musical's opening, the boys have dirty faces and are in pretty rough looking clothes, courtesy of costume designer Theresa Ham. They're not wearing the pastels of the beloved movie version or worse yet, the fashion-on-a-budget togs you may remember from the Gap commercials in 2000 that used dancers performing Jerome Robbins' original choreography to model their t-shirts and jeans. And while accomplished dancers all, the boys look like teenaged street toughs rather than chorus boys – a challenge that has doomed many a West Side Story production.
Corti gives his show an edginess throughout. His Tony (Will Skrip) accomplishes the very tough task of creating a boy who could be both the hopeless romantic based on Shakespeare's Romeo as well as a kid you can believe was formerly in a street gang. Corti's gang members are tough throughout – Jeff Smith's Riff and Alexander Aguilar's Bernardo are hard edged and very aware of the dangers ahead as they plan their rumble. The direction gives the whole piece a tension that's alleviated only briefly by the romantic interludes between Tony and Maria (Zoe Nadal) and the comedy number "America." Even the second act song, "Gee, Officer Krupke," originally made to provide comic relief in the aftermath of the rumble's killings, is played here not without humor, but in a very angry tone that keeps the tension from the earlier scenes. And – jump to the next paragraph if the musical's ending is not known to you – Corti refuses to end the piece with even the slightest hope. He deviates from the stage directions at the very end of the musical by leaving Maria alone with Tony's corpse, rather than having the gang members carry the body off together. As Corti points out in his program note, "our contemporary reality is brutal." In Chicago alone, we've seen too much street violence and lost too many youth to it to romanticize or trivialize it.
As exceptional as this production is in its depiction of urban violence, it's equally fine with the considerable musical demands of the glorious Leonard Bernstein score. Readers may recall the 1985 symphonic recording conducted by Bernstein in which he used opera singers to "fully realize" his score by capturing its full operatic sweep. He might not have felt the need to make that recording if he'd heard Will Skrip singing "Something's Coming." Though he and his Maria, Zoe Nadal, list no opera among their credits, they both seem to have the training and discipline to sing at that level. They're so good, they sing the lead vocals in "Somewhere" which, due to its difficulty, is usually given to another female singer as a solo. This is probably the best sung West Side Story I've ever heard – and I've heard many. There's not a vocally weak link in the cast, and the 19-piece orchestra led by Music Director Tom Vendafreddo sounds even bigger and fuller in delivering Bernstein's symphonic jazz score. The score is certainly one of the best – arguably, the best score of a Broadway musical ever – and this company does it proud. West Side Story is also one of a handful of musicals (along with Oklahoma!, Carousel and On the Town) remembered largely for its use of dance in telling the story. Jerome Robbins' original dances are iconic – well known from his recreations of them for the movie version and usually used in stage revivals. Not so here. William Carlos Angulo has devised new ones – a thankless task in a way, sort of like being asked to improve on the Mona Lisa. Angulo doesn't improve on Robbins' choreography, but he does offer an alternative in the same spirit that is something new for those of us who have seen the originals so many times. And, Angulo's steps are true to the way the characters should move and are superbly executed by this company. As a side note, we should acknowledge that the Puerto Rican characters mostly all appear to be played by Latinos – an accomplishment in light of the controversy over the Marriott Theatre's recent announcement that their Evita would include only one Hispanic in the cast of Argentine characters.
As Tony and Maria, Skrip and Nadal add a layer not always seen in portrayals of these lovers. We see their genuine fear at the violence around them,giving the action a rising line of tension that doesn't let up very much or for very long. One of the very few false notes in the production is that Nadal overacts just a bit in the climactic scene. She might find some subtler ways of showing Maria's grief. In the star-making role of Anita, Mary Antonini shines, and more than meets expectations. Without reinventing the role, she freshens it with line readings of her own that make this iconic character seem new again. Alexander Aguilar as Bernardo and Jeff Smith as Riff both have the sex appeal and charisma to spare to convince they could be gang leaders and both are superb singers and dancers to boot. (True, we don't actually get to hear Bernardo sing, but I've heard Aguilar in other shows – and yes, he's a terrific singer as well). Tom McElroy is a standout as well for his Doc. As the owner of the drug store where Tony works, his horror at the violence in his community is palpable, particularly in his big scene near the end of the musical.
Kevin Depinet's set cleverly uses a catwalk that can be interpreted as a balcony or a bridge – facilitating Corti's brilliant staging of the "Quintet" sung by the company as the Rumble approaches. Depinet uses just a few roll-on pieces for Doc's drug store and the dress shop, and the settings are given a broader context by Mike Tutaj's projections suggesting, at various points, the city skylight, the tenements of the neighborhood and the walls of the gym. Along with Jesse Klug's lighting, the action moves swiftly among the various settings, keeping Corti's pace and rising line of tension moving.
In recent years, we've been treated to some fine stage productions of West Side Story, but this is the best. For newcomers to the musical, it's a must. And for the much larger group of those who have seen the musical many times before on stage or screen, it's well worth the trip out to Aurora.
Rating: ★★★½
West Side Story continues through April 24th at Paramount Theatre, 23 E. Galena Blvd., Aurora (map), with performances Wednesdays 1:30pm & 7pm, Thursdays 7pm, Fridays 8pm, Saturdays 3pm & 8pm, Sundays 1pm & 5:30pm. Tickets are $41-$56, and are available by phone (630-896-6666) or online through their website (check for half-price tickets at Goldstar.com). More information at ParamountAurora.com. (Running time: 2 hours 30 minutes, includes 15 minute intermission)
artists
cast
Zoe Nadal (Maria) Will Skrip (Tony), Mary Antonini (Anita), Alexander Aguilar (Bernardo), Jeff Smith (Riff), Aubrey Adams (Anybodys), Kasey Alfonso (Francisca), Brittany Amoroso (Teresita), Francesca Arostegui (Consuela), Larry Baldacci (Gladhand), Alan Ball (Doc), Aaron Patrick Craven (Diesel), Joe Dempsey (Lt. Schrank), Jillian Endebrock (Pauline), Alejandro Fonseca (Indio), Joe Foust (Krupke), Samuel Owen Gardner (Snowboy), Allyson Graves (Graziella), Erin Kilmurray (Velma), Tiffany Krause (Clarice), James Lee (A-Rab), Ryan McBride (Action), Joe Musiel (Luis), Liam Quealy (Big Deal), Jorge O. Quintero-Troetsch (Pepe), Fernando Rodriguez (Toro), Elena Romanowski (Estella), Ashley Elizabeth Smith (Minnie), Jonny Stein (Baby John), Adrienne Storrs (Rosalia), Anthony Sullivan Jr. (Chino), Aaron Umsted (Juano).
orchestra
Tom Vendafreddo (conductor), Kory Danielson (associate conductor), Brian Shannon, Matt Wifler, Jon Negus, Peter Brusen (woodwinds), Jonathan Saylor (bassoon), Victor Garcia, Larry Bowen (trumpet), Sharon Jones (French horn), Michael Joyce (trombone), Thomas Yang, Michael Shelton, Andrea Tolzmann (violin), Steven Houser (cello), Jeremy Attanaseo (bass), Scott Reed (guitars), Tom Hipskind (drum set), George Blanchet (percussion), Colin Welford, Tim Lenihan (keyboards)
behind the scenes
Jim Corti (director), William Carlos Angulo (choreographer), Tom Vendafreddo (music director), Kevin Depinet (scenic design), Jesse Klug (lighting design), Adam Rosenthal (sound design), Theresa Ham (costume design), Mike Tutaj (projection design), Katie Cordts, (wig, make-up designer), Sarah Ross (properties director), Claudia Anderson (dialect coach), Ethan Deppe (keyboard programmer), Frank Honts (dramaturg), Roberto Rodriguez-Hammond (creative consultant), Geoff Josselson (NY casting director), R&D Choreography, Rick Gilbert and Victor Bayona (violence design), Erin Kilmurray (asst. choreographer), Kory Danielson (asst. music director, associate conductor), Deb Stevenson (orchestra contractor), Trent Stork (associate director), Amber Johnson (stage manager), Julia Zayas-Meléndez (assistant stage manager), Rose Marie Packer (production director), Kaylee Oost (company manager), Jason Piksher (Broadway technical director), Kelly Wilt (asst. Broadway technical director), Matt Guthier (costume shop manager), Alex Buholzer (lighting, sound & media supervisor), Jerome Robbins (original Broadway production director and choreographer), Liz Lauren (photos)
http://chicagotheaterbeat.com/2016/03/21/west-side-story-review-paramount-theatre-aurora/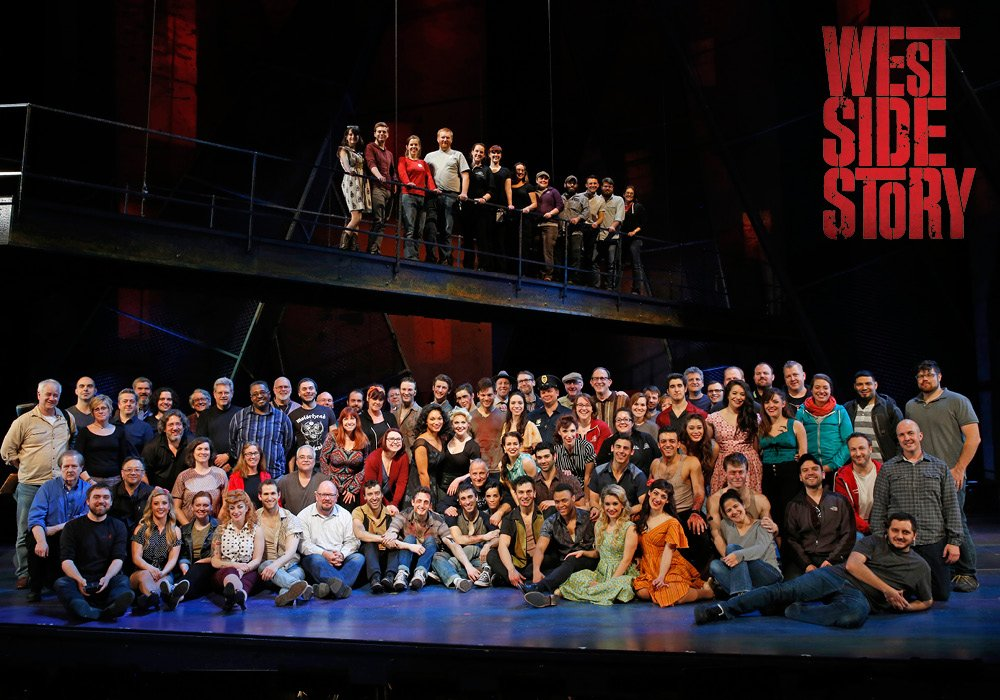 Paramount's 'West Side Story' a full-out emotional rumble