Steve Schonberg
Theater can sing louder than hate can scream, and by doing so it speaks volumes. If theater is a reflection of our society, the Somewhere Project's take on the classic musical, West Side Story this past weekend, provides hope that there can be peace if only we ask what it means universally to be human, instead of reinforcing the labels that make us different. The production was perfectly timed, as voters pour their fears into politicians who tell them how so many "outsiders" are ruining our country. But, almost 60 years after West Side Story first premiered (1957), this thrilling new production by Carnegie Hall's Weil Music Institute reminds us that we've faced these serious cultural challenges before in many forms. Yet we continue to evolve, and incredibly, theater can simultaneously represent and inspire change.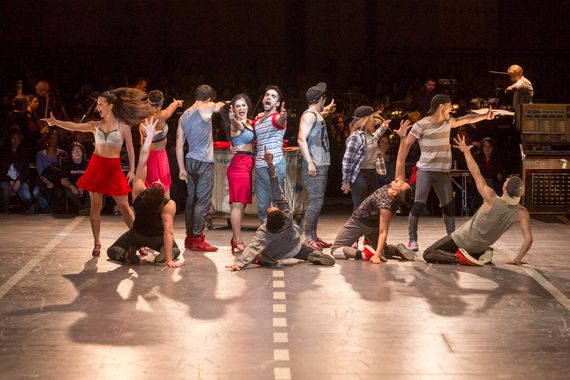 ...
Given the short three-day run of the production, it may be argued that the house leaned fairly "left" because of its home at The Knockdown Center, a reclaimed factory in Queens, one of New York City's outer boroughs. But, theater is enjoying a renaissance in the city, with tourists from around the country clamoring to see a nearly all Hispanic and Black cast of actors rap the life story of Alexander Hamilton, an immigrant Founding Father, who helped establish our country. To get in, some are even paying aftermarket prices of $1,500 or more. The show is about Hamilton, but with its casting and timeliness, its an allegory too for the importance of immigrants in defining our true American DNA.
Theatergoers are also heading to On Your Feet, a jukebox musical about an immigrant from Cuba - Gloria Estefan - who faced down adversity to become one of the country's, and world's, most celebrated pop stars. At one point in the show, Josh Segarra, who plays Emilio Estefan, confronts a music executive who refuses to let them produce an English language single because he doesn't think it'll appeal to Americans. Segarra delivers the line, "Look at my face - whether you know it or not, this is what an American looks like," eliciting a huge round of applause from the audience.
So, it's not too shocking to think that despite our fears, we can turn to the theater as a tool to help resolve our feelings, along with being entertained. In contrast with looking to politicians, or the government, for help with these deep-seated issues, seeking resolution through theater allows us to find our own answers: we settle our conflicts by finding a thread of humanity, our shared connection. Theater, stories, and other narrative tools have been used for thousands of years to help educate and inspire us to take the right action, which comes from resolving our discord from within.
West Side Story was revived on Broadway just seven years ago (2009), but what made the Somewhere Project production starkly different is that -- as creators Leonard Bernstein, Stephen Sondheim and Arthur Laurents originally did with the show's source material, Shakespeare's Romeo and Juliet -- the setting was moved to our modern time. The show, expertly directed by Amanda Dehnert with beautiful music direction by Marin Alsop, took over this industrial space, with the audience surrounding the long, three-quarter stage at tables and bleacher chairs. The performers weaved in and out of the space, between seating areas, darting down the impossibly long stage. It added the racing of excitement of these teens on the verge of a war, built on not much more than angst and misunderstanding.
Dehnert leaned smartly into this conflict during the climactic fight scene when Tony grabs the knife, just before killing Bernardo. In past productions, his stabbing Bernardo has been made to seem like an accident during the fight, an extreme example of these two groups' continued misunderstanding. But through Dehnert's approach, Tony has a few feet of distance and seems to take a moment's pause. But, in that heated moment, he lunges. By this action, it seems that much more dramatic as he alters so many lives, including his own, instead of stopping the rumble as he promises Maria.
The actors wore contemporary clothing as if they stepped out of Forever 21 (costume design by Tracy Christensen), and the dancing - with choreography made famous by the iconic Jerome Robbins - was complemented by additional material by Sean Cheesman. The result felt like the beloved West Side Story, but with the flair of FOX's hit show, "So You Think You Can Dance."
The casting set aside usual expectations for the feuding Puerto Rican "Sharks," and the white, "Jets." Instead, both sides consisted of a wide range of shades from black to brown and white, with colored sneakers helping delineate the groups. The Sharks were in purple; the Jets wore red. It brought extraordinary excitement, proving colorblind casting can also be used to prove that actors - like in Hamilton, and elsewhere - are playing a part, not a color, and good actors can play any role.
Headliner Skylar Astin ("Pitch Perfect") made a solid Tony, but the lion's share of kudos goes to his co-stars and the ensemble. Morgan Hernandez, a freshman at Boston Conservatory, played Maria with beautiful poise and grace that felt as if she was a seasoned Broadway pro. She has a powerful voice, and brought an earnest naiveté to the role that paired perfectly with the severity of her anger at the show's climax.
Other standout roles included Bianca Marroquin (Chicago, In The Heights) as Anita, Manny Stark (NBC "Smash," On The Town) as Riff, and Donald Jones, Jr. (Aladdin), as Bernardo. An already ensemble-heavy show, due to several group dance numbers, this one especially stood out and worked overtime to serve the audience the intensity of feisty youths on New York City streets.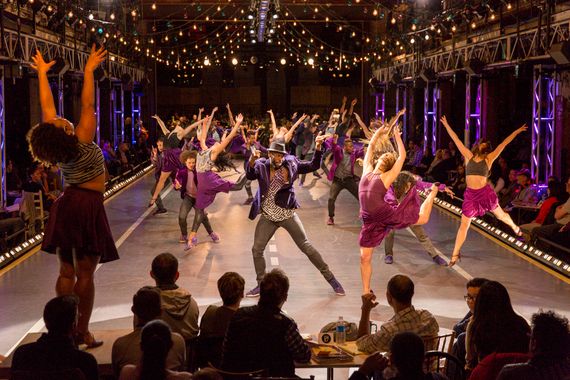 Fifteen high school-aged apprentice performers joined them on stage, and they were backed by a chorus of 200 singers, recruited from a total of 32 local High Schools. This enhancement alongside the professional actors is a reflection of the larger Somewhere Project. According to the program, the yearlong initiative is, "about community and connection - breaking down the walls we put up between 'us' and 'them.'" It asks, "When people cannot see beyond their fears, the results can often be tragic. How often is our judgment clouded by misunderstandings, irrational preconceptions, and destructive rhetoric?"
The project includes discussions, art exhibits, and other events in celebration of Carnegie Hall's 125th anniversary and exploration of that question. They've engaged artists from around the city to join in the movement of knocking down barriers, and as the message of West Side Story reinforces, elevating the discussion in the hope of finding new, healing connections.
Tony and Maria represent that hope: that we can all rise above what makes us different, and connect with - if not love - each other, for our shared humanity. But, when Tony is killed, it's proof how hatred not only brings us down as a society, like a disease, it can spread. Maria turns from mourning over Tony's dead body to grab the gun in anger. She yells, "You all killed him. And my brother. And Riff. Not with bullets and guns. With hate! Well, l can kill too because now l have hate! How many can l kill, Chino? How many, and still have one bullet left for me?"
But, if there's a larger message that West Side Story asks us all to take away, it's that "Someday, somewhere, we'll find a new way of living. We'll find a way of forgiving. Somewhere, there's a place for us"
That place isn't exclusively the theater, but hope comes in knowing that in such uncertain times, audiences are rushing to see shows that challenge us to reconsider this enduring art form and that bring new awareness to the issues we face today. If this serves to help pose necessary questions, then like the Somewhere Project, it can also help us start fresh discussions about our paths forward.
Steve Schonberg is the editor-in-chief of www.centerontheaisle.com and is regularly seen on NBC's "Weekend Today in New York."
Follow Steve Schonberg on Twitter: www.twitter.com/CntrOnTheAisle
http://www.huffingtonpost.com/steve-schonberg/theater-sings-louder-than_b_9405518.html
Theater Sings Louder Than Screams of Hate; Somewhere Project's 'West Side Story'