Signature's 'West Side Story': It's not just any night
By Peter Marks Theater critic
The perfect Tony. A Maria of pure enchantment. So, yes, it's truly love at first sight in director Matthew Gardiner's riveting new "West Side Story" — and not just for that star-crossed pair. Buoyed further by the mesmerizing Natascia Diaz as Anita, and a dancing ensemble that leaps as if the streets of Manhattan were up in the clouds, the production ensures that we once again fall deeply under this musical's potent spell.
This emotion-packed rendering of the grittily lyrical musical by Leonard Bernstein, Jerome Robbins, Stephen Sondheim and Arthur Laurents is not only one of the finest revivals Signature Theatre has ever mounted. It also solidifies Gardiner's claim to being among the top young musical-theater directors in the land.
...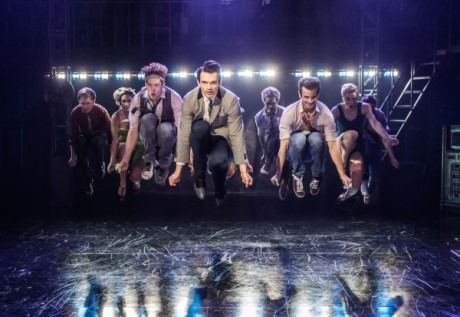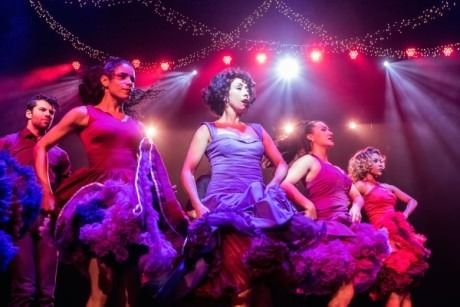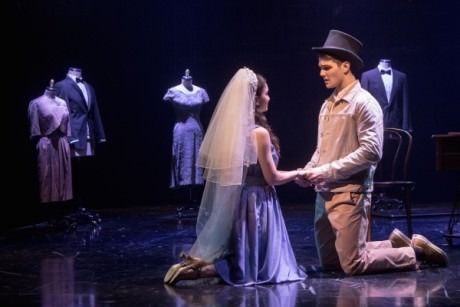 If you're an enthusiast, you've no doubt seen the landmark 1957 show sometime, somewhere. But maybe never from this close — no audience member on the ground level at Signature sits more than five rows from the stage — and quite possibly, never a version of such heart-pumping passion. For in Austin Colby and MaryJoanna Grisso, the director has chosen his Tony and Maria with exquisite care. With such a lovely pairing to kick the proceedings into amorous gear, all the rest flows with an absorbing grace and urgency.
Gardiner and set designer Misha Kachman place the action of "West Side Story" on a thrust stage with a few incidental furnishings, the spectators arranged around it in a horseshoe. Above the actors, in a side balcony, Jon Kalbfleisch conducts a 16-piece orchestra, larger than what dwells in many a Broadway pit. And the sound it produces is of the dreamily full-bodied variety. If there is any theater melody you want to hear played all out, it's one by Bernstein.
The music seems to lift the ensemble, more than two dozen strong, and choreographer Parker Esse, inspired by Robbins's original dances, whips it into a disciplined corps that's thrilling to watch. That many bodies moving in unison in so compact a performance space magnifies the energy. And so, in a balletic prologue, during which we're introduced to the competing gangs, the Anglo Jets and the Puerto Rican Sharks, and the ensuing "The Dance at the Gym," where Anglo Tony is bewitched by Puerto Rican Maria, the pulse of a particularly fervent "West Side Story" begins to pound.
By this point, we've encountered Tony in the guise of the strong and vulnerable, sad-eyed Colby, who in an enthralling version of "Something's Coming" delivers one of the best versions of the song you'll ever hear. Soon to come is a gorgeous balcony scene with Grisso, on Maria's fire escape, and the singing of an impassioned "Tonight." (Have these two characters ever seemed so convincingly hot for each other?) And that's followed by Diaz leading a rendition of "America," the rousing paean to Anita's love of the relative benefits of life stateside. She's ably assisted here by actresses portraying other Shark women: Katie Mariko Murray, Olivia Ashley Reed, Jasmine Alexis and Ilda Mason. (Reed, Murray and Mason return to support superb songbird Grisso in a delightful "I Feel Pretty.")
Diaz brings to the production her elegant dancing skills, trademark ferociousness of commitment and something else: grand comic timing. In her scenes with Maria or her lover, Shark leader Bernardo (Sean Ewing), this Anita radiates a generous spirit — the brutal snuffing out of that is one of the evening's tragedies — and even more winningly, a piquant wit.
For gang members called on to perform such un-gangstery feats as delicate pirouettes, the actors cast here look suitably athletic. Although Max Clayton's Riff comes across as more debonair than most leaders of the Jets, he moves terrifically, and his knife fight under the highway with Ewing's brooding Bernardo unfolds explosively. As Action, Ryan Fitzgerald is an especially impressive Jet who shows off his acting chops in an excellent incarnation of the satirical "Gee, Officer Krupke." Maria Rizzo — the Gypsy Rose Lee of Signature's "Gypsy" — persuasively takes on the role of female Jet wannabe Anybodys, and DJ Petrosino is aces in his efforts to give some dimension to Chino, cold-shouldered by the Tony-besotted Maria.
Meanwhile, the indispensable Bobby Smith performs two essential, conciliatory roles here, first appearing as Glad Hand, the ineffectual chaperone who attempts to get Sharks and Jets dancing with each other in the gym, and then as the despairing Doc, in whose candy shop the Jets hold their war councils. The portrayals are restrained demonstrations of how supporting roles can have outsize impacts.
The maturity with which Gardiner conducts his "West Side Story" confirms an impression of his abilities with classic musicals that has been rising with each of his recent productions, starting with his "Dreamgirls" in 2012 and continuing with last year's "Sunday in the Park With George." Now, there's this marvelous "West Side Story" on his résumé and in our midst, leaving an audience all at once sated — and hungry for what he does next.
West Side Story Music by Leonard Bernstein, lyrics by Stephen Sondheim, book by Arthur Laurents. Directed by Matthew Gardiner. Choreography, Parker Esse, based on Jerome Robbins's original dances. Set, Misha Kachman; costumes, Frank Labovitz; lighting, Jason Lyons; sound, Lane Elms; music direction, Jon Kalbfleisch. With Kurt Boehm, John Leslie Wolfe, Russell Sunday, J. Morgan White, Jacob Beasley, Ryan Kanfer, Joseph Tudor, Tony Neidenbach, Jamie Howes, Michael Graceffa, Colleen Hayes, Jennifer Cordiner, Eric Rivas, Ryan Sellers, Zachary Norton, Shawna Walker and Cami Spring. About 2 hours 40 minutes. $40-$96. Through Jan. 31 at Signature Theatre, 4200 Campbell Ave., Arlington. 703-820-9771. sigtheatre.org.
https://www.washingtonpost.com/entertainment/theater_dance/signatures-west-side-story-its-not-just-any-night/2015/12/22/01fa02c6-a68a-11e5-b53d-972e2751f433_story.html
A riveting revival of 'West Side Story' from Signature Theatre
By Tim Smith•Contact Reporter
The Baltimore Sun
The audacity and depth of "West Side Story" are forcefully reiterated in an up-close revival playing to packed houses at Signature Theatre in Arlington, Va.
The production underlines the theater company's high caliber just as forcefully. I don't expect to encounter such an affecting, visceral staging of this 1957 musical anytime soon.
Given the talents behind it — composer Leonard Bernstein, writer Arthur Lauents, lyricist Stephen Sondheim — "West Side Story" was pretty much guaranteed to stand out from typical musicals of the day.
And it could not help but be a jolt for Broadway audiences to come face to face with gangs of street thugs, intense ethnic prejudice and — this being a show inspired by "Romeo and Juliet" — unnecessary, tragic violence.
That brilliant choreographer Jerome Robbins enhanced the whole thing with dance that sprang inevitably, boldly, even ruthlessly from the plot made "West Side Story" all the more genre-expanding.
All these years after its premiere, those groundbreaking aspects to the musical may seem routine, but only in a routine production. Signature's venture is anything but routine. The musical feels newly created, not just revived.
The show — the company's largest to date — has been fitted into a 276-seat house, where the audience sits in a U-shape around a stage that requires few, seamlessly placed props. A cast of 30 uses every inch of that space, as well as three balconies (a 17-member orchestra is perched on the fourth).
The result is as about as up close and personal as you could want. And there's no diminution of choreographic fights and flights in this intimate setting. Most importantly, this intimate setting allows the simple love story at the heart of "West Side Story" to register at every turn.
It's hard not to be swept away anew by the plight of former Jets gang member Tony and Maria, whose brother is leader of the Jets' Puerto Rican rivals, the Sharks.
Signature's associate artistic director, Matthew Gardiner, guides the production in sure, telling fashion; his expert pacing assures maximum effect for the emotional peaks, as well as the welcome comic relief. There's an organic flow to the staging, with every move, subtle or bold, emerging naturally.
One measure of Gardiner's incisive touch: Each member of the Jets and the Sharks is deftly defined, even those who barely get a line; no one ever blends into the ensemble. It's no small thing for a director to draw out details of personality the way Gardiner does here. (The Jet called Action, vividly played by Ryan Fitzgerald, is an especially striking example.)
Austin Colby makes a terrific Tony. He makes the suddenness of Tony's feelings for Maria seem inevitable, makes the dream he has for the two of them seem terribly real and possible. Colby's singing is admirable in tone and phrase, nowhere more expressively than in "Maria" (his voice lacks firmness when pushed at the top, but that's a minor matter).
At the performance I attended, understudy Katie Mariko Murray stepped into the role of Maria (normally played by MaryJoanna Grisso) and acquitted herself very well, vocally and dramatically.
Natascia Diaz delivers a star turn as Anita. She brings out every ounce of the character's humor, confidence and pride; her colorful, sensitive singing is an another plus. Diaz makes the big confrontation scene with the Jets in Act 2 doubly powerful.
Sean Ewing does formidable work as the Sharks' leader, Bernardo. Max Clayton likewise fleshes out the role of Jets kingpin Riff with flair.
Among the many supporting players, Bobby Smith brings considerable depth to the thinly written character of Doc, and Maria Rizzo adds telling, ultimately affecting layers to the role of the tomboy known as Anybody's (note where her eyes roam during the gym scene).
Choreographer Parker Esse honors Jerome Robbins' original concept and ensures a tight, taut response from the dancers. Spot-on costumes (Frank Labovitz) and refined lighting (Jason Lyons) enhance Misha Kachman's subtle scenic design.
And Bernstein's indelible score, with its ever-startling energy and brilliant fusion of jazz and Broadway, hits home from the opening note. Having a chamber-sized and cohesive orchestra, conducted by the excellent Jon Kalbfleisch, allows wonderful inner details in the scoring to be fully savored.
In our age of immigrant-bashing, of yelling instead of listening, "West Side Story" seems awfully timely. Issues of identity and turf, law and order, police, the American dream — they're churning and spinning, punching and clutching, right alongside those great songs.
Giving equal weight to all the currents running through the musical, the Signature Theatre production delivers an experience as enriching as it is entertaining.
Copyright © 2016, The Baltimore Sun
If you go
"West Side Story" runs through Jan. 31 at Signature Threatre, 4200 Campbell Ave., Arlington, Va. Tickets are sold out, but the theater says some tickets may be released for sale. Call 703-820-9771, or go to sigtheatre.org.
http://www.baltimoresun.com/entertainment/arts/artsmash/bal-a-riveting-revival-of-west-side-story-from-signature-theatre-20160112-story.html