Birth of a Musical
The Broadway musical is a commercial art form that often aspires to, and occasionally attains, high art. It is also a collaborative medium, in which the librettist, composer, lyricist, director, and choreographer determine together the details of plot and action, the style and tone of the production, and how music, movement, and language will be used to best convey the story they wish to tell. The collaboration also involves dozens of people who play key roles, including the designers of the set, lighting, and costumes, the orchestrators and musicians, and ultimately the performers who must embody not only the characters they play, but also must be able to sing and dance—in the case of West Side Story—this most demanding music and choreography. The items on display in this section come from the Library's Leonard Bernstein Collection and provide a rare window into this complex process.
...
Bernstein's Annotated copy of Romeo and Juliet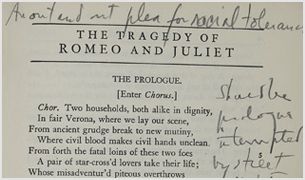 Throughout this volume Bernstein made several notes for adapting Shakespeare's play into a contemporary musical. In its early stage of development Jerome Robbins, Arthur Laurents, and Leonard Bernstein considered replacing the feuding artistrocratic families with a Catholic and Jewish family. On the inside cover is a scene breakdown suggesting that the show open either at the Mulberry Street Festival or during Easter and Passover. Elsewhere, Bernstein's notes suggest that a song entitled "Song on Racism" instead be entitled "It's the Jews." At the top of the title page, Bernstein writes "An out and out plea for racial tolerance," and in the margin "Should be prologue interrupted by street fight."
Early Scene breakdown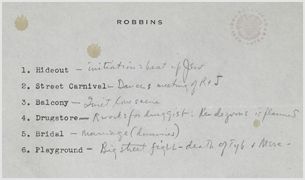 This early scene breakdown—presumably typed by Jerome Robbins with Bernstein's annotations in pencil shows the collaborative process between these two artists. Bernstein's notes reveal that although the character names still come from Shakespeare—Romeo, Juliet, Tybalt, and Mercutio—the feud is now based on Jewish and Catholic prejudices.
Romeo Synopsis
Shown here is the first page of a six-page synopsis by Arthur Laurents. Although several of the details would eventually change (including most of the character names), many moments are richly described in this early version and were closely realized in the final show, including the description of Romeo and Juliet's (Tony and Maria's) meeting in act 1, scene 2.
Letter from Jerome Robbins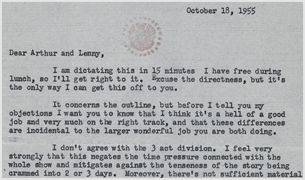 Jerome Robbins wrote this thoughtful and detailed reaction to Arthur Laurents's Romeo synopsis. Notable among Robbins's responses are: his argument for a two-act ision (p. 1, par.3); his suggested changes to Anita's character (p. 1, par. 5); his expressed concerns about the "wedding scene" (p. 2, par. 3); his overall philosophy regarding what the work needs to convey (p. 3, par. 2); and his thoughts on casting and the use of dance in the show (p. 3, par. 3). The annotations in the margins, mostly in agreement, are in Leonard Bernstein's hand.
Scene Outline with Notes on Songs and Music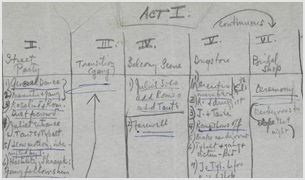 In this outline, Bernstein makes notes about song placement, participants, and the tone of musical numbers. Here he describes scene I as "Dogged, intense"; scene II includes a "Duet to crowd" by Romeo and Rosalind (his erstwhile girlfriend); scene V opens with a number for Mercutio "with girls"; and before the fight and double murder in scene VII, Bernstein suggests a "happy song" for Romeo
Audition Notes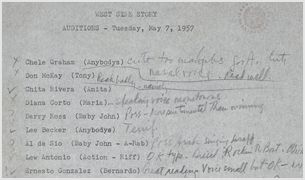 Twenty pages of lists and notes on cast auditions for West Side Story in the Bernstein Collection record not only the broad range of actors who tried out for the play, but also provide insight into what Bernstein was seeking in a cast. Surprises among those auditioning are Suzanne Plechette ("hoarse"), Warren Beatty ("Good voice—can't open his jaw—charming as hell—cleancut"), Jerry Orbach ("Good read. Good loud bar[itone]"), and Artie Johnson ("Good singer"). Among those actually cast, Larry Kert, who landed the role of Tony, initially auditioned for the roles of Bernardo and Riff. As Bernstein comments: "Great singer + performer. But looks? Read Riff Better." The original Maria, Carol Lawrence, is here described as "Lovely soprano. Not quite Maria. Much realer with accent."
Rehearsal Photographs, 1957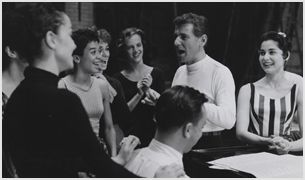 Bernstein rehearses with members of the cast for West Side Story. Lyricist Stephen Sondheim is at the piano and Carol Lawrence (Maria) stands at Bernstein's left.
Rehearsal Photographs, 1957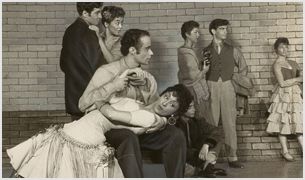 The Sharks rehearse one of their numbers, probably for the "Dance at the Gym" sequence. Chita Rivera and Ken LeRoy, who played the original Anita and Bernardo, are in the foreground.
Leonard Bernstein outside the National Theatre in Washington, DC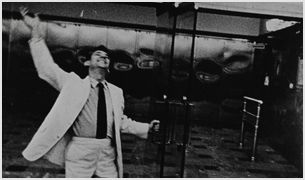 West Side Story began its out of town performances at the National Theatre in Washington, D.C. on August 19, 1957. After a two-week run at Philadelphia's Erlanger Theatre, the show opened on Broadway at the Winter Garden Theatre on September 26, 1957. In this photograph taken for Life Magazine, a euphoric Leonard Bernstein leaps under the marquee for West Side Story after the show's opening at the National Theatre in Washington, D.C.
Outside the Winter Garden Theatre after the Broadway Opening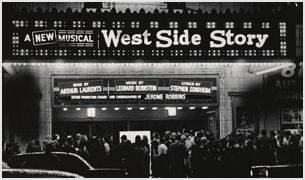 Excited crowds gather outside the Winter Garden Theatre in New York at the Broadway opening of West Side Story. The show ran for 732 performances, a respectable but not astounding number, before going on tour.
Poster for Original Broadway Production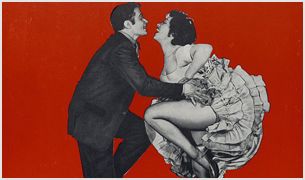 This poster was printed comparatively late in the production, at a time when the character of Anita was being played by Devra Korwin, who replaced Chita Rivera.
Opening Night Telegrams
Leonard Bernstein saved approximately 140 opening night telegrams that he received when West Side Story opened on Broadway. Included in those saved are the seven on display here: (a) from Betty Bogart, wife of Humphrey Bogart and best known as Lauren Bacall; (b) from Harold "Hal" S. Prince and Robert "Bobbie"E. Griffith, the show's producers who, presumably intentionally mangled the song title "Maria" as "Martha"; (c) from the lyricists/librettist team of Betty Comden and Adolph Green, previous Bernstein collaborators, referencing Bernstein's father, Samuel, who had wanted his son to join and take over the family business—the Samuel Bernstein Hair Company; (d) from librettist Arthur Laurents; (e) from Carol Lawrence, the original Maria; (f) from Roger Stevens, an early producer and constant supporter; (h) and from songwriter Cole Porter. Bernstein received a surprising number of telegrams from the leading Broadway songwriters of the day, including Harold Arlen, Dorothy Fields, Burton Lane, Alan Jay Lerner, Richard Rodgers, Arthur Schwartz, and Jule Styne.
Production Photographs
In spring of 1958, Look magazine had planned a feature spread on Carol Lawrence, the original Maria. Photographer Paul Fusco took hundreds of photographs of Ms. Lawrence, including dozens of production shots from West Side Story. Although Look never ran the article, the photographs, several of which are seen here for the first time, offer rare views of the original Broadway production. [The Library had the first prints made from the original negatives for this exhibition.]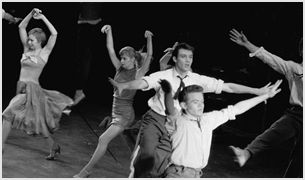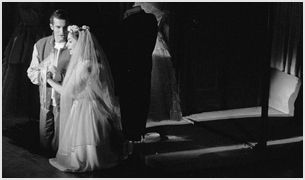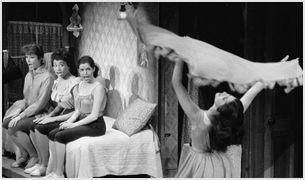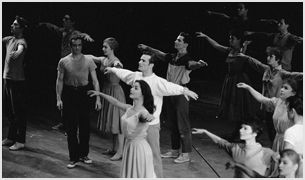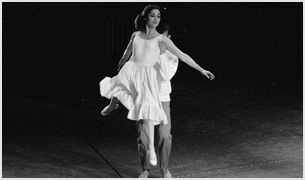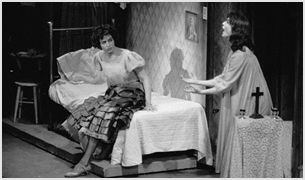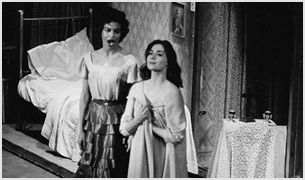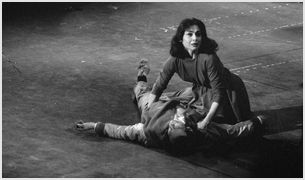 Paul Fusco, photographer. Look Magazine Photograph Collection, Prints and Photographs ision, Library of Congress (34-44). © Paul Fusco/Magnum Photos
http://www.loc.gov/exhibits/westsidestory/westsidestory-exhibit.html
West Side Story: Birth of a Classic