BroadwayWorld.com has confirmed the sad news this morning that actress Victoria Mallory died on August 30, 2014 after a battle with pancreatic cancer. She leaves behind her husband (and former A Little Night Music co-star) Mark Lambert, and daughter Ramona Mallory Lambert, also an actress.
Victoria Mallory made her Broadway debut when Richard Rodgers chose her to star as Maria in the first revival of West Side Story at Lincoln Center. She then went on to play Lili in City Center's revival of Carnival. Ms. Mallory originated the role of Young Heidi in the Harold Prince/Stephen Sondheim production of Follies as well as the starring role of Anne Egerman in A Little Night Music, the winner of 9 Tony awards including "Best Musical of the Year."
...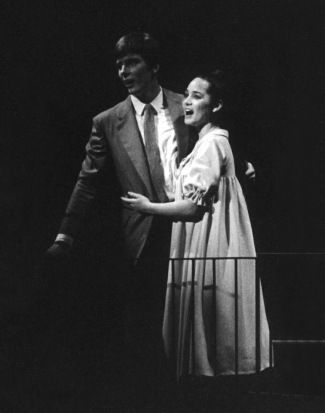 Additional photos
Throughout her career, Victoria has graced the stages of the nation's major summer stock and regional theatres. The Los Angeles Civic Light Opera, the Pittsburgh CLO, the St. Louis Muny Opera, Atlanta's Theater Of The Stars, Kansas City Starlight, Dallas Summer Musicals, Utah's Pioneer Theatre Company, The Irish Repertory Theatre in NYC, and others have presented her in virtually every Leading Lady role in musical theater. Among these, she has appeared as Christine/Carlotta in The Phantom of the Opera, Magnolia inShowboat, Kate in Kiss Me Kate, Marian in The Music Man, Lili in The Secret Garden, Sarah in Guys and Dolls, Maria in The Sound of Music, and ABIGAIL in 1776.
In addition to her numerous stage credits, Ms.
Mallory is also well known for her work on television, where she is probably best known for her role as Leslie Brooks on the soap opera The Young and the Restless, which she played for six years. She left the series in 1984. Later, she played Dr. Denise Foxworthy on NBC's Santa Barbara. Other television credits include guest starring roles onEverwood, Touched By An Angel, Promised Land, the female lead in the made-for-television movie The Unabomber, and three CBS musical specials,The Emperor's New Clothes, Aladdin, and After Hours: Singin', Swingin', And All That Jazz, for which she received an Emmy Nomination.
Victoria continued to perform in recent years, while teaching professionals, adults and youngsters at The Voice Studio in New York City.
http://www.broadwayworld.com/article/Broadway-Vet-Victoria-Mallory-Dies-at-64-20140831
When Lincoln Center opened, the State Theater was the home of The Music Theater of Lincoln Center. It shared the stage with the New York City Ballet and the New York City Opera. Under the artistic direction of Richard Rodgers, the Music Theater mounted lavish productions of musical chestnuts such as KISMET and ANNIE GET YOUR GUN. Many of these productions boasted their original stars in the leading roles. However, it was the 1968 production of WEST SIDE STORY which brings smiles to the faces of mature theater-goers who attended that production.
WEST SIDE STORY didn't feature any established stars of the musical theater. Instead, it was cast with youthful and talented newcomers. Victoria Mallory played Maria, Alan Castner was Bernardo, Barbara Luna was a fiery Anita, Eivind Harum was Riff, and a 20 year old newcomer from Wisconsin named Kurt Peterson appeared as Tony. Most directors will agree that the role of Tony is difficult to cast. It calls for a young actor who can sing some pretty high notes, dance well, and act with sincerity. When it came time to film WEST SIDE STORY, the creators had to dub Tony's singing voice and (according to some sources) resort to a dance double for some of the more difficult dance sequences. This was absolutely not the case with Kurt Peterson.
From Peterson's first appearance in the alley behind Doc's drugstore, to his marvelous renditions of "Something's Coming" and "Tonight", right up to his poignant death scene, the young actor charmed the audiences. He was boyishly handsome, virile and innocent at the same time. He also danced Jerome Robbins' choreography with grace and agility. Audiences expected to be enjoying his work for some years to come.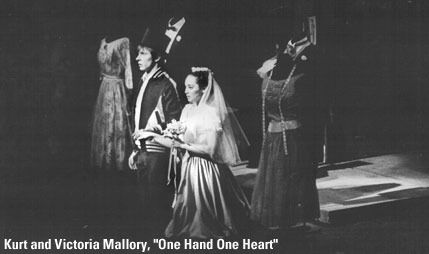 Peterson followed the limited engagement of WEST SIDE STORY with DEAR WORLD, in which he played the male ingenue opposite Angela Lansbury. He later took over for David Christmas in Off-Broadway's DAMES AT SEA and then was cast in the original--and now legendary--production of FOLLIES. He left FOLLIES to take part in a Broadway bound revival of ON THE TOWN but when the show finally came to New York, Kurt Peterson was conspicuously absent. He was also in the much-discussed production of THE BAKER'S WIFE in which he sang "Proud Lady" but the show toured forever and never made it to New York.
Then Kurt Peterson disappeared. For years no one heard anything about this man who had earned a special place in the hearts of many lovers of musical theater. It was not unusual for a thread to appear on a message board asking, "Whatever happened to Kurt Peterson?"
At that time Victoria Mallory and I were dating. We actually came to town at the exact same time and attended AMDA. She got WEST SIDE STORY at Lincoln Center. I hadn't auditioned for it because I didn't think I could sing it. In my senior year of high school I told my choir director that we should do WEST SIDE STORY but he told me that we didn't have anyone to sing the role of Tony and I said, 'Well, okay' and Victoria got the role. Then I went, 'Hey wait' and put a recording on. I drank a quart of beer and I just sang it and sang it and sang it and realized that I could do the role. I called my agent and had five auditions for Leonard Bernstein, Stephen Sondheim and Richard Rodgers before I got the role. On opening night I made sure I invited my choir teacher-- who wound up sitting beside Leonard Bernstein and Richard Rodgers!"
As good as he was in WEST SIDE STORY, Peterson readily admits that the score presented difficulties to him The actor sings baritone and there is a very high part in "Maria" that presented problems. In rehearsal Bernstein wrote him a new obliggato which was tried several times and it really didn't work. Bernstein came up with the idea of having three chorus guys in the background enhancing what Peterson was singing. It worked and Peterson recalls that Bernstein was very "hands on" and supportive of the cast's efforts. The actor regrets that the production was never recorded, even though all the other Music Theater shows that Rodgers produced were. Sadly, Rodgers stepped down from his position after WEST SIDE STORY and the Music Theater of Lincoln Center mounted only one more production before folding.
http://www.broadwayworld.com/article/Whatever-Happened-To-Kurt-Peterson-20050515
Broadway Vet Victoria Mallory Dies at 64