By FELICIA R. LEE
In the summer of 1964, Richard Beymer — the actor who a few years earlier had made a splash playing Tony in the film of "West Side Story" — furiously drove his Austin-Healy from Los Angeles to rural Mississippi. He was going to join the hundreds of young people heading there, mostly white students from the North, who would become part of the audacious civil-rights campaign known as Freedom Summer.
...
A friend in Los Angeles had sent him a bulky Bolex camera, and he turned out a raw, languid black-and-white documentary called "A Regular Bouquet: Mississippi Summer." With narration and music, it highlights the personal side of a tumultuous period. Children dance, pick cotton and work on a school magazine, or exchange hugs and play games with the young volunteers. The camera goes inside fetid shacks and lingers on swaying trees along dusty roads.
As the 50th anniversary of Freedom Summer is commemorated this year, Mr. Beymer's place in that history may become better known as his quiet 30-minute film, his very first, draws fresh attention. For years, filmmakers have borrowed footage from it for their own work, including the celebrated 1987 long-form documentary "Eyes on the Prize." Several of Mr. Beymer's scenes are smoothly woven into "Freedom Summer," a documentary by Stanley Nelson scheduled for broadcast Tuesday on PBS stations as part of the "American Experience" series. Washington University in St. Louis, which acquired "Bouquet" and has plans to preserve it, will post it online and hold a special screening this fall. And the film will also probably be shown at an anniversary gathering of Freedom Summer foot soldiers this month in Jackson, Miss.
"I was just filming everything that appealed to me," Mr. Beymer, now 75, said in a telephone interview from his home in Fairfield, Iowa. "The only audience I had in mind, I suppose, was the next generation of people who came down here, so they could see what they were getting into. That gave me total leeway to just do my experience."
The international media attention on Mississippi that summer reflected the brutality casually meted to blacks, the shameful poverty in which they lived, and the animosity and terrorism of the times. In those days, it was a place where African-Americans risked death by trying to vote. The badly beaten bodies of two young white New Yorkers, Andrew Goodman and Michael Schwerner, were found along with that of the black Mississippian James Chaney, months after they disappeared just days into Freedom Summer.
"Within this madness going on down there and hate," Mr. Beymer said, "we were having, on the other hand, a joyous time together." The children, he said, were especially loving and welcoming, and he relished putting those ordinary lives on film.
"A lot of people over the years have called up and said: 'We've heard about your film, can we take a look at it? We're making a film and don't have footage of blah, blah,' " Mr. Beymer recalled. "Stanley's film, it hit me a little different because he used so much of it. That's O.K. with me. I was just surprised."
Mr. Nelson's "Freedom Summer," just under two hours long, draws on a bevy of historical archives, TV footage and first-person interviews with the famous and the unknown. "We start asking, 'What else exists?' " Mr. Nelson said of collecting material. Patti Miller, featured in the documentary both as a 21-year-old student that summer and in her current life as a musician and music teacher in Fairfield, told Mr. Nelson about Mr. Beymer.
"We used 212 seconds from Richard Beymer," Mr. Nelson said. "That's a lot from one person, one source. The stuff he shot was really, really beautiful — the children in the school, more soft news than hard news."
Nadia Ghasedi, who leads the Visual Media Research Lab at Washington University, said the film provided a much more intimate view of that era than is usually available. In her letter to the National Film Preservation Foundation seeking funding, she described the "rare and historically significant primary source depictions of segregated Mississippi against the backdrop of violent opposition."
Mr. Beymer admitted that he was not thinking in such lofty terms back in 1964. He ended up in Mississippi because his agent told the opinionated young actor to do something about the terrible conditions in the country or shut up about it, he said. That summer of activism and friendship, including his first bonds with African-Americans, was both transformative and jarring, Mr. Beymer recalled.
Once, on his way to Biloxi, a police officer pulled him over. His crime: having a young black man beside him in the two-seater. "He was just railing at me," Mr. Beymer said of the officer. "In the meantime, a pickup truck pulled in the back of the squad car. Rebel flag. Gun rack." The officer told him, using an expletive: "Those boys up there are not going to be as lenient as me. Now this is what you're going to do. Get that" person "back in the car, and you get out of here. And if I see you again, I will kill you."
One friend from that time, Charles O. Prickett, 70, now a lawyer in Santa Rosa, Calif., remembered helping Mr. Beymer with lighting.
"Richard himself was just humble," he recalled in a telephone interview, "and one of us, although he had just completed 'The Longest Day.' He was gregarious. He bought $200 worth of groceries every week. I've been showing his movie for at least 20 years, mostly at local high schools."
For Mr. Beymer, "a major part of all this was finding out how much I loved to make films." He lives alone in the countryside now, painting and making experimental films. He recently made "It's a Beautiful World," a documentary about a trip the director David Lynch took to India. And his last significant role, he said, was the ruthless businessman Benjamin Horne in Mr. Lynch's 1990s TV series, "Twin Peaks," which notably featured Russ Tamblyn, who played a rival gang leader in "West Side Story." With that film, he did experience an initial flash of stardom, he admitted: "Yeah, then it went away, then I came back. Then it went away again."
Now, some friends are urging Mr. Beymer to attend the 50th anniversary gathering. A few weeks ago, he said, he did pull out his old film. He did some editing, changing the ending from archival footage of a lynching to borrowed shots of the beating victims Schwerner, Chaney and Goodman.
"But watching these films to get some of the footage, it's rough for me," he said. "That hate and that brutality is so extreme. And I'm not in denial of it. I was right in the middle of it."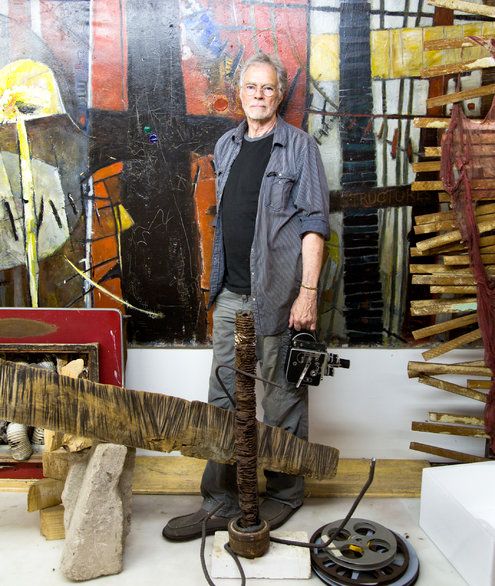 http://www.nytimes.com/2014/06/22/arts/television/right-out-of-hollywood-a-witness-to-history.html?action=click&contentCollection=Television&region=Footer&module=MoreInSection&pgtype=article
Right Out of Hollywood, a Witness to History