First Look at Ross Lekites, Carly Evan Hughes and More in Ogunquit's WEST SIDE STORY

West Side Story, one of the greatest love stories of all time, is currently running at the Ogunquit Playhouse stage through September 28. This all new production of the timeless classic, helmed by Broadway veteran director BT McNicholl, mesmerizes audiences of all ages from the first note to the final breath. With a set designed exclusively for the Ogunquit Playhouse by Michael Schweikardt, an extraordinary cast and an iconic score soaring throughout, theatre goers will fall in love with West Side Story all over again. BroadwayWorld has a first look below!
...

Ross Lekites is reprising his role as Tony from the first national tour of West Side Story and Carly Evan Hughes is making her Ogunquit Playhouse debut as Maria. Riff, the leader of the Jets, is played by Broadway's Kevin Munhall who recently appeared on Broadway in Anything Goes, Bells Are Ringing and Sound of Music at Carnegie Hall, as well as in many regional theaters throughout the U.S. He has also appeared in the television shows Smash and One Life to Live.

Manuel Stark joins the cast as Bernardo after playing several roles in the recent Broadway revival of West Side Story. Gabrielle Ruiz plays Anita.

West Side Story is choreographed by Broadway showman Jeffry Denman, who was last seen at the Ogunquit Playhouse in 2012 as the director and choreographer for Damn Yankees: The Boston Red Sox Version. Ken Clifton returns to Ogunquit for his eighth season as music director and conductor for West Side Story. Michael Schweikardt designed an all new set for the Ogunquit production of West Side Story.

For tickets and more information, visit www.ogunquitplayhouse.org.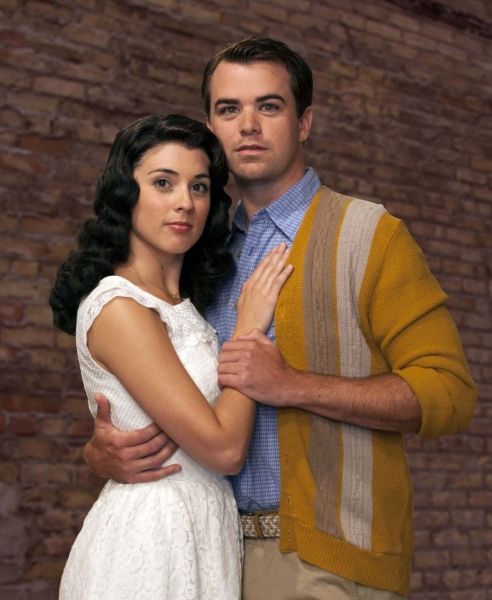 Carly Evan Hughes, Ross Lekites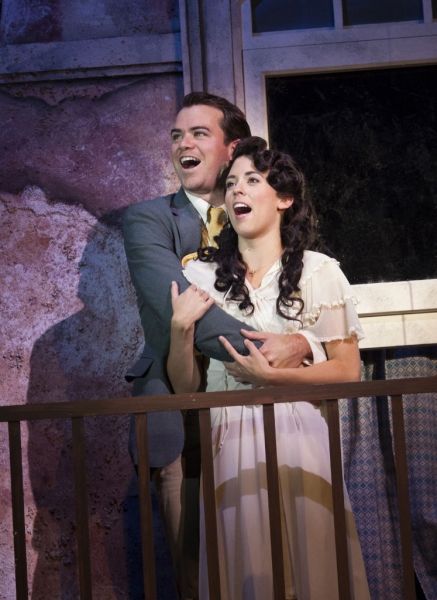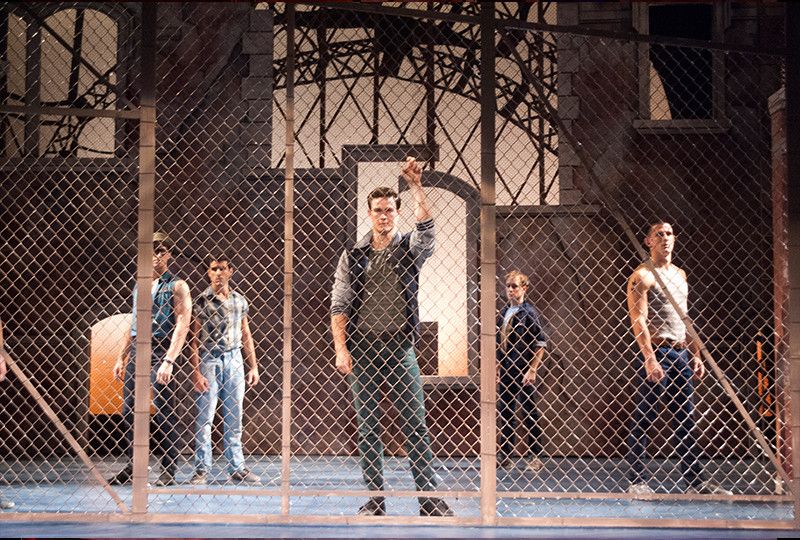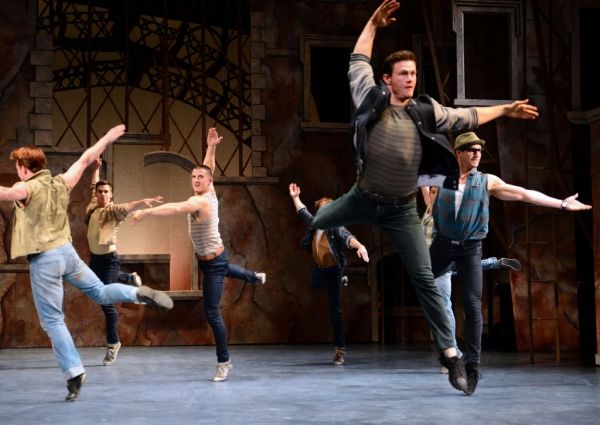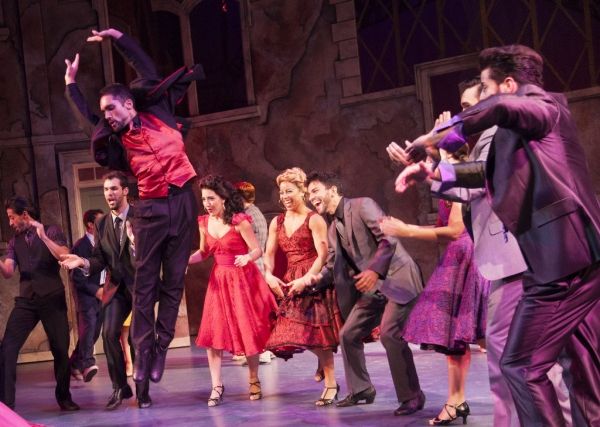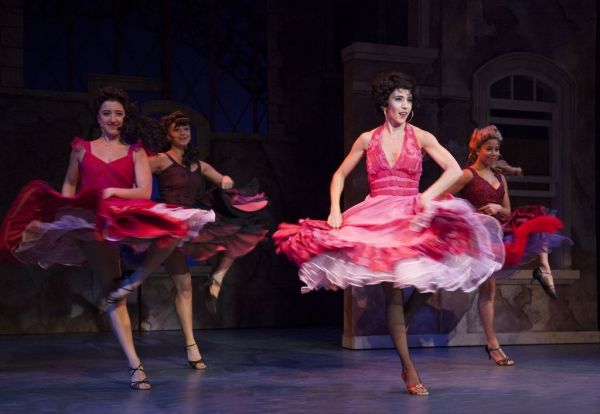 Natalie Caruncho, Ashley Marinelli, Gabrielle Ruiz, Chloe Campbell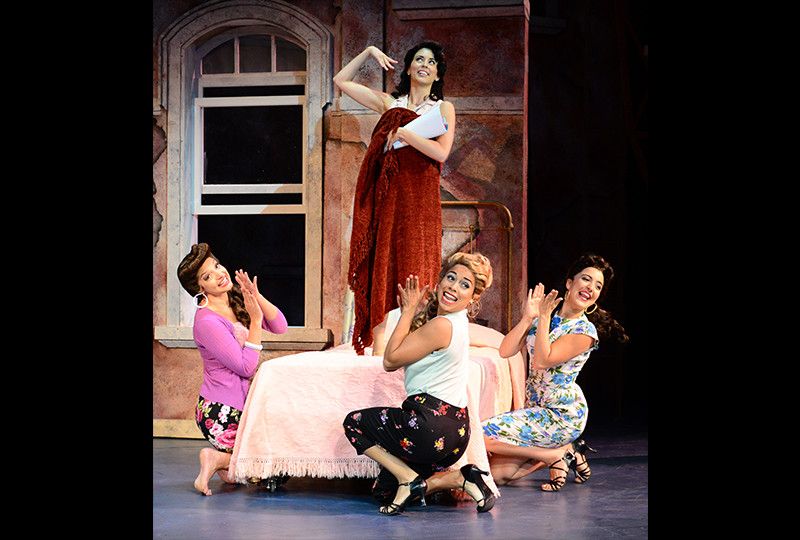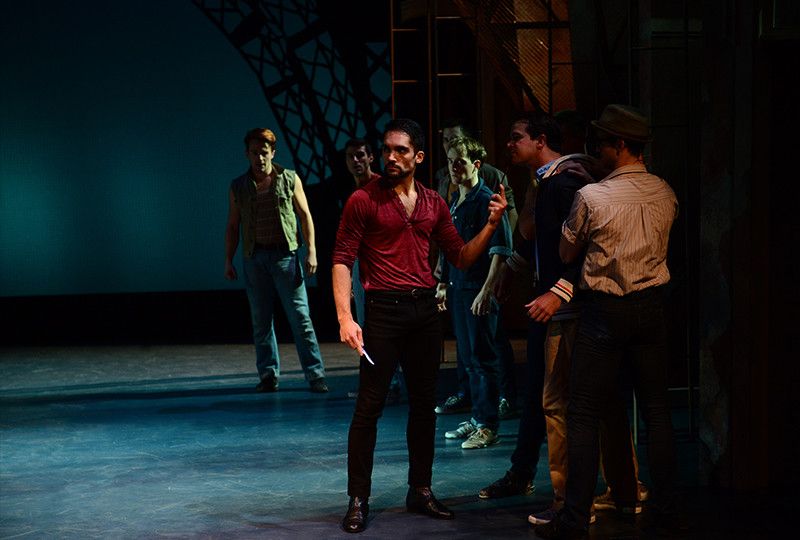 http://www.broadwayworld.com/article/Photo-Flash-First-Look-at-Ross-Lekites-Carly-Evan-Hughes-and-More-in-Ogunquits-WEST-SIDE-STORY-20130905

BWW Reviews: Ogunquit Playhouse Mounts Muscular and Thrilling WEST SIDE STORY

by Carla Maria Verdino-Süllwold

The Ogunquit Playhouse's revival of the legendary Bernstein-Sondheim-Laurents-Robbins classic, West Side Story, which opened September 5th pulsates with muscular energy and wrenching pathos. It is a production which makes the essence of the original creators palpable at the same time that it takes a fresh, vibrant - and, yes - touchingly relevant look at the material. Moreover, the Ogunquit West Side Story, directed by BT McNicholl and choreographed by Jeffry Denman forges a thrilling bond between stage and audience in the immediacy of the action and emotion.

To walk in the footsteps of Jerome Robbins must be a daunting task, but Jeffry Denman's electric choreography and musical staging is nothing short of brilliant! From the jazzy syncopations of the Prologue to the funereal finale, Denman and his assistants, Daryl Getman and Ashley Marinelli, fashion a kinetic landscape that grips the viewer and pulls him into the drama. The actors fly off the stage and race through the house like supercharged rockets, just as they leap, whirl, jeté, tango, mambo, and rumble with dazzling intensity and passion. Numbers like the Dance at the Gym, Cool, and the Rumble are both faithful to the concept and yet re-envisioned. Gee, Officer Krrupke, for example, written as a much-needed moment of Act II comic relief, is here given a dark, edgy, manic humor. The fight choreography by assistant director Trey Compton is fierce and primal; the rapid sequence of deaths at the rumble is executed with chilling, panther like grace.

The dances tie Arthur Laurents' book together offering seamless transitions, and BT McNicholl avails himself of this fast-paced fatalism to tell the story in clear and compelling terms. The Broadway veteran's direction is lucid, economical, and yet intense. In a show as kinetic as West Side Story, the quiet script moments must resonate. McNicholl knows how to balance energy with silence and to elicit a rich spectrum of emotions from his actors. He is musically sensitive, too, to the underscoring of scenes and the clues found in the complex, layered score. Under the music direction of Ken Clifton, the Bernstein-Sondheim masterpiece s played with shimmering vitality by the nine-piece orchestra.

The remarkable acting ensemble responds magically to the inspired staging and musical direction. Ross Lekites brings a youthful ardor and wholesome vulnerability to Tony, and he sings the demanding role with confidence and finesse. Carly Evan Hughes is a sprightly, strong-willed Maria, who is able to mine both the innocence and rebellious independence of the heroine, and she tosses off Maria's arias with sparkling aplomb and sweet lyricism.

Kevin Munhall, (despite an accent that reminds more of south Boston than west side New York), is a strapping Riff - a commanding, athletic dancer and an authoritative singer, mesmerizing in Cool and magnificently impressive in the Rumble. Manuel Stark makes Bernardo a riveting foil - insinuating, sexy, lithe, and lethal. Gabrielle Ruiz is a fiery powerhouse as Anita, and she uses her dark, rich mezzo with flair.

Each and everyone of the supporting roles is played to the hilt. Exceptional among the Jets are Mikey Winslow's smoldering Action and Parker Slaybaugh's over eager Baby John, while Juan Torres-Falcon makes a touching Chino, Sal Bucci a menacing Moose, and Sean Ewing an intimidating Pepe. The ladies' ensemble is also colorfully cast with Sarah Rolleston's Rosalia a vocal and dramatic standout. Adam Pagdon as a jaded Lt. Shrank, Drew Pulver as a lumbering Officer Krupke, and Greg London as Doc/Gladhand round out the cast with incisive cameos.

The swift pace of the production is aided by the set design of Michael Schweikardt: a crisscrossed latticework of fire escapes, chain link fences, overhead girders, and stucco tenements which glide into an assortment of configurations to suggests the changing locales. The actors move the scenery themselves with choreographic ease, and the interiors of Doc's store, the bridal boutique, and Maria's apartment have an especially rich vintage feel, as do Dustin Cross' period costumes and Leah Munsey-Konops's hair and makeup contributions.

Richard Latta's lighting design uses an emotive, color-rich palette to enhance the action, which - despite a few bumpy cross-fades - moves with balletic grace. Jeremy Oleska manages a mostly balanced sound design for the complex score, played by the orchestra concealed upstage, though The Playhouse's sound system does not always allow for individual vocal subtleties, such as the blurring of the five soloists in the Tonight quintet and the occasional metallic edge to the miking which forces the singers to belt in what might otherwise have been more lyric moments. These, however, are very minor quibbles in a performance where the intricate and incomparable beauties of Bernstein's music ring out luminously.

The impact of the Ogunquit Playhouse's West Side Story is potent and lasting. The creative team and their performers embark of a journey which director BT McNicholl aptly describes as "vibrant colors created through [the] multi-faceted prism of tragic romance." The artistic collaborators and their remarkable ensemble, who, in McNicholl's words, live the play, give eloquent testimony to the enduring nature of a great theatre work.

http://www.broadwayworld.com/maine/article/BWW-Reviews-Ogunquit-Playhouse-Mounts-Muscular-and-Thrilling-WEST-SIDE-STORY-20130908