The Muny presents the final show of its fantastic 95th Season, West Side Story, directed by Gordon Greenberg and choreographed by Chris Bailey. West Side Story will be performed now through August 11.

Ali Ewoldt stas as Maria, with Kyle Dean Massey as Tony, Natalie Cortez as Anita, Manuel Herrera as Bernardo, Curtis Holbrook as Riff, Jon Rua as Chino, and Ken Page as Doc. Joining them are Sam Rogers as A-Rab, Drew Foster as Action, Travis Waldschmidt as Big Deal, Kyle Coffman as Snowboy, BranDon Hudson as Baby John, Rich Pisarkiewicz as Officer Krupke, Gary Glasgow as Gladhand, and Michael James Reed as Lt. Schrank.

http://www.broadwayworld.com/article/MEGA-STAGE-TUBE-Behind-the-Scenes-and-Sneak-Peek-WEST-SIDE-STORY-at-The-Muny-20130806

...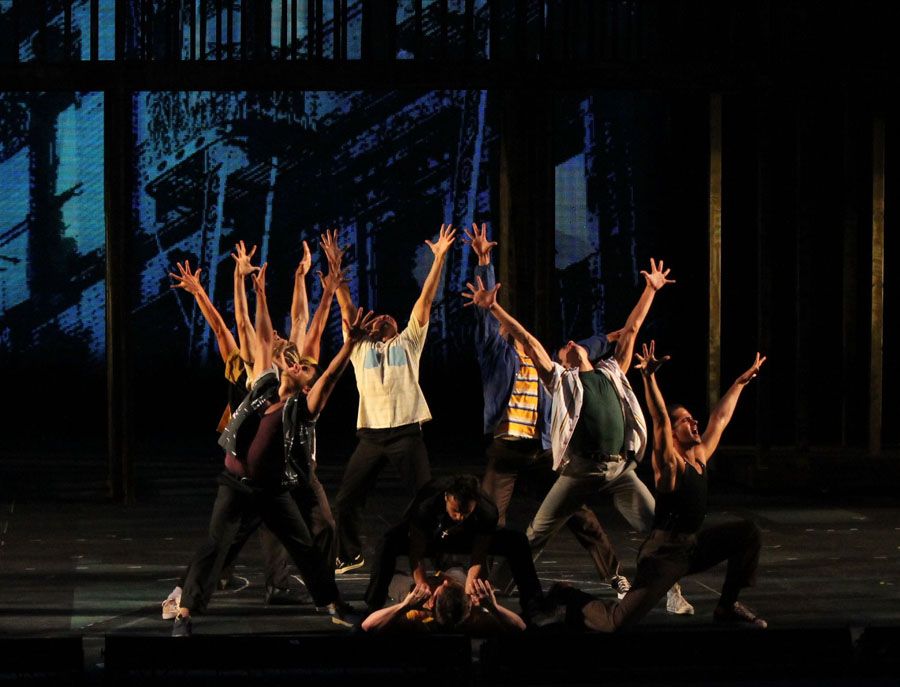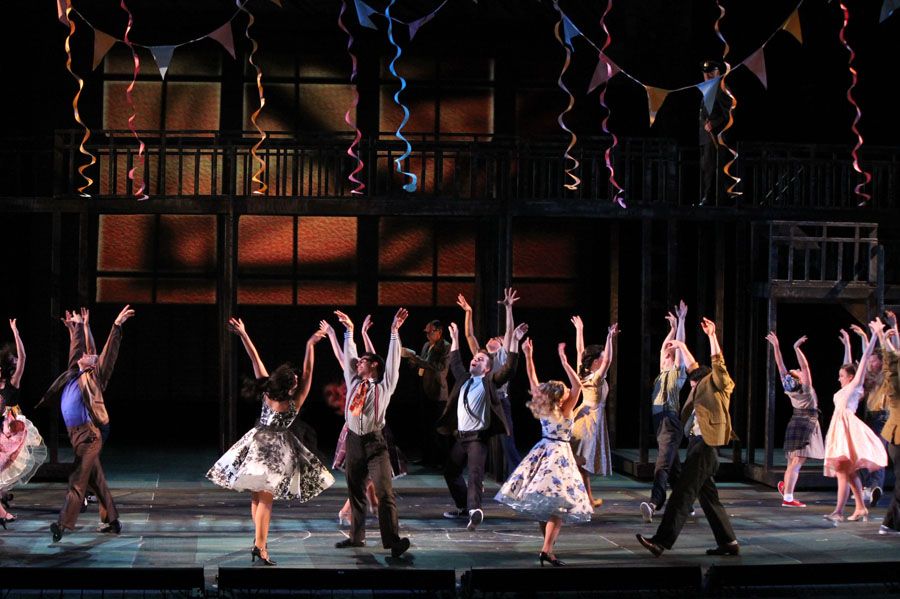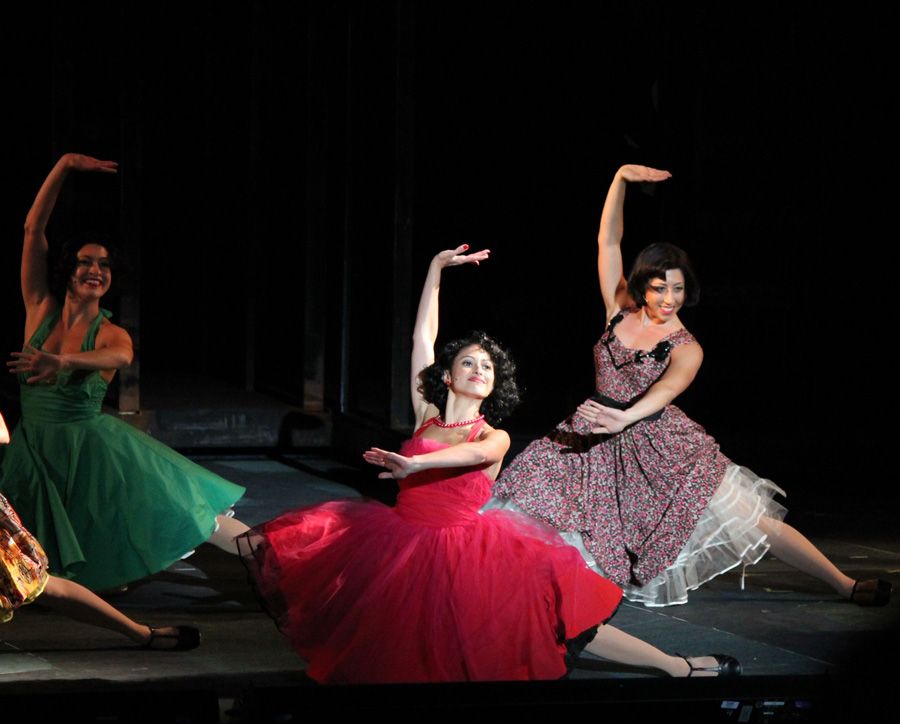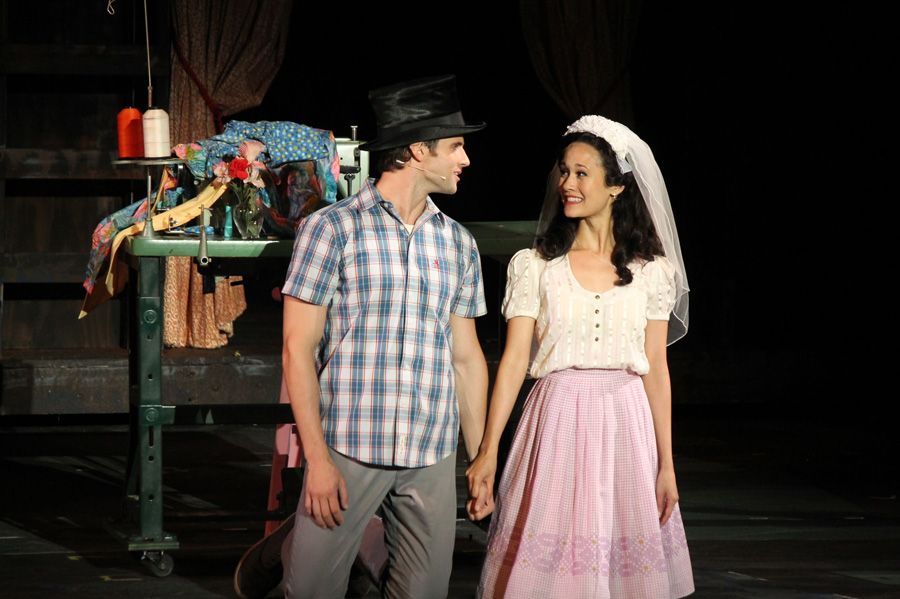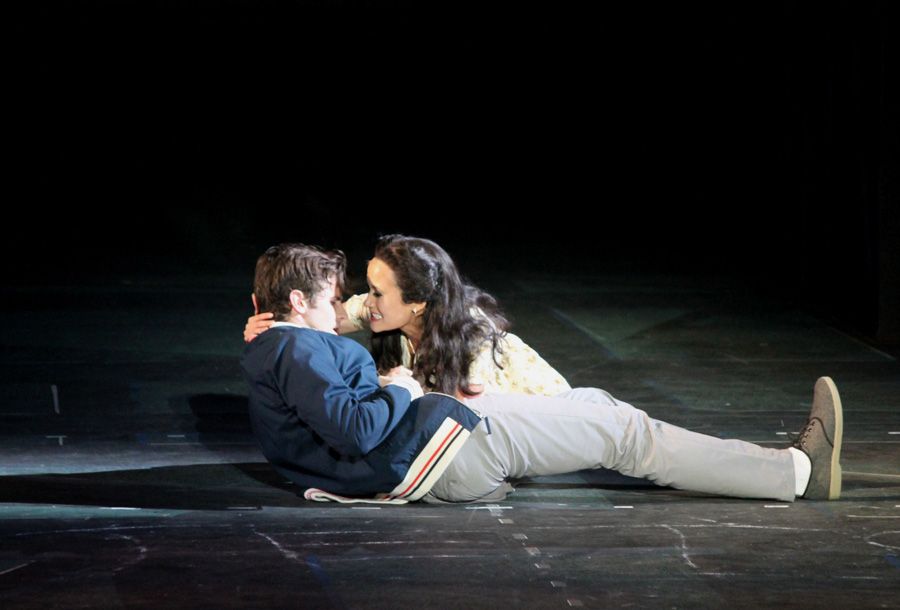 Muny review: 'West Side Story' sizzles with an amazing cast

By LYNN VENHAUS — For the News-Democrat

The Muny has saved the best for last. "West Side Story," arguably the greatest American musical, pulsates with passion and power, scorching the vast stage.

In this vibrant, red-hot production that closes the 95th season, every element has come together flawlessly to create a magical evening under serious moonlight. Gordon Greenberg (last year's "Pirates") has tautly directed the strongest ensemble of the season. After the bar-raising "South Pacific" and "Les Miserables," that is high praise.

It's rare that everyone can sing, dance and act at the highest level, and in this case, the cast is mesmerizing in this timeless American classic. Read the credits, and you'll find most of them have been on Broadway in the 2009 revival or in national touring companies. Their familiarity with this difficult and challenging material is obvious in the fluidity in the landmark Jerome Robbins' dances, and the seamless musical numbers.

Kyle Dean Massey's tough, tender Tony grabs hold of "Something's Coming" and "Maria," showing you his exceptional vocal range, before he and the delicate, gifted Ali Ewoldt effortlessly combine for a chill-inducing "Tonight" duet. Her innocent, yearning Maria is incandescent.

Manuel Herrera and Natalie Cortez are a potent Bernardo and Anita, setting an authentic tone by not being caricatures.

Curtis Holbrook, a Muny favorite after five captivating performances in recent years, commands the stage yet again as the intense Riff, leader of the Jets. Another standout is Drew Foster as the quick-tempered Action and Kaitlin Mesh as the tomboy Anybodys. In adult roles, St. Louis golden guy Ken Page plays the world-weary Doc, Tony's boss, and Michael James Reed is an imposing Lt. Shrank.

From the first strains of Leonard Bernstein's stirring overture, one gets goosebumps, and the emotional, urgent, eloquent hits keep coming: "Jet Song," "America," "Somewhere," "Cool," "One Hand One Heart," "A Boy Like That," and "Gee, Officer Krupke."

The performers find every nuance in each lyric and dance step to make this 1957 musical as fresh and relevant today as anything currently on Broadway. A milestone 56 years ago, it was the first musical to combine social problems (initially viewed as dark and depressing), such sophisticated music, and feature extended dance.

"West Side Story" brings Arthur Laurents' contemporary version of Shakespeare's "Romeo and Juliet" to vivid life, igniting an urban street gang warfare between the Sharks (Puerto Rican immigrants) and the Jets (Polish, Irish, Italian-Americans) -- for a small turf in a blue-collar Manhattan neighborhood.

The teenage rebels, clad in sneakers and jeans, explode -- their anger, frustration, hopes and dreams all jumbled with raging hormones and tumultous feelings. This burgeoning youth culture of the time is expressed through the innovative choreography as well as Stephen Sondheim's lyrics (his Broadway debut!).

Ethnic tensions escalate in the dance at the gym, leading to a war council and ultimately a tragic rumble that solemnly ends the first act. The devastating outcome does offer a glimmer of hope, as does a meaningful Dream Ballet.

This production is breathtaking, enhanced by the lighting design of Rob Denton and the stunning set design by Robert Mark Morgan -- a gritty view of tenement windows, fire escapes and neighborhood grids in a jigsaw puzzle deftly moved for each scene's needs. The electrifying music direction by James Moore and the brilliant choreography by Chris Bailey heighten it masterfully.

The awestruck audience -- a capacity crowd -- was on its feet quickly for waves of applause.

This season has been marked by exceptional talent, and "West Side Story" demonstrates how glorious a Muny production can be under the guidance of Mike Isaacson. The last time I saw "West Side Story" at the Muny was 1982, and Barry Williams, aka Greg Brady, played Tony. Enough said.

"West Side Story" is at 8:15 p.m. through Sunday at The Muny outdoor amphitheater in St. Louis' Forest Park.

http://www.bnd.com/2013/08/06/2731024/muny-review-west-side-story-sizzles.html#storylink=cpy

Iconic 'West Side Story' makes all the right the moves

Written by Tina Farmer


The Muny in Forest Park closes out the 2013 season with "West Side Story," the much-loved musical that's still an audience favorite. Featuring music and lyrics by Leonard Bernstein and a young Steven Sondheim, and a book by Arthur Laurents, this modern retelling of Shakespeare's classic Romeo and Juliet still feels fresh and exciting, even though it has been more than 50 years since its debut.


The Muny's production takes advantage of the theater's large stage, artfully using its full depth to create an urbanesque background crowded with brownstone windows and fire escape ladders. The backlit backdrop suggests another row of apartments and shops just a block over and provides subtle, but effective, visual reference to the time of day.

The scenic design, projections and lighting, by Robert Mark Morgan, Nathan W. Scheuer and Rob Denton, work in concert and large set pieces glide on and off stage with the actors, speeding scene changes and adding elements, such as chain link fences or a balcony-like stoop, essential to the choreography and story.

Instead of being from warring families, Tony and Maria -- this show's Romeo and Juliet -- are from rival gangs. The weapons used in gang warfare have evolved, but the conflicts and the territorial nature of war are ever present. The ensemble does a great job of representing the societal tension each gang reflects, showing traditional conflicts in a more contemporary perspective. Director Gordon Greenburg also uses the full stage well, the presence of an actor on stage in the shadows or crossing in the background adds context to the story, without distracting from the main action.

As Tony and Maria, Kyle Dean Massey and Ali Ewoldt have instant chemistry that reads well from the first moment they encounter each other. In fact, before they first speak, there's a lovely moment when Maria is observed watching Tony just out of his sight; she turns away wistfully and exits the stage without a word or gesture. It's a small, easy-to-miss moment that underscores the theme of star-crossed love. The entire show uses similar moments well, building the drama in ways that help to keep the audience, many of whom are familiar with both the musical and the 1961 movie, in the moment.

Massey and Ewoldt complement each other well vocally; their duets soar with longing and hope, presenting a nice counterpoint to the aggressive nature of the ensemble songs. There were a few moments when Ewoldt's strong soprano range nearly overpowered Massey and her other partners, though I expect the right balance will be struck with further performances. One of the disadvantages of the Muny's size is that we lose some of the gentle intimacy present in the movie's close up shots, Ewoldt uses pauses and silent moments effectively, with broader, bolder reactions that nonetheless suggest her character's warmth.

Massey drives the story with a number of his songs, and effectively charms the audience with his easy, hopeful style. In addition to his tension and chemistry with Ewoldt, Massey woks well with Doc (Ken Page) and Riff (Curtis Holbrook), creating a strong character that elicits audience sympathy. We watch Massey's Tony try to create a happy ending and are drawn to his emotional, youthful intensity.

The whole show has an uncertain energy driving it, and a tone that foreshadows the tragic love story. Even the popular "America," with a spectacular performance from the Natalie Cortez as a beguiling but not foolish Anita, has a sense of urgency and a dark, uncertain sub-context. Action (Drew Foster) and Lt. Schrank (Michael James Reed) also deliver strong performances that added context to the story; in particular, Reed's Schank had a racist undertone that was uncomfortable at times and well articulated. These subtle touches help to keep the musical fresh and the audience involved.

The characters are strong and familiar, and a number of the songs from this popular musical are permanently etched in our collective consciousness. It's a joy to see them performed in the context of the original musical, but what really stands out in a live performance, on a stage the size and scope of the Muny, are the dances. Jerome Robbins modern choreography was groundbreaking in the original production and choreographer Chris Bailey keeps close to the original in this production.

Robbins presence is announced with the opening prologue; the piece definitively sets the time and context before the first line of dialogue is spoken or melody sung. The energetic ensemble pulses with anger, excitement and sexual tension through intricate moves that mix classic and modern dance with elements of fight choreography. The style is as effective today as ever. The shear size of the dance ensemble, and the near-flawless execution of complex moves and athletic bursts, is both mesmerizing and memorable.

From an historical perspective, "West Side Story" is an important bridge between the traditional and modern musical. From an audience perspective, the show still captivates with unforgettable songs, familiar characters and remarkable choreography.

"West Side Story" runs through August 11th at the Muny Theatre, with curtain at 8:15 pm. Tickets can be purchased at the box office or, for reservations or additional information, call 314-361-1900 or visit www.muny.org.

http://kdhx.org/arts/theater-reviews/iconic-west-side-story-makes-all-the-right-the-moves