Kelly Markgraf
Photo Flash: First Look at Cheyenne Jackson, Alexandra Silber and More in SFS's WEST SIDE STORY Concert
by BWW News Desk
Cheyenne Jackson & Alexandra Silber star in San Francisco Symphony's WEST SIDE STORY, conducted by Michael Tilson Thomas at Davies Symphony Halll, June 27 through July 2, 2013.
The 5 day concert series will also be recorded and a cast album will be released in 2014. The announced cast includes; Cheyenne Jackson as Tony, Alexandra Silber as Maria, Jessica Vosk as Anita, and Kevin Vortmann as Riff, and Justin Keyes as Action.
...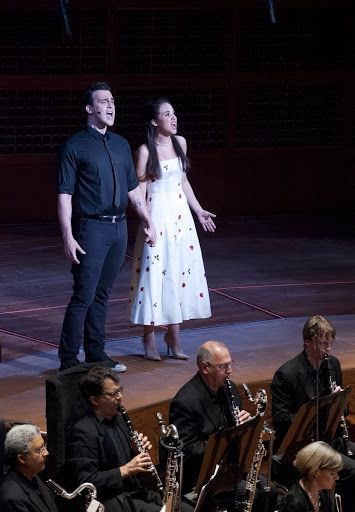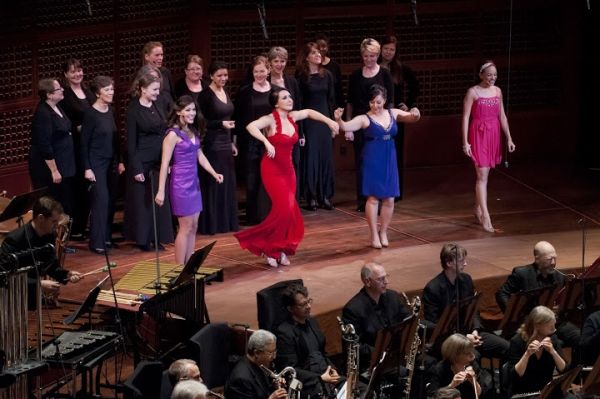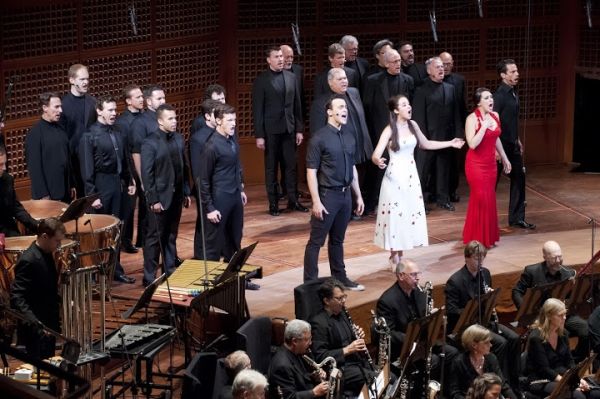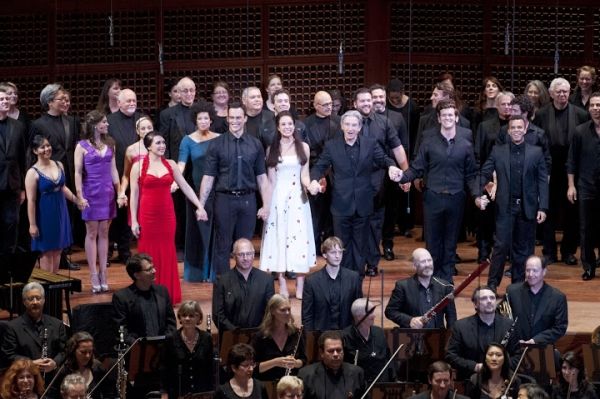 In a partnership for the ages, two Broadway legends-Bernstein and Sondheim-took Shakespeare's Romeo and Juliet from Verona in the 1500s to New York's Upper West Side in the 1950s, replacing the Montagues and the Capulets with American and Puerto Rican street gangs. Their unforgettable work, with tunes universally loved, comes alive in a dynamic concert version, the first time an orchestra has performed the complete musical in a concert performance.
Conductor/Performers
Michael Tilson Thomas
conductor
Cheyenne Jackson
Tony
Alexandra Silber
Maria
Jessica Vosk
Anita
Kevin Vortmann
Riff
Juliana Hansen
Rosalia
Cassie Simone
Francisca
Louise Cornillez
Consuelo
Justin Keyes
Action
Zach Ford
Diesel
Chris Meissner
Baby John
Louis Pardo
A-rab
David Michael Laffey
Big Deal
Kelly Markgraf
Bernardo
Julia Bullock
A Girl
San Francisco Symphony Chorus
Jets, Sharks, Girls
San Francisco Symphony
For more information,
click here
.
Review: 'West Side Story' score is center stage at San Francisco Symphony
By Richard Scheinin
rscheinin@mercurynews.com
Few musicals enjoy the name-brand status of Leonard Bernstein's "West Side Story," what with all its stage revivals and the film version with Natalie Wood and a gazillion renditions of its hit tunes by everyone from Dave Brubeck to Aretha Franklin -- and the band Yes, which once recorded "Something's Coming" as the B side of a single.
But while Bernstein once recorded his 1957 Broadway score in its entirety with orchestra and singers, that particular variation of the package has never happened live on stage -- until this week at Davies Symphony Hall. That's where Michael Tilson Thomas (Bernstein's old friend and protege) is conducting the San Francisco Symphony and a bubbling cast of young Broadway-style singers in the first live, concert-hall performances of the full score with orchestra. The run, through Tuesday, is being recorded for CD release next spring.
Opening night was Thursday: The production is stripped down (simple costumes, no choreography, no sets) and yet snazzy (that music!), with the singers on risers behind the orchestra and one matinee idol in a leading role. That's Cheyenne Jackson -- of TV's "30 Rock" (Danny Baker) and "Glee" (Dustin Goolsby) -- as Tony, leader of the Jets. He's got the bright, clean Broadway dazzle element going (though his top register got a little shaky), and his Maria (soprano Alexandra Silber) was creamy-voiced and appealing as the other star-crossed lover. She is a touching actor, too.
The real star of the production, however, is the score: nothing but bulls-eyes. Bernstein's music "has a right-guy, right-place, right-time quality that says even tough things with breezy confidence," Tilson Thomas writes in the program notes. Add in Stephen Sondheim's lyrics -- so caustic, funny and on-the-money about gang rivalries and young love -- and you have something that's proven timeless. Even the lingo hasn't changed all that much: "cool, easy, sweet."
The hits are hard to sing. Bernstein's lines leap across unusual intervals and cover wide distances: Jackson found himself climbing from sub-basement notes to a falsetto; first he's the tough guy, then the prayerful lover. "One Hand, One Heart," his duet with Silber, was pretty exquisite. And what a tune that is, with its slow Baroque motion and intertwining lines, conjuring moonlit Shakespeare. ("West Side Story" moves "Romeo and Juliet" to Manhattan's Upper West Side.)
Two singers best pulled off the Bernstein challenge. One was Jessica Vosk (as Anita, one of the "Shark girls"), who was brassy, sexy and loaded with personality. The other was soprano Julia Bullock, who walked out as A Girl (that's the name of her role) in order to sing one number: "Somewhere." Wow. Still studying at Juilliard, she was the most expressive and luscious-voiced member of the cast, and will be heard from again.
There were some terrific ensemble numbers: "America," "Tonight," "Gee, Office Krupke." (Among the standouts in the latter was San Jose-bred Justin Keyes, as Action, one of the Jets.) The score is drenched in '50s vernacular: jazz, mambo, cha-cha; Bernstein must have been in the clubs, listening to Machito and Dizzy Gillespie. But he raised the ante, inserting his own brand of incessant rhythmic complexity, which the orchestra mostly handled well. If there were some draggy moments -- "Mambo" didn't rock out -- that ought to improve with more performances.
Hats off to Tilson Thomas who, by all accounts, made this production happen, requesting permissions from Sondheim and the estates of Bernstein, Arthur Laurents (who wrote the book) and choreographer Jerome Robbins. He's going for Broadway sparkle here; Bernstein's 1984 recording with tenor José Carreras (as Tony) and Kiri Te Kanawa (as Maria) was more on the operatic side. Paying respects to his late friend, Tilson Thomas is making history this week in San Francisco.
Contact Richard Scheinin at 408-920-5069, read his stories and reviews at www.mercurynews.com/richard-scheinin and follow him at Twitter.com/richardscheinin.
http://www.mercurynews.com/music/ci_23561059/review-west-side-story-at-san-francisco-symphony
Big Deal