Jets, Sharks and Paris

By JAN BENZEL


PARIS - You could call it "West Side Story" red. For fans of the musical - on Broadway, on film, on vinyl - the color of the posters splashed through the Metro is instantly identifiable, an announcement all by itself that the celebrated Bernstein-Robbins-Sondheim-Laurents musical is in town.

This is Paris, not New York. The show is at the Théâtre du Châtelet, not on Broadway. The company producing it is German, not American. And, while the orchestra strikes fresh in each performance the bold notes and aching melodic beauty of Leonard Bernstein's score, above and on either side of the stage, surtitles provide the Sondheim lyrics and Arthur Laurents libretto in French.

"West Side Story," which had its Broadway premiere in 1957, can't help but be an encore, and the current staging at Châtelet is an encore itself. Jean-Luc Choplin, the director of the theater, introduced the musical in the theater five years ago, on the 50th anniversary of the show. It was one of several American musicals he has staged since 2006, his first season at the Paris theater.
...

"'West Side Story' was an absolute necessity," he said the other day by phone of that first staging. "It was a huge success. It sold out on opening night. We had 3,000 phone calls a day asking for tickets - we were astonished at the Parisians' requests.''

This time Châtelet is putting on 86 performances, "double what we did five years ago,'' Mr. Choplin reported. "Again we have sold all the best tickets by opening night." By the time the show closes on Jan. 1, 150,000 people will have seen it, he boasts.

Under Mr. Choplin, Châtelet usually produces the musicals it puts on. But this production is one that originated at La Scala in 2000 under the direction of Joey McKneely, himself a veteran of "West Side Story" many times over. A dancer in "Jerome Robbins's Broadway," Mr. McKneely learned the choreography from Robbins himself; his credits also include staging the Robbins choreography for the 2009 Broadway revival.

The German company BB Promotion - which has been touring the McKneely-directed show around the world - and Châtelet are co-producers of the Paris run.

"We were involved in the casting," Mr. Choplin said. "We did it five years ago and we did it this time too." Casting was done internationally; the goal, he said, was to find "very young singing actors, people with fragility and looking young and fresh - beginners but with enough experience to sing these difficult songs. It's very difficult music."

Because of that requirement, the singers in "West Side Story" are among the few for whom the show is not an encore.

"We're always recasting,'' said Mr. McKneely by phone from his home in New York. "It's imperative to keep the cast as young as possible. Whenever I go out on tour I try to recast because I like the fresh energy."

Châtelet, in fact, has two Tonys and two Marias, the Romeo and Juliet at the center of the Shakespeare plot updated to 1950s New York, with a spotlight on turf battles and gang violence that erupted when Puerto Ricans were newcomers in neighborhoods already staked out by other immigrant groups.

"We usually double-cast Tony and Maria because we use opera singers, and they're not trained to do eight shows a week," Mr. McKneely said. "The Bernstein score really lifts up to that quality of singer."

Liam Tobin and Christopher Behmke alternate as Tony; Elena Sancho-Pereg and Jasmina Sakr as Maria.

Beyond the singing, what does he look for in his leads? "Believability," he said. "I always have to believe their love story." That's a challenge, he said, because you also have to have those operatic voices.

Is this show different from the previous Châtelet performances? "We've upped the ante on the emotional level," said Mr. McKneely, adding that he concentrates on bringing out the visceral nature of teenage energy.

And what of the Parisian audience? Is there any challenge in getting across the language? "Because so much of the storytelling is done through dance, it plays for an international audience," he maintained. He doesn't discount the bonus of familiarity.

"The audiences know the music in English; they really only read the titles during the dialogue," Mr. McKneely said. And English is so prevalent in Paris, he added, that "the French actually laugh at our jokes."

Copyright 2013 The New York Times Company

http://rendezvous.blogs.nytimes.com/2012/11/25/jets-sharks-and-paris/

WONDERFUL, TOUCHING, WEST SIDE STORY in PARIS

By Henning Høholt

PARIS: WEST SIDE STORY at Théâtre du Chatelet in Paris is a wonderful, tuff, touching production, full of the great music by Leonard Bernstein. Wonderful singers, dancers, choreography, very good light, costumes, scenografi, and a first class and very well sounding orchestra, full of outstanding Lithuanian musicians, conducted by Donald Chan. This is an extraordinary good production, and the audience was receiving WEST SIDE STORY in the original Jérôme Robbins production in Paris with ovations. It is amazing!!!!

At our night we enjoyed an outstanding couple in the roles as Tony and Maria, Chris Behmke and Jasmina Sakr. Beautiful voices, ideal for thes two roles, and in addition they could play their roles, so the audience believed in them.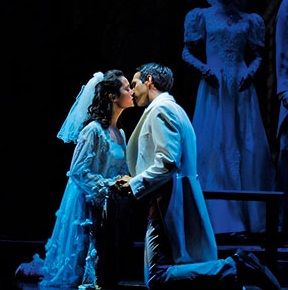 Chris Behmke has the perfect voice for the role as Tony, and he has plenty to go on in his singing, his song Maria was extraordinary, he sings long beautiful singing lines with perfect endings, furthermore he had some endings with very high beautiful tunes nearly in the countertenor repertoire. Brilliant, in addition he looks like a "normal" guy, which suites this role so well. Jasmina Sakr has a good opera voice, which in this coordination it was perfect, and furthermore, she has the right stage apperance for the role. I prefer this kind of voice to a weaker modern musical voice for Maria. Beautiful.

As Anita we enjoyed Yanira Marin, who in addition to acting, and singing, also dances very well.

Andy Jones was outstanding as Riff. Jones has that very selldom talent that he can manage to speak and sing with the "same voice". So to say that when he is speaking and acting in his role, and then shall go over in to a song, we dont have any change in his his voice character, he is just continuing in his role, and then singing. Many other artists in the same kind of role cant manage that.

Often I have heard musical artists which is like "changing" their voice to another sound when the start singing. His demanding dialogues with temperament are good. Furthermore he also manage to dance well, and in addition, he manage to keep the breath up, when he after a demanding dance or fight shall continu with a dialogue or singing. very well made. In addition he loks handsome on stage. Andy Jones does it so we believe in him.

The same does Pepe Muñoz as Bernardo. Handsome, tall, well acting you can see that he is the leader of the Shark Group. Chino is Nikko Kimzin. Many of the minor roles deserves to be mentioned, as it is a pleasure to see so many talented musical artists on stage at the same time. Unfortnately the space and time dont permit that.

Joey Mckneely is responsible for the staging and choréographie based on Jerome Robbins original version, the ensemble is doing a good jobb, both in the acting, dancing and fighting. The moving scenography by Paul Gallis is excellent.

The costumes by Renate Schmitzer are good, her choise of colours which helps ho twolding the different groups Jefs and Sharks from each other are very good, and in this she has also given them and us, not only a diffrence visually, but in fact also helped us to see behind the facades of the performing artists, so to say about their backgrounds from two different parts of America, North with "white Americans but from Polish origin, and South – Puerto Ricans.

All the Sharks are looking Stylish in their outfits, and the contrast is the Jets, which is typically North American from the periode, but a bit more sart than they were 50 years ago. A good lift for the whole group. The casting to the roles is importent, and in this Stuart Howard has done good chooze helping underlining the different characthers with good artists in the roles.

http://www.kulturkompasset.com/2012/11/wonderful-touching-west-side-story-in-paris/