Troika Entertainment Launches National Tour of WEST SIDE STORY at Paramount Arts Center

by Robert Hazlette

More than 50 years since the blockbuster musical, West Side Story first appeared, it has been revived countless times and become a fundamental of musical theater companies of both professional and amateur standing. Although many productions are "attempted", it's very seldom that one is lucky enough to see a production that succeeds in the standards set forth by the original adaptation. Elements frequently missing are age-appropriate casting and the force to make the audience feel the danger within the plot.
...

Director David Saint and an excelling production team address all of these matters in a powerful production that immerses the audience in the action. James Youmans' scenic design is brilliant. Although the set is in certain aspects simplistic, the overall vision brings the production together and creates a beautiful, in depth vision. Combined with Saint's superb staging and Joey McKneely's reproduction of the dynamic choreography, this production effectively allows viewers to relive the original vision that was intended.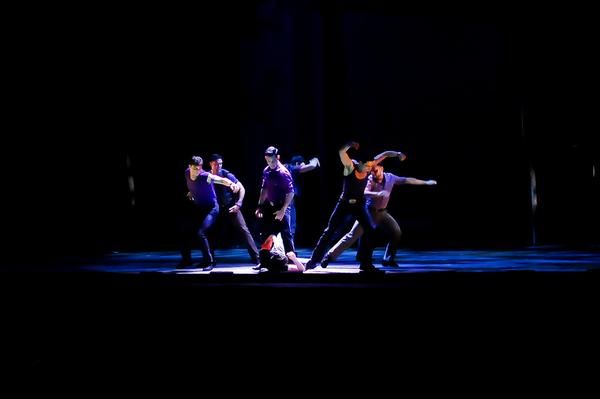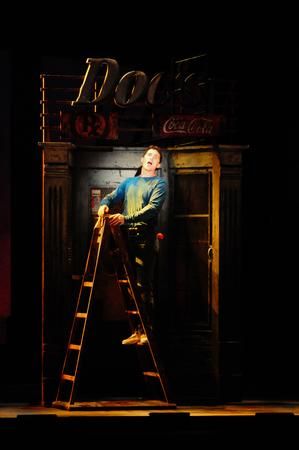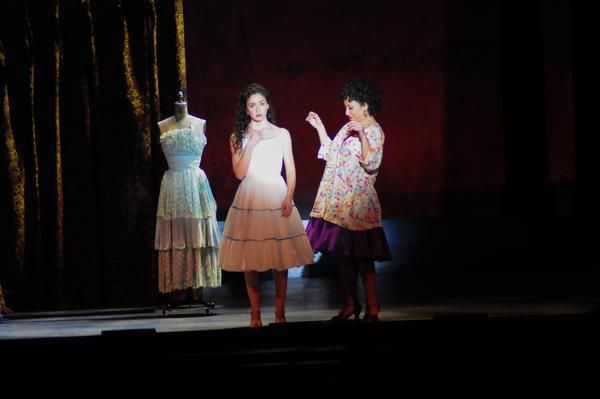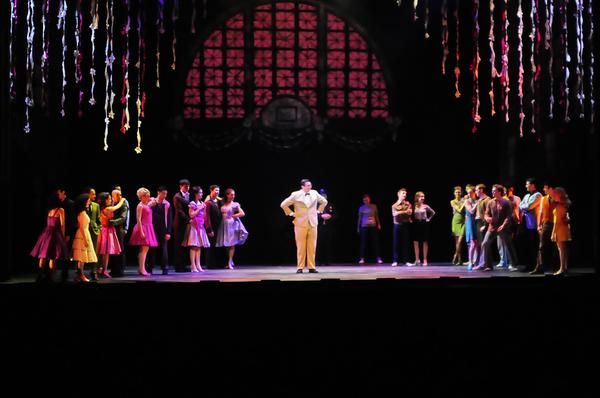 Saint carefully nailed Jerome Robbins' original conception, Arthur Laurents' book, Leonard Bernstein's music, and Stephen Sondheim's lyrics without losing any of what makes them great. Musical highpoints include a stunning "Something's Coming," a sultry "Dance at the Gym," a heartfelt "Maria," a breathless "Tonight," a quirky "America" and a star stunning "Tonight (Quintet)".

The sweet innocence of "I Feel Pretty" and the always goofy and sarcastic, "Gee, Officer Krupke" provide a sense of relief from the gang brutality that surrounds the majority of the numbers. Brilliance is displayed in "Somewhere" which tie together themes of violence, longing, and mortality in a way that almost makes the audience forget of the hate displayed between the two rival gangs.

The cast, 31 strong, contains no weak links. Sporting orange bandanas and plenty of denim, the Jets are baby-faced yet muscular and athletic, while the Sharks are, at least in public, well-dressed and adherent to the social formality of the world around them.

The memorable portrayal of Addison Reid Cole's juvenile, idealistic Tony is his foolish refusal to see reality. Mary Joanna Grisso is a sweet, innocent Maria, swept away by the powerful effects of love. Michelle Alves is a sassy, intellectual Anita. Andres Acosta's darkly handsome Bernardo embraces his hate for whites. Juan Torres-Falcon's Chino is a decent teen who lacks the guts to stand up for himself. Theo Lencicki's Riff is the cool-headed yet ambitious Jets leader, who although has the ambition, somewhat lacks the maturity to turn the other cheek. Guy Mandia's Action is an intimidating, forceful presence, and definitely one of the standout performances of the show.

This show could not be complete without a brilliant orchestra, and Troika has put together an orchestra that even without a cast could stand alone and bring this brilliant score to life. Under the direction of J. Michael Duff, the eleven piece orchestra delivers a stellar performance. And, we can never forget to mention the brilliance that is behind the lighting, sound, and costumes.

Howell Binkley's beautiful lighting sets the mood dynamically for every scene in the performance, pulled together with a fantastic ensemble of costumes by David C. Woolard, and an electrifying sound display by Peter McBoyle.

Overall, this production displays a brilliant piece of art, and is one that hopefully will be remembered for many years to come. For dates, locations, and ticket information, please visit http://www.westsidestoryontour.com

Meet the cast .

http://westvirginia.broadwayworld.com/article/Troika-Entertainment-Launches-National-Tour-of-WEST-SIDE-STORY-at-Paramount-Arts-Center-20121029