BWW Reviews: Tri-Valley Repertory Theatre Presents WEST SIDE STORY

by Linda Hodges and Nick Hodges

Now playing through November fourth, West Side Story is gracing the stage at Tri-Valley Repertory Theatre. Shakespeare's Romeo and Juliet is transported to mid-1950's New York City, as two young idealistic lovers find themselves caught between warring street gangs, the "American" Jets and the Puerto Rican Sharks. Their struggle to survive in a world of hate, violence and prejudice is one of the most innovative, heart-wrenching musical dramas of our time - and Tri-Valley's presentation of this classic is, to say the least, reborn.

Director and choreographer Christina Lazo has outdone herself with the help of assistant director Caleb Haven Draper. This production missed nothing and hit every mark that one would expect to see from West Side Story. The final scene in ACT I was especially chilling with Bernardo and Riff each lying in a pool of light as the curtain came down. Fantastically done!
...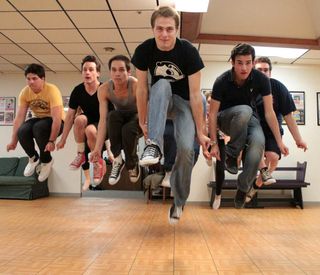 The lighting in this show, done by David Lam, was wonderful. "Cool" and "The Rumble" were compelling and mesmerizing. Mixed with Lazo's outstanding choreography, Lam used those moves and emotions to create a lighting showcase on the stage. Lam truly made that number cool. During "The Rumble" the changes made followed the emotions of the scene perfectly. Every change in lighting matched and emphasized the drama on the stage.

The main set and backdrops were flattened out and gave the overall picture a 1950's comic book that didn't take away from the large dance numbers. As you got into the more personal scenes, the sets became extremely detailed and realistic. I feel that the mix of the flattened sets for larger dance scenes and the intricacy of Doc's, the bridal shop, and the rumble set were a perfect mix to make this show come alive.

Kristina Stasi breathes new life into her interpretation of Maria. Vocally beautiful with passion thrown into each note, Stasi gave me chills with each high note she sang. Many who portray this iconic role play her as innocent as the white dress she wears to the dance at the gym. Stasi gives her character depth and shows that just because Maria believes in true love doesn't mean that she hasn't struggled in life with racism, poverty, and violence. There is an underlying "grittiness" that shows through at just the right times and in the final scene Stasi truly shows her acting abilities. As I sat on The Edge of my seat holding my breath, I watched her live those emotions and I wept in her final touching moments.

The love of her life, Tony, played by Robert Lopez, was a perfect match to Stasi. I could feel the passion in each kiss and made me wonder if they weren't really in love. Lopez's acting ability is only matched by his vocals. A beautiful mix of hushed singing and powerful belting, you could see in his eyes that he was living every moment. His depiction of adoring, young love felt innocent and real and was a joy to watch till the end.

Brendon North was the perfect pick for the part of Riff. He radiated toughness while keeping a calm head. During "Cool" you could see why he was in charge of the Jets. He demanded respect all the way to the back row of the house and made you feel like he was the coolest son of a gun in the world. He's also one of the only people I've ever heard that could use lingo like "buddy boys" or "dig this and dig it the most" without sounding corny or lame. He took those words and made them real for himself and the audience. That, mixed with his wonderful singing voice, made him one of the best Riffs I've ever seen.

Katie Pogue did a great job as Anita and made me laugh throughout the show. She was played a tough girl who still enjoyed her sensual side very much and her dancing and acting ability during "America" was an outstanding performance. That energy carried over into "A Boy Like That" and she showed her anguish at the loss of her lover and the pain she tries to keep Maria away from. All in all – wonderful.

Rounding out the cast was an array of talented performers that really completed the picture Lazo was trying to create. Olivia Hytha as Anybodys was the perfect pick. She had the tomboy part down pat and mixed that boyishness with beauty in the "Somewhere" ballet. Bob Stratton as Gladhand was just hilarious and brought little nuances to the character and I even think I heard someone snort like a pig in the row behind me. Gary Bennett as Doc was superb. His talent as an actor is amazing and he really put some effort into his portrayal of Doc - just great. Brian FitzMaurice as Lt. Shrank was different than I had ever seen before and I liked it. He wasn't a tall man and he had a bit of a character voice. Through his acting it was as if we were seeing the character through the eyes of the Jets and Sharks - who have no respect for him. He made me feel like the gangs did and that was different than any Shrank I've ever seen.

West Side Story is a classic. It has been retold and redone hundreds if not thousands of times and with each new rendition people sometimes get bored. Not this production. With the sets, lighting, choreography, and amazing and talented cast, Tri-Valley's production of this iconic musical is sure to turn some heads.

West Side Story
Book by Arthur Laurents
Music and Lyrics by Leonard Bernstein and Stephen Sondheim
Directed by Christina Lazo
Now through November 4th
www.trivalleyrep.com

http://sanfrancisco.broadwayworld.com/article/BWW-Reviews-Tri-Valley-Repertory-Theatre-Presents-WEST-SIDE-STORY-20121025