Saul Bass : a Life in Film & Design by Jennifer Bass and Pat Kirkham. Saul was, of course, the graphic designer for the 1961 film. He and his wife Elaine created the opening and closing sequences of the film as well as being responsible for the aerial photography at the beginning of the film.
...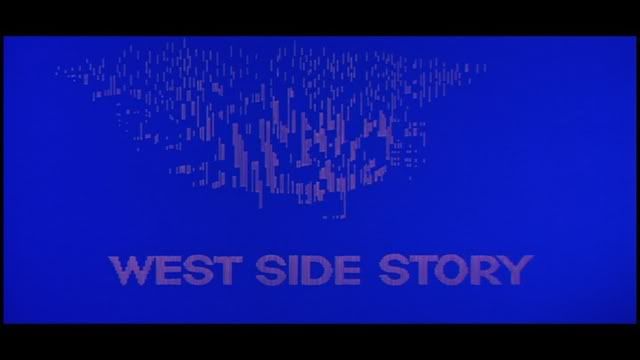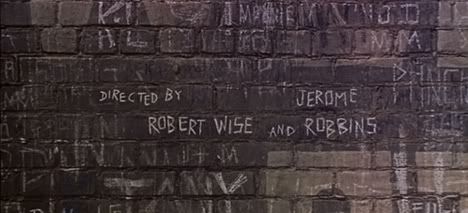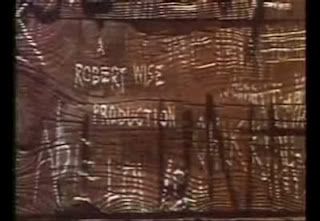 Not only were they responsible for those, but they also created storyboards for the prologue sequence between the Jets and the Sharks. You can see those here from a previous post.

From the book :

The lengthy credits for "West Side Story" were shifted to an epilogue, because those for the Broadway musical as well as the film had to be incorporated. This also gave viewers time to compose themselves after the tragic climax. Saul likened the effect to a decompression chamber; "The epiloque is a recapitulation of the environment within which the film's story takes place. Thus all the walls and surfaces (which were part of the background of the story) are initmately explored. As the camera moves over these walls, fences, doors, and signs, it discovers, among the graffiti on them, different credits. I had a lot of fun making those credits. Look for SB & EM in a heart-that's Elaine Makatura, of course-we had just got engaged! And I put the credit "Music by Leonard Bernstein" on a "No Left Turn" sign. Figure that one out!"

Robert Wise later wrote to Saul : "Your concept of handling those credits, starting with chalk on the walls and old doors and ending with an actual street sign saying END was a brilliant stroke. Your filming of those endless credits in that style made them play like part of the picture itself and helped hold audiences in their seats until the lights came up in the theater."

Graphic designer, Bob Gill, still cites the sequence to students as a "classic" example of title design. "The film is set in the ghettos of New York. It is about a certain time and place and what better way of producing a credit sequence than to take an art form so closely associated with that city and with those ghettos. He found a natural canvas and the result was brilliant."
pgs. 201-202.