Youth Theater Staging 'West Side Story' 2 Weekends in El Cerrito
The Youth Music Theater Company tackles real-life issues while receiving professional training, says Laura Soble in this guest feature about the company's upcoming production opening Friday in El Cerrito.

By Laura Soble

YMTC (Youth Musical Theater Company), a Berkeley-based company with youth from several communities including El Cerrito, has made its name by producing professional caliber musical theater while providing exceptional training to students from the seventh grade through university level. Working hand-in-hand with professional directors, designers and musicians, the company has a reputation for taking on challenging and sophisticated musical and dramatic themes, and always accompanied by a full, live orchestra.
...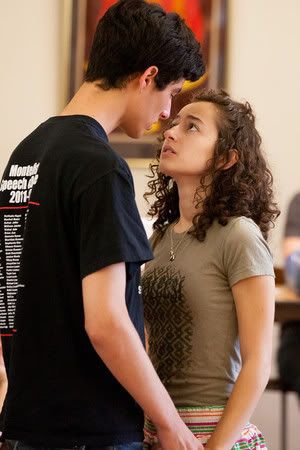 Tony (Joshua Herman, Walnut Creek) and Maria (Sophia Sinsheimer, Berkeley)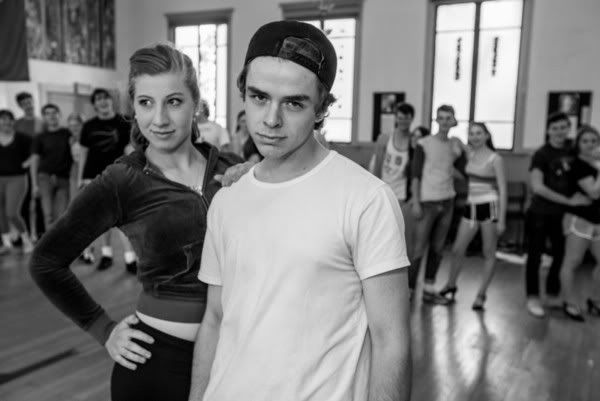 Andrew Humann, 19, of Pinole and Lena Mayer, 16, of Berkeley play Riff and Velma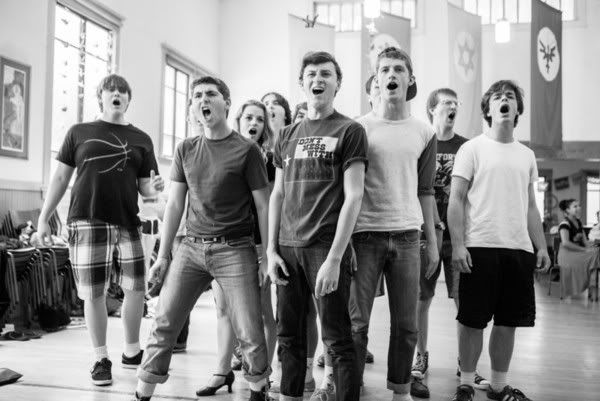 The Jets, in the production of "West Side Story" by the Youth Musical Theater Company (YMTC)

Opening July 13, at the new Performing Arts Theater at El Cerrito High School, is YMTC Artistic Director Jennifer Boesing's take on West Side Story: featuring teens playing the teen roles and adult actors playing the adults in their world. The show is accompanied by a 31-piece full, live orchestra conducted by YMTC's resident music director Dave Moschler.

West Side Story, at its core, is about two teenagers who love one another, in a time and a place where their love is not accepted due to racial intolerance, with tragic consequences. Based on Shakespeare's tragedy, Romeo and Juliet, the show is set in the streets of New York City as rival gangs, American-born Jets, and Sharks, immigrants from Puerto Rico, face off for turf.

Boesing, in working with her cast, reports that some frank discussions occurred with her actors. "The themes of West Side Story are as relevant today as they were in 1957—in some ways even more so. Throughout the rehearsals, we were struck by the timelessness of this tragedy of forbidden love. Racism, working class struggle, and ethnic intolerance are still prevalent today, even if they assume different forms than they did 50 years ago. And it was not lost on the cast that the struggle to love and marry whomever you chose has an acute contemporary resonance."

The character of Anybodys, a tomboy who tries to join the Jets, is a character who wants to be loved, but cannot find acceptance in either the male world of the Jets, or the female world of the time. Celeste Kamiya, a 15-year-old student at the Urban School of San Francisco states, "I've struggled with trying to figure out who Anybodys is since I was cast in the role. I've known and loved West Side Story since I was four, but I never really thought of her as anything more than a girl who wants to hang out with the guys – now I see she really is so much more than that. She's the odd one out. In a musical in which the central theme is love, Anybodys is the only young character that never finds it..."

"Yes, she is a tomboy, but the word 'tomboy' is so general, so vague – it can mean so many different things. Does she actually want to be a boy? If she were a real person today in 2012, would she want to change her physical sex? Is she a girl who is attracted to girls? Or does she simply want the protection and belonging that comes from being a Jet? In trying to figure out her character, I've discovered that she herself probably wouldn't have known the answers to these questions. This is partly because she's a young person, and partly because of the society and the repressive world she lives in. It wouldn't have been okay for her to be confused about this aspect of herself. I try to let that come out in my portrayal of Anybodys – the battle constantly going on within her, of not knowing what she wants and the world not allowing her to be who she wants to be."

Kamiya's comments also mirror a struggle that the the writers and composers of "West Side Story" could relate to: Leonard Bernstein, Stephen Sondheim, and Arthur Laurents were all gay men living in a time where living a public life and being closeted were in constant conflict.

Monday, July 9, I attended what is a called a "Cue to Cue" rehearsal at the theater. A cue to cue rehearsal is a many hours long experience that includes a great deal of sitting and waiting, with a focus on getting the technical elements of a production set and working with the acting and music. As YMTC is also a teaching company, a lot of instruction and learning is also happening through creating live performance, including all of the technical elements.

The theater was full of activity: the stage director calling cues, the stage manager and stage crew "spiking" the stage (marking with tape where various set pieces were to be placed), the actors and technical crew working out scene changes to the second so they will look seamless in performance; the lighting designer adjusting light cues, the set designer in the back of theater working on set pieces with a volunteer work crew, and the music director in the orchestra pit on the piano, without orchestra, plunking out the score.

During a rehearsal break, I took a few moments to check in with actor Andrew Humann, a 19-year-old Pinole native, who is part of the company's summer mentorship program. Andrew played the role of Jesus in YMTC's Jesus Christ Superstar last summer, and just a year out of high school has had professional acting jobs at the Berkeley Playhouse, Shotgun Players, Center Rep and Boxcar Theatre.

Andrew noted that "tech rehearsals are hard, tedious and long, but necessary. The reward is always worth it. It helps to work with someone like Jennifer and her team who know the show so well." Andrew is playing the character of "Riff," who is the leader of the Jets. "Riff is one of my favorite roles. He keeps the Jets together. The instant he dies it shows how lost the Jets are without a leader. He can think for himself, and his death teaches the other kids that they now need to think for themselves. I love doing it."

When asked about the experience of working with younger actors, Humann gave praise to his acting colleagues, appreciating their understanding of theater etiquette, "which is due to both Dave Moschler and Jennifer Boesing who know a lot about directing and teaching. They are seasoned, and put these kids on a path to set them up for success in the professional theater."

West Side Story runs for two weekends: July 13, 14, 20, 21 at 7:30 p.m., and July 15 and 22 at 2 p.m. at the Performing Arts Theater at El Cerrito High School. The show features students seventh grade through university age from El Cerrito, Albany, Berkeley, Oakland, San Francisco and Walnut Creek. Ticket information: www.ymtcberkeley.org.

Laura Soble is an El Cerrito resident who loves live theater, and serves on the board of directors of YMTC (Youth Musical Theater Company).

http://elcerrito.patch.com/articles/youth-theater-staging-west-side-story-2-weekends-in-el-cerrito#c