'West Side Story's' first Riff

Chuck Darrow
Philadelphia Daily News

SOMETIME around 10 p.m. Tuesday at the Academy of Music, the Philadelphia debut of the latest iteration of "West Side Story," which runs through April 8, will conclude with a reprise of "Somewhere." At this point, the audience will no doubt rise to its feet and reward the cast with a loud and appreciative ovation. But no matter how enthusiastic the crowd's response may be, it probably won't match that of those at Washington, D.C.'s National Theatre on Aug. 19, 1957.

"We got like 15 curtain calls," recalled Michael Callan, 77, of the night the groundbreaking contemporary adaptation of William Shakespeare's "Romeo and Juliet" had its pre-Broadway premiere. As the actor portraying Riff, the "commander" of the American street gang, the Jets, Callan was one of the recipients of that unforgettable roar of approval.
...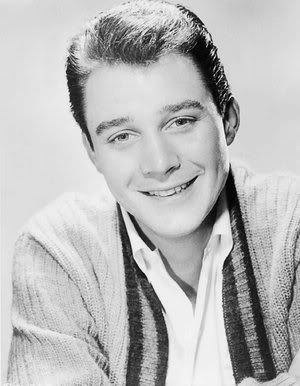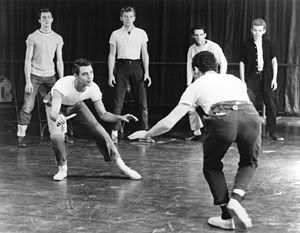 Although only in his early 20s at the time, the Strawberry Mansion native, now living in Los Angeles, was already a veteran performer by the time the curtain went up on that epochal night in 1957. He was known to Philadelphians as a regular on the old "Horn & Hardart's Children's Hour," a popular local radio program of the 1940s that featured talented kids. The New York nightclub crowd got to know him in the '50s, when he and his dance-team partner Grace Gentile gigged at places like the legendary Copacabana.

Despite such an impressive resume, Callan (born Mickey Calinoff) didn't just pirouette into the role of Riff. According to audition notes written by composer Leonard Bernstein at the time (and posted at www.loc.gov/exhibits/westsidestory), Callan hardly killed at the tryouts: To the left of Callan's name (his then-stage name, "Mickey Callan") on the call sheet, Bernstein wrote: "Wrong for R." To the right, the legendary composer-conductor noted: "No actor. Tappish dancer, clean, good-looking."

As Callan recalled it, "I auditioned about a year before it went on Broadway was told I was 'too good-looking' for the role. Then , I got a call from Jerome Robbins and came in and did my little song-and-dance. Then I got in my white T-Bird and drove off to do summer stock."

Callan - who co-starred with Lee Marvin and Jane Fonda in the 1966 Western send-up "Cat Ballou" and, during the same era, headlined the NBC-TV sitcom, "Occasional Wife" - obviously had something, for he won the part over several competitors, including Warren Beatty. He quickly realized he was involved in something the likes of which neither he nor Broadway had ever experienced.

"It was like a thing from outer space," he said of the show that broke ground by introducing to musical theater such elements as jazz and mambo music and modern dance, not to mention a ripped-from-the-headlines plot that, in the era of "My Fair Lady" and "The Music Man," referenced such subjects as teen gang violence, drug use and premarital sex. "It was so different from anything I'd seen or been involved with."

In 1957, lyricist Stephen Sondheim was just launching his epic career, and though a Broadway mainstay, Robbins was hardly a household name. But Bernstein was arguably America's most famous classical-music figure. From Callan's perspective, "he was like a god when he showed up to conduct the music."

Not that Callan and his cast mates - including Carol Lawrence (Maria) and Chita Rivera (Anita) - were able to give that much thought to either the project's behind-the-scenes talent or whether they had a hit on their hands. "We were so involved in the rehearsals - 12 to 15 hours a day - that we didn't have time to think one way or another, or worry about" whether the play would succeed, he offered.

But then came the Washington opening, followed by a two-week Philly stint at the old Erlanger Theater at 21st and Market streets. The story was the same there, said Callan, with audiences raising the roof after each performance.

Callan, who left the show after a year, was not offered the chance to recreate his role in the blockbuster 1961 film version of "West Side Story" (former Olympic gymnast-turned-actor Russ Tamblyn was the celluloid Riff). He suggested this likely had to do with him being under contract to Columbia Pictures when a rival production company, the Mirisch Corp., bought the play's screen rights.

These days, said Callan, he's pretty much given up performing and is researching an autobiography. But he admitted it will be a while before it ever sees the light of day. "It's taking a long time to get into what I want to say, and how I want to present it," he said. n

Academy of Music, Broad and Locust streets, 7:30 p.m. Tuesday through Thursday, April 3-5, 8 p.m. Friday and April 6, 2 and 8 p.m. Saturday and April 7, 1 and 6:30 p.m. Sunday and April 8, $100-$20, 215-893-1999, www.kimmelcenter.org.

Contact Chuck Darrow at 215-313-3134 or darrowc@phillynews.com. Read his CasiNotes blog at www.philly.com/philly/blogs/casinotes. Follow him on Twitter @chuckdarrow.

http://www.philly.com/philly/entertainment/20120327__West_Side_Story_s__first_Riff.html?cmpid=138887484#ixzz1qK7WU766