My Space: Sugary Candy and Soft Lips Keep West Side Story Tour Star Ross Lekites Happy Backstage

Features By Broadway.com Staff

In order to play Tony in the national tour of West Side Story, Ross Lekites falls helplessly in love with Maria, outruns a gang of violent Sharks and wins a rumble. And have you heard the high notes he has to hit in "Something's Coming"? The guy needs a calm, backstage hideaway when he's not sweating on stage, so Lekites took Broadway.com to his dressing room for a look at the five items that keep him grounded and on a sugar high for every performance.
...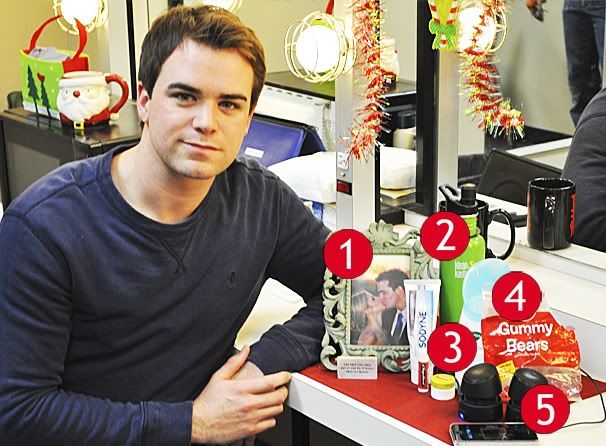 "It's important for me to have a picture of my girlfriend and me in my dressing room and in my hotel room. It's a great way to make the spaces feel more like home and is a happy reminder of the constant love and support I have when I'm out on the road."


"I don't know what I would do without my trusty water bottle. We've traveled to some of the driest cities in the country, so this little bottle has become my best friend."


"It's in my co-star's contract that I not only have these items, but that I use them as well!"


"Here are two things I recently discovered. In the past, I was never a big steamer guy; I also just learned of the magic of gummy bears—now I'm hooked on both! I steam a little before every show, and I might even have a gummy bear in my mouth during the "Dance at the Gym" number. Shhh!"


"These little speakers were a gift from our first year Diesel, Kyle Robinson. I use them to rock out a little before every show or mellow out between."

See Lekites and the rest of the gang (no pun intended) in West Side Story at Seattle's Paramount Theatre through January 15.

http://seattle.broadway.com/shows/west-side-story-baa/buzz/159308/my-space-sugary-candy-and-soft-lips-keep-west-side-story-tour-star-ross-lekites-happy-backstage/