Our Story Jets and Sharks Then and Now: As Told By Cast Members From the Movie West Side Story
by 12 cast members from the 1961 film. 300 pages of reminiscences from Jets Russ Tamblyn, Tony Mordente, Bert Michaels, David Bean, Harvey Hohnecker(Evans), Robert Banas, Gina Trikonis and Carole D'Andrea as well as Sharks Eddie Verso, Nick Covacevich, Joanne Miya and Maria Henley.
...
Lots of great tidbits about how they got the parts, filming both in NYC and Hollywood and what happened to them after the movie came out. An especially nice part is an acknowledgement of those casts members who have passed away since the film came out : Tucker Smith, Anthony (Scooter) Teague, Tommy Abbott, Patti Tribble (Minnie), Jose de Vega, Robert Thompson, Rudy del Campo, Andre Tiyr, Suzy Kaye and Linda Dangcil.
Tony Mordente in front, Robert Banas to his right, David Bean behind Eliot Feld (throwing up his arms), Bert Michaels behind Tony Mordente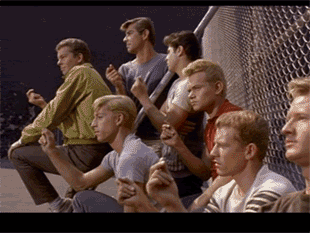 Harvey Hohnecker(Evans) is on the far right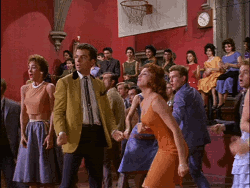 Gina Trikonis in the orange dress and Carole D'Andrea in the blue dress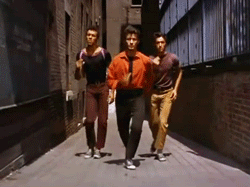 Eddie Verso on the right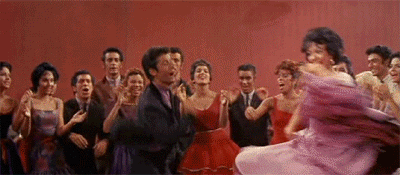 Nick Covacevich in on the far right
Joanne Miya in the red dress with the skirt of ruffles
There is no photo of Maria Henley who played Teresita that I can identify