Back from the road, lessons learned

In September 2010, Pleasantville's Ali Ewoldt stood on the red steps in Duffy Square, across the street from the Palace Theater, home to the Broadway revival of "West Side Story," and contemplated spending a year on the road as Maria.

A year later, she's back in New York, having played one of musical theater's iconic characters nearly 400 times.

"Over the course of the year, I performed "West Side Story" 398 times and, incredibly, I am still just as in love with it, if not more so, than I was when I began the tour," she says.

Here are a few other things Ewoldt learned on tour:
...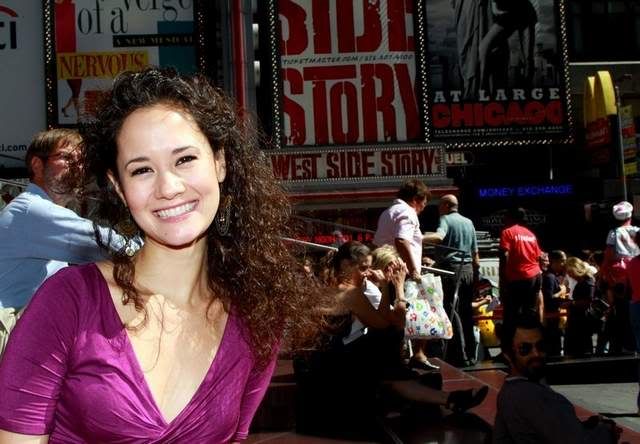 • Live theater is unique and exciting.

Over the course of the year, Ewoldt performed with five different actors playing Tony, four of whom were understudies, and they all played the part very differently.

"We had quite a few onstage bloopers, including missed entrances, falls, and 'creative' lyrics," she says. "We also encountered audiences who reacted very differently to the show."

• Technology is your friend.

"I was grateful to have my smartphone available at all times to direct me to the nearest grocery store, CVS or Jimmy John's (a sandwich store I wish they had in New York City!).

• A mini-fridge is a great packing option

The actors were only allowed two 50-pound suitcases and a suitcase-sized trunk to carry everything they'd need for a year, and space and weight were definitely at a premium.

Ewoldt's agent wisely negotiated a small refrigerator for her that the company would transport and place in her dressing room.

"When I realized that they would be transporting my very empty refrigerator anyway, I realized I could pack stuff in it," she says. "Imagine my joy at having to fit five fewer pairs of shoes in my already overstuffed suitcase."

• America has some amazing theaters.

"We played some very beautiful and historic theaters during my year on tour. Many were old vaudeville houses (three theaters from the "Orpheum Circuit"), two had beautiful twinkling night skies that stayed on during the shows, and one, the Colonial in Boston, was where numerous ground-breaking musicals were first premiered. The title number of "Oklahoma!" was created in its lobby.

"It was incredibly inspiring to be apart of such a rich theatrical tradition."

• The actor's body is her instrument.

"This is a lesson I was taught at Pleasantville High School by my amazing teacher-director-conductor, Dr. Renato Vellutino," Ewoldt says.

In order to sing the role of Maria eight times a week, she had to devote a lot of energy to taking care of her body, "always warming up, abstaining from alcohol, drinking enormous amounts of water and Throat Coat tea, steaming, using humidifiers, getting a lot of sleep, and many other neurotic singer practices."

• There are perks to living in hotels.

"After living a 'normal' life for a while, there is something lovely about never having to buy toilet paper, take out the garbage, pay for cable television or wash your sheets and towels. Sometimes, it's the little things."

• It helps to know the national anthem.

While the show was in Boston, Ewoldt was asked to perform the national anthem in Fenway Park.

"I know as a native New Yorker I should naturally shun all things Red Sox, but the park has such an incredible history and energy to it that I couldn't help but be excited," she says. "Of course, I was also terrified because the last time I recalled singing the anthem was in the Pleasantville High School chorus and certainly not as a solo. Thankfully, I did not forget the words and was even allowed to do an encore performance at Wrigley Field in Chicago."

• A support system is key.

"There is no way I could've made it through a year of tour without an amazing support system. My parents traveled all over the country (my mom to 10 cities) to bring family and friends to see the show.

"My boyfriend, Derek Gregor, is a composer, with a thankfully flexible enough schedule to visit and keep me company in cities like Detroit, Omaha, Buffalo and Schenectady. And, of course, I made wonderful friends on the tour who helped to keep me happy, entertained and sane."


http://www.lohud.com/article/20111017/ENTERTAINMENT/110170303/Back-from-road-lessons-learned

The Next Gig :

In Rehearsals for PhilDev Celebrates Broadway: Suites by Sondheim, A Benefit Concert with Adam Jacobs and Jose Llana!